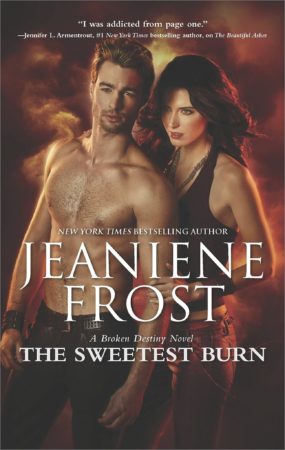 The Sweetest Burn

by Jeaniene Frost
Series: Broken Destiny #2
Published by Harlequin
Publication date: March 29, 2016
Genres: Adult, Romance, Urban Fantasy
Narrator: Tavia Gilbert
Length: 8 hrs and 30 mins
304 pages
Format: eARC
Source: Publisher

The breathtaking second novel in New York Times bestselling author Jeaniene Frost's Broken Destiny series finds Ivy and Adrian rekindling their alliance—and passion—as the struggle for the fate of the world begins…

Conquering a supernatural realm turned out to be easier than getting over a broken heart. But her initial victory has made Ivy a target for revenge, forcing her to reunite with the dangerous—and dangerously sexy—Adrian. Ivy isn't sure which will be harder: finding the hallowed weapon that will repair the crumbling walls between the demon and human realms, or resisting Adrian, who's decided that come hell or high water, he will make Ivy his.

At first, Adrian tried to resist his feelings for Ivy. Now, determined to break the curse that dooms their love, he's vowed to save her and to have her. If only he can persuade her to forgive his past sins. But defying destiny—and surrendering to the smoldering desire between them—will bring consequences and sacrifices they never imagined…
Affiliate Disclosure: This post contains affiliate links. In plain English, this means that I may receive a small commission (at no cost to you) if you purchase something through the links provided. This small income goes back into my blog, so I can continue to create fun content for you. I appreciate my readers and make it my goal to be upfront and honest. Thank you for supporting my blog!
Note: I read this book in the summer of 2016 before it was announced that the publication date would be pushed back to summer 2017.
With the way The Beautiful Ashes ended, I was curious enough to pick up the sequel. The Sweetest Burn lacked the same kind of action found in its predecessor and the plot felt rather repetitious. I was bored for a good chunk of the book and resorted to skimming it after time went on.
The romantic conflict in this book could have been handled so much better. If you've read The Beautiful Ashes, you know that Adrian and Ivy are the last two descendants in dueling bloodlines. Those in Adrian's bloodline are destined to betray those in Ivy's. This was a wonderful plot line (like I said in my review of the first book) because it leaves the fate of the relationship to an external force, as opposed to something internal which can often lead to manufactured conflict. But here the author fails to do anything meaningful with the doomed nature of their relationship. Adrian vows to prove to Ivy that he won't ever betray her and the way in which he does it was rather dull.
The characters in this book finally get their love scene after all of the build up and lustful glances. I had a hard time really rejoicing for the couple at all what with all the "burning loins" and talk of vasectomies. Sexy, right?
The ending of this book was anticlimactic and the book didn't really have any unexpected twists and turns. If you know me, I usually complain that there are too many twists and turns in the plot, but here I felt like I was driving down a long straight road with no interesting scenery.
2 stars
* I received an advanced copy from the publisher in exchange for an honest review.
YOU MAY ALSO LIKE THESE POSTS: