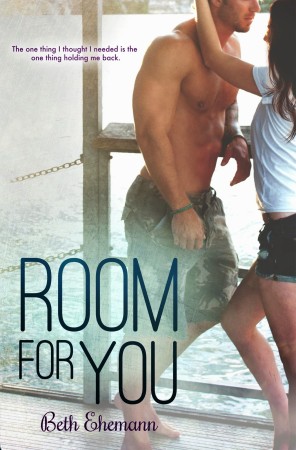 Room for You
by
Beth Ehemann
Series:
Cranberry Inn #1
Published by
Amazon Publishing
,
Montlake Romance
Publication date:
October 23, 2013
Genres:
Contemporary Romance
359 pagesFormat:
eARC
Source:
ARC via author
Four years ago, my dreams were shattered in an instant.

I tried to pick up the pieces and glue them back together the best I knew how, but something was always missing.

A father for my two girls.

But then, Brody Murphy landed on my doorstep, literally. He was a carefree, playful hockey player who barged into my life and messed with my head. He left me more confused than I had ever been.

What if the one thing I thought I needed was the only thing holding me back?
Affiliate Disclosure: This post contains affiliate links. In plain English, this means that I may receive a small commission (at no cost to you) if you purchase something through the links provided. This small income goes back into my blog, so I can continue to create fun content for you. I appreciate my readers and make it my goal to be upfront and honest. Thank you for supporting my blog!
Book Review:
Room for You is a stunning debut for Beth Ehemann.  Effortlessly blending the perfect mix of sexy and sweet, Room for You tells the story of a young mother's journey to finding love and learning to trust another with her heart.
The story is told in dual point-of-view going back and forth between Kacie and Brody.  Kacie is a twenty-four year old mother of twin girls, Piper & Lucy.  After her girls' dad abandoned them, a heartbroken Kacie moved in with her mother, Sophia.  Sophia runs a Bed and Breakfast called the "Cranberry Inn" in a small Michigan town.  Let's just pause here for a second and admire the adorable name. *pauses* Okay moving on.  Kacie would do anything for her little girls and she's puts them first above all else.  Being a single mom and a nursing student, Kacie hasn't made any room for romance in her life until Brody Murphy comes along and turns her world upside down.
Brody Murphy *SWOON* is a famous hockey player.  On his way back to Minneapolis, he runs into a patch of bad weather, which causes him and his dog, Diesel, to make a pit stop at the quaint and hospitable Cranberry Inn.  He meets Kacie Jensen and his heart stops.  Don't worry folks, this not a case of instalove or instalust.  He was immediately transfixed by her and compelled by a desire to take care of her.  He's so sweet, seriously. I LOVE HIM.
"Every movement she made was hypnotizing  especially the way she crinkled her nose when she focused hard on cutting the cornbread into perfect little squares. She walked over to the large pot on the stove, lifted the wooden spoon to her lips and pulled them in close to blow on the steaming chilli. I almost lost my shit right there on the table, but I couldn't look away. I didn't even care if anyone was watching me watch her.  This was the most tortuous accidental seduction I'd ever been a part of and I was enjoying every second of it."
What I love so much about Brody is his charisma and charm.  Everyone that met him loved him and was automatically drawn to him.  He was one of those types of people.  Normally, this type of character would scream "too good too be true" and unrealistic but you learn that he has flaws. The mistakes he made in his past are behind him, he has learned from them and they made him the sweet, caring and wonderful man he was when he met Kacie.  He was so alive his character jumped off the page.
Watching Brody and Kacie become a couple was really sweet.  She watched the way Brody interacted with her kids and that slowly melted her heart (and mine). I mean, come on, he called her girls "Twinkies" and took them on mud puddling excursions.  Most of all, he was on a mission to help Kacie let go, have fun, and let someone take care of her and the girls.
"I have fun!" I blurted out.
"Calm down, killer, I wasn't being mean. I think all the qualities you want in a guy are…nice, I just think you also need someone who will show you just how fun life can be. You know, make it exciting too. Don't you want that?"
This storyline could have easily been really cliche and cheesy, what with the hot guy staying getting stranded at an inn with a hot woman.  But trust me, it wasn't.  I loved it!   I hate to use the word to cute to describe this story because it was so much more than that.  It was romantic, sweet, sexy, heartwrenching, and unputdownable.  But it really was cute from beginning to end.
Admittedly, I was a little apprehensive about reading this at first because I knew that there were kids in this book and that they were a main part of the story.  I love children in real life, don't get me wrong. I am a little kid lover (Office reference anyone?) But I don't like kids in my books.  Call me an evil reader, but that's just how I am.  Some people won't read books with unhappily ever afters or cheating, I don't like books with kids, typically.
Here's the thing about Room for You:  There were twin girls in this book from Kacey's previous relationship.  As I said before, they were a big part of this story.  AND I DIDN'T EVEN CARE.  In fact, I loved the little girls.  They added so much depth to both the story and characters.  Maybe I'm going soft.  Maybe my no kids stance is changing.  Damn you, Ehemann!  You're messing with my chi!  If you're like me and shy away from books with kids, READ THIS BOOK! I absolutely adored the girls, especially seeing Brody interact with them and dote on them.
Ehemann's writing style was effortless.  She didn't' try to force the story or the characters.  She just let the characters control the story and I really admired that.  I look forward to reading the next book in this series.
*I received an advance copy from the author in exchange for an honest review.
4 stars
Cranberry Inn Series
Book #1 – Room for You
Add on Goodreads | Buy for Kindle | Buy in Paperback
Book #2 – Room for More
expected release: 2014
Add on Goodreads
YOU MAY ALSO LIKE THESE POSTS: