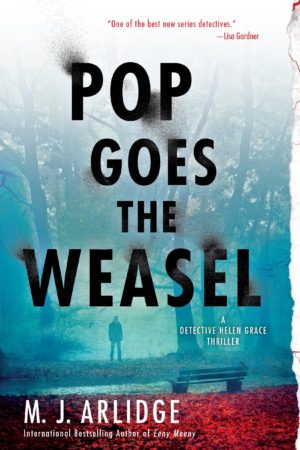 Pop Goes the Weasel
by
M.J. Arlidge
Series:
Helen Grace #2
Published by
NAL
Publication date:
October 6, 2015
Genres:
Thriller
390 pages pagesFormat:
Paperback
Source:
Publisher
A man's body is found in an empty house.
A gruesome memento of his murder is sent to his wife and children.

He is the first victim, and Detective Helen Grace knows he will not be the last. But why would a happily married man be this far from home in the dead of night?

The media call it Jack the Ripper in reverse: a serial killer preying on family men who lead hidden double lives.

Helen can sense the fury behind the murders. But what she cannot possibly predict is how volatile this killer is—or what is waiting for her at the end of the chase...
Affiliate Disclosure: This post contains affiliate links. In plain English, this means that I may receive a small commission (at no cost to you) if you purchase something through the links provided. This small income goes back into my blog, so I can continue to create fun content for you. I appreciate my readers and make it my goal to be upfront and honest. Thank you for supporting my blog!
Pop goes Goes the Weasel, the second installment in M.J. Arlidge's Helen Grace series, is full of thrills and chills. Many moments had that delicious pull that made it hard to put the book down, but it took me a long time to become fully engrossed in the book.
A murderous prostitute is on the loose. Police find her male customers' bodies with their hearts removed, evidence of a vicious murder. Detective Inspector Helen Grace and the rest of Southampton Central have their hands full as they try to track down the killer before more men fall victim. At the same time, Helen is struggling with what happened at the end of Eeny Meeny. Her resolve to keep her personal pain locked away and hidden is slowing crumbling. Meanwhile, Charlie's return to the team complicates things as it forces her to face her own feelings of guilt as well.
One of my complaints in the first novel was the lack of character development. I am pleased to say that I didn't get that same feeling in this one. I think the author is taking his time with Helen Grace's character, revealing all of her layers over time, which is great. I only wish she was more compelling from the start of book one.
In Pop Goes the Weasel, we are given so much more insight into who she is because she allows herself to be vulnerable—and the reader gets to see that—which helped me enjoy the book much more. Helen is compassionate and strong, yet guarded, often coming across as cold or somewhat callous. In reality, she's consumed by how much she cares—her past haunts her.
I enjoy seeing how the investigations into these murders unfold, including all of the dead ends. I look forward to seeing what's next for Helen Grace and the rest of the gang in The Doll House! I really hope a certain member of the force is out.
There were a few subplots that I didn't love, one of which felt like it was a repeat of what happened in Eeny Meeny. But overall, I liked this book more than book one, even though the plot structure of these two novels are virtually identical. Like the first book, each chapter is very short (no more than 4 pages).
Note: While you can technically go into each book without having read the others, I would highly recommend reading this series from the beginning, as there are spoilers for the previous book.
* I received a copy of this book from the publisher in exchange for an honest review. This did not affect my opinion in any way.
YOU MAY ALSO LIKE THESE POSTS: