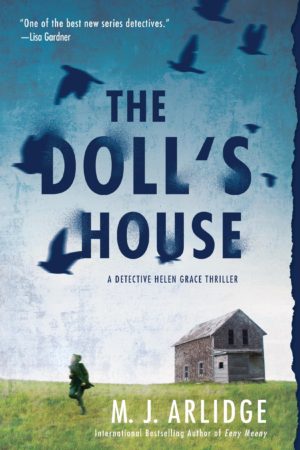 The Doll's House
by
M.J. Arlidge
Series:
Helen Grace #3
Published by
NAL
Publication date:
February 2, 2016
Genres:
Crime
,
Thriller
422 pagesFormat:
Paperback
Source:
Publisher
Detective Helen Grace is on the trail of a twisted serial killer in this riveting thriller in the "gripping"* international bestselling series.

Ruby wakes up in a strange room. Her captor calmly explains that no one is looking for her. No one wants her. Except him.

When the body of a woman is found buried on a secluded beach, Detective Helen Grace is called to the scene. She knows right away that the killer is no amateur. The woman has been dead for years, and no one has even reported her missing. But why would they? She's still sending text messages to her family.

Helen is convinced that a criminal mastermind is at work: someone very smart, very careful, and worst of all, very patient. But as she struggles to piece together the killer's motive, time is running out for a victim who is still alive...
Affiliate Disclosure: This post contains affiliate links. In plain English, this means that I may receive a small commission (at no cost to you) if you purchase something through the links provided. This small income goes back into my blog, so I can continue to create fun content for you. I appreciate my readers and make it my goal to be upfront and honest. Thank you for supporting my blog!
A deeply disturbed serial killer is on the loose once again in M.J. Arlidge's The Doll's House and Helen Grace is on the case. While I've come to really like Helen Grace's character, I've realized that the author's writing style just isn't for me.
I am a huge fan of real life crime stories. I could watch (and have watched) crime documentaries, crime reality television, and Dateline all day long. So it's natural for me to want to pick up crime thrillers to read. This series has been well-loved by many but I'm sad to say that I am not one of them.
There are some elements of this series that will be attractive to some fans of crime thrillers.  There are interesting, twisted, and downright disturbing crimes in all of the stories. In each book, my desire to find out who the killer is propelled me to keep reading, as it should.
The central cast of characters—many of whom either die, step down, or move on—carry the story and over time they grown on you. At first, Helen's character wasn't very compelling and I questioned the character's ability to care an entire series. But what she's gone through up to this point has made her more developed. I also really like Charlie, who is one of the few character who have made it this far. In The Dolls House, the political happenings within Southampton Central creates new problems for Helen, not only in her work environment but also in her personal life.
All of the aforementioned things listed are things that I've enjoyed, but the way everything is put together lacks finesse. With crime thrillers like this one, I want to be riveted. I want the characters to be compelling. I want every aspect of the book to draw me in. Instead, with this book—the rest of the series, to be honest—I have felt disconnected from the story and the characters for the great majority of each book.
I've given this series three books and for now I'm going to put it aside. Liar Liar released on June 7th and Little Boy Blue releases in October. Perhaps, my wild curiosity will win out and I'll want to know what becomes of Helen Grace. For now, I'm moving on.
* I received a copy of this book from the publisher in exchange for an honest review. This did not affect my opinion in any way.
YOU MAY ALSO LIKE THESE POSTS: