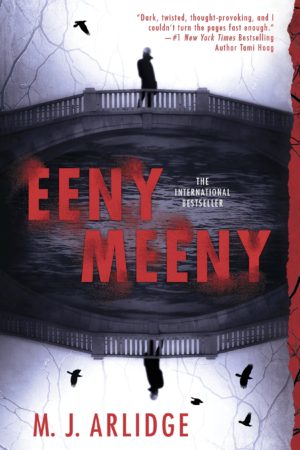 Eeny Meeny
by
M.J. Arlidge
Series:
Helen Grace #1
Published by
NAL
,
Penguin
Publication date:
June 2, 2015
Genres:
Crime
,
Thriller
395 pagesFormat:
Paperback
Source:
Publisher
The "dark, twisted, thought-provoking" (#1 New York Times bestseller Tami Hoag) international bestseller—first in the new series featuring Detective Helen Grace.

Two people are abducted, imprisoned, and left with a gun. As hunger and thirst set in, only one walks away alive.

It's a game more twisted than any Detective Helen Grace has ever seen. If she hadn't spoken with the shattered survivors herself, she almost wouldn't believe them.

Helen is familiar with the dark sides of human nature, including her own, but this case—with its seemingly random victims—has her baffled. But as more people go missing, nothing will be more terrifying than when it all starts making sense....
Affiliate Disclosure: This post contains affiliate links. In plain English, this means that I may receive a small commission (at no cost to you) if you purchase something through the links provided. This small income goes back into my blog, so I can continue to create fun content for you. I appreciate my readers and make it my goal to be upfront and honest. Thank you for supporting my blog!
Eeny Meeny is a police procedural centering around Detective Inspector Helen Grace. This book is my first foray into the expansive crime fiction genre. And while this book didn't work for me, I look forward to read more of this series and more crime fiction.
Helen Grace is a fiercely strong DI in Southampton central. The next case to come across her desk involves a terrifying serial killer. A mysterious woman abducts two musicians and takes them to an abandoned property, locking them in. They're left with a loaded gun and a message: one person must kill the other to escape. This is just the first in a string of murders that happen in the exact same manner. Helen Grace is perplexed at first and then horrified as the identity of the victims get personal.
The gruesome psychological games the serial killer put in motion was what drove me to keep reading. I absolutely had to know the identity of this psychotic person. It kind of reminded me a little bit of the Saw movies with the people being put in impossible situations. The investigation takes a lot of twists and turns and is filled wth red herrings, which were interesting, even if contrived at times.
The book felt like it was very, very long. The story was about 100 pages too long for the amount of story the author had to tell. It's is told in very clipped, short chapters—over 100 chapters long—with shifting viewpoints in nearly every chapter. I believe this writing style was to help give the reader a sense of urgency and propel the reader forward, but it didn't work on me.
Where other novels told in a similar fashion have succeeded, this one failed. Arlidge didn't make me feel invested in any of the characters. I tend to read for character, even in books that are plot-driven like this one.
I lacked a connection to the characters, specifically the protagonist. Being as this is the first in a series surrounding Helen Grace, I expected her character and personality to be compelling right from the beginning. She wasn't. The author gave her very cliched "female cop" characteristics —physically strong, rides a motorcycle, not good with relationships, traumatic past—and some dark predilections. But it wasn't until closer to the end that she felt more fully developed; I would have liked to see more development early on.
Once I reach the end and knew the identity of the killer, I was a underwhelmed. Given who it was, Helen Grace should have known immediately who was abducting and killing these people. The book ended very abruptly and felt very rushed.
I wouldn't run out and recommend that everyone read this book but on a personal note, I am reading more of this series since I got a clearer picture of who Helen Grace was by the end of the story. I'm curious to see what's next for her and her unit.
* I received a review copy from the publisher in exchange for an honest review.
YOU MAY ALSO LIKE THESE POSTS: