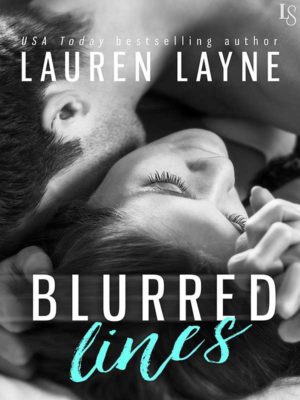 Blurred Lines
by
Lauren Layne
Series:
Love Unexpectedly #1
Published by
Loveswept
Publication date:
August 25, 2015
Genres:
Contemporary Romance
254 pagesFormat:
eBook
Source:
Borrowed
USA Today bestselling author Lauren Layne delivers a sexy take on the timeless question: Can a guy and a girl really be "just friends"?

When Parker Blanton meets Ben Olsen during her freshman year of college, the connection is immediate—and platonic. Six years later, they're still best friends, sharing an apartment in Portland's trendy Northwest District as they happily settle into adult life. But when Parker's boyfriend dumps her out of the blue, she starts to wonder about Ben's no-strings-attached approach to dating. The trouble is, even with Ben as her wingman, Parker can't seem to get the hang of casual sex—until she tries it with him.

The arrangement works perfectly . . . at first. The sex is mind-blowing, and their friendship remains as solid as ever, without any of the usual messy romantic entanglements. But when Parker's ex decides he wants her back, Ben is shocked by a fierce stab of possessiveness. And when Ben starts seeing a girl from work, Parker finds herself plagued by unfamiliar jealousy. With their friendship on the rocks for the first time, Parker and Ben face an alarming truth: Maybe they can't go back. And maybe, deep down, they never want to.
Affiliate Disclosure: This post contains affiliate links. In plain English, this means that I may receive a small commission (at no cost to you) if you purchase something through the links provided. This small income goes back into my blog, so I can continue to create fun content for you. I appreciate my readers and make it my goal to be upfront and honest. Thank you for supporting my blog!
This is my first Lauren Layne book and I am so happy I picked it up. I'm a sucker for friends-to-lovers stories, and reading Ben and Parker's love story was super fun.
"Once upon a time, I could have been his champion. The one who'd go find him right this second and give an animated monologue about how he was being an idiot and that any girl would be more than lucky to have him love her."
Ben and Parker have been friends for the last six years, making it through college and their first jobs without crossing that friend zone line. Neither has ever seen the other in "that way" until Parker propositions Ben to have a sex-periment. After her longterm boyfriend breaks up with her abruptly she misses the physical benefits of a relationship. Who better to give her that kind of connection than her hot best friend? They dive into a friends-with-benefits situation with the agreement that they can't get emotionally involved. But before long, player Ben starts to fall hard. Does Parker feel the same way?
"Here's the other reason I don't exactly get my rocks off thinking about Ben in a romantic light: He's kind of a player. As a friend, I can love him for it, but on the romantic front? Never. Ever. Not even with every possible STD test. "Hey, what happened to the must-wear-shirts-in-the-kitchen"
This book was pure romantic escapism. This is a classic romance trope of friends-to-more and it delivered. While it's not one of my favorite friends-to-lovers, it was still an enjoyable read. Ben is your quintessential player and I love seeing his feelings for his best friend evolve from like to love.
I really liked Ben a lot. With Parker, he was emotionally available, unlike the girls he normally brings home. He truly cares for her and I loved how supportive he was for her. When things in her life weren't going well, he dropped everything to provide comfort and support. Like I mentioned, I loved seeing his feelings develop, or maybe it's more appropriate to say "feelings revealed." ben discovers that maybe he has had stronger feelings for Parker for a long time and has finally been able to admit that to himself.
The book awhile to get to the good part. I wasn't fully invested in the characters or the story in the beginning because I felt like the author focused a lot on telling us about these character's history instead of allowing the reader to feel fully immersed. But once they were together, there was less tell and more show which had me emotionally invested and totally connected.
I really liked that these two had a strong friendship and were so comfortable with each other. I'm looking forward to reading the other books in the series!
* I borrowed this book from my local library.