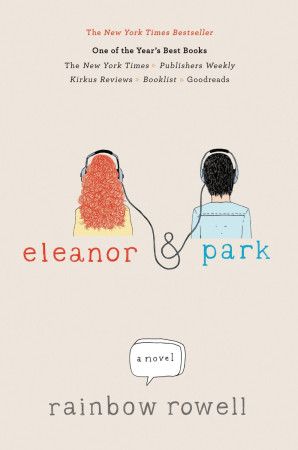 Eleanor & Park
by
Rainbow Rowell
Published by
St. Martin's Griffin
Publication date:
February 26, 2013
Genres:
Romance
,
Young Adult
320 pagesFormat:
eARC
Source:
ARC via NetGalley
Two misfits.
One extraordinary love.

Eleanor... Red hair, wrong clothes. Standing behind him until he turns his head. Lying beside him until he wakes up. Making everyone else seem drabber and flatter and never good enough...Eleanor.

Park... He knows she'll love a song before he plays it for her. He laughs at her jokes before she ever gets to the punch line. There's a place on his chest, just below his throat, that makes her want to keep promises...Park.

Set over the course of one school year, this is the story of two star-crossed sixteen-year-olds—smart enough to know that first love almost never lasts, but brave and desperate enough to try.
Affiliate Disclosure: This post contains affiliate links. In plain English, this means that I may receive a small commission (at no cost to you) if you purchase something through the links provided. This small income goes back into my blog, so I can continue to create fun content for you. I appreciate my readers and make it my goal to be upfront and honest. Thank you for supporting my blog!
Book Review:
If I could use one word to describe this story, it would be "adorable".  Eleanor and Park fell in love on the bus listening to '80's music and reading comic books.  Can it get any cuter than that?  I submit that it cannot!  Told in alternating points-of-view, this story will grab onto you and not let you go until the ending.
Eleanor is the new girl in school.  She describes herself as chubby and plain.  After her mother's abusive husband kicked Eleanor, she moved in with some family friends.  Now, a year later, she's back living with her mother, step-father, and siblings in a new town and a rather cramped house.  The first day of school she gets on the bus and every kid pulls a "you-can't-sit-here" (think Forrest Gump).  The only seat available is the one next Park, and he is less than welcoming.
Eleanor refers to Park as "the stupid Asian kid," which totally made me giggle.  Unlike Eleanor, Park has a relatively normal family.  The son of a Vietnam war veteran and Korean native, Park is a music junkie and a boss in tae kwondo.  Most of the time, he keeps to himself.  He doesn't want to like Eleanor, but it doesn't take him long to realize that fighting his feelings is a losing battle.
"I want to be the last person who ever kisses you, too…That sounds bad, like a death threat or something. What I'm trying to say is, you're it. This is it for me."
Their love story was slow-building, which is probably my favorite kind of love story (Ahem…The Experiment in Terror series and The Fault in Our Stars).  Park lends Eleanor his headphones and Sony Walkman, and she is immediately comforted by the power of music. The adorableness continues when he makes her mix tapes and brings comic books especially for her.  It doesn't take long for their seat buddy status to change from acquaintances to friends to something more.  Leading up to the "shouting-from-the-rooftops I love you" moment, Eleanor and Park share secret looks and stolen glances.
Let me tell you, Eleanor & Park contains the hottest hand-holding scene of ALL TIME, hands down (pun intended).
Park always tugged on Eleanor's scarf or nudged her with his shoulder, but he never actually touched her skin.  The build-up to this was almost unbearable.
Park
"As soon as he touched her, he wondered how he'd gone so long without doing it. He rubbed his thumb through her palm and up her fingers, and was aware of her every breath.""When he touched, Eleanor's hand, he recognized her. He knew."
Oh my Lawd!
Eleanor:
"Disintegrated.
Like something had gone wrong beaming her onto the Starship Enterprise.
If you've ever wondered what that feels like, it's a lot like melting-but more violent.
Maybe Park had paralyzed her with his ninja magic, his Vulcan handhold, and now he was going to eat her.
That would be awesome."
Eleanor tries hard to hide her family life from Park, but he eventually finds out the horrible truth and is willing to do anything to help her get out. His protectiveness and caring nature is what I love most about him.  He no longer cared what anyone at school said about her or what his family thought of her. He only wanted her. Just her. No matter what.
At first, the alternating POV was a little jarring.  It was different than other alternating POV in that it was a little choppy.  However, once I adjusted to the writing style, I couldn't put it down.  Rowell pulled my heart into this story and wrapped it around these characters.  I was rooting for Park and Eleanor and, and I wanted to cause serious bodily harm to anyone that got in the way of their happily ever after.
When I finished this book, all I could say was, "Awwwhhh."  If you're looking for a relatively light read that's insanely cute sprinkled with Elvis Costello and Watchmen, then this is for you.  Eleanor and Park has been compared to John Green's "The Fault in Our Stars," but don't worry, you will NOT bawl your eyes out reading this.  You may, however, be sighing throughout the whole freaking book.

3 stars
*I received a copy of this book from the publisher in exchange for an honest review.
YOU MAY ALSO LIKE THESE POSTS: