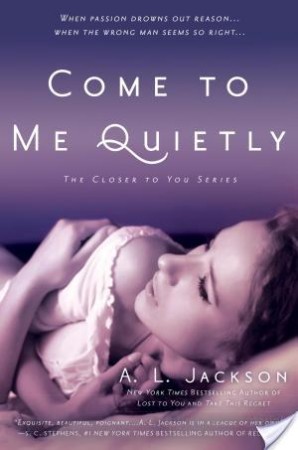 Come to Me Quietly
by
A.L. Jackson
Series:
Closer to You #1
Published by
NAL
,
Penguin
Publication date:
January 7, 2014
Genres:
New Adult
,
Romance
384 pagesFormat:
eARC
Source:
ARC via publisher
From the acclaimed bestselling author of Lost to You and When We Collide comes a New Adult novel of one woman's obsession: a man who's as passionate as he is elusive—and as tempting as he is trouble... Aleena Moore is haunted by Jared Holt. It's been six years since she's seen her brother's best friend, the self-destructive bad boy she secretly loved in high school. As the years pass, she knows it's time to move on. Time to decide between a practical nursing degree and her true dream as an artist. Time to get over Jared and give another guy a chance... Just when she opens her heart to her friend, Gabe, Aly returns home to find Jared sleeping on her couch. The teenage boy she loved has grown into a man she can't resist. Covered in tattoos and lost in rage, he's begging to be saved from his demons—the memories of the day he destroyed his family. As the two reconnect, their passion is hot enough to torch Aly's judgment. But can she risk her future for a man who lives on the edge of destruction?
Affiliate Disclosure: This post contains affiliate links. In plain English, this means that I may receive a small commission (at no cost to you) if you purchase something through the links provided. This small income goes back into my blog, so I can continue to create fun content for you. I appreciate my readers and make it my goal to be upfront and honest. Thank you for supporting my blog!
Come to Me Quietly is an emotional, incredibly touching second-chance love story between a man fighting to forget his past and the girl who never forgot hers.  I've heard from several people that A.L. Jackson is an author who writes emotional powerhouse novels.  Going in with that expectation, I was not let down in the slightest.  As a reader who seeks out those types of books, I was extremely excited to read this book.
Ever since she could remember, Aleena "Aly" Moore has secretly loved Jared Holt.  After a terrible tragedy, sixteen-year old Jared left his hometown of Phoenix, Arizona to escape his guilt-ridden life.  Now six years later, he finds himself back in town surrounded by his past — something he spent years trying to forget.  Come to Me Quietly alternates between Aly and Jared's points-of-view.
Soon after arriving into town, Jared runs into his old best friend, Christopher.  He offers Jared a place to stay. It just so happens that Christopher shares his apartment with his sister, Aly.  Christopher's one condition is that he stay away from his sister.  Jared thought this was going to be easy, considering he knew he wasn't good enough for her.  He wouldn't allow anything to happen between them.  When Aly finds out that the one man she's always loved is back, her heart stops.  And Aly's close proximity tests Jared's fragile self-control.
"…under the surface remained a tension that stretched us tight, pushed us apart at the same time as it worked to suck us together. I knew it. I saw it in her eyes and felt it in my bones. I knew how easy it'd be to sink my fingers into her sin and into her mind. I knew how willingly she'd let me take. And God, I wanted to."
What ensues between them is a beautiful slow-building romance that was filled with tension, heartache and regret.  I could feel the emotions bubbling in the air between them.  I LOVED it.
"Suddenly everything felt thick and slow, like honey—my mouth, her eyes, the tension that suddenly filled the air. For a minute, I wanted to pretend that nothing had ever happened, that the years had passed and I was still good and that maybe Aly would see me that way."
Jared Holt was a deeply troubled character.  It broke my heart to see just how much he hated himself.  It was evident that Jared spent years trying to forget his past and the pain, always staying busy.  His self-loathing ran deep and no one, not even Aly, could convince him that he could be happy again.
"I'd glide along the banks of his sadness, dipping my toes to test the water but without ever diving into the torrent where I knew Jared continued to drown."
Despite being only fourteen when Jared left town, Aly knew how she felt about him.   She loved him.  Jared was her and her brother's best friend.  She and him shared this special bond, this unique connection.  His absence in her life left a painful, gaping hole. His sudden reappearance in her life was shocking to her and reignited all the feelings she had for him years ago.  The longing between them was palpable and it only added to their intense connection.  Even after all the years, it felt like he hadn't been gone and they picked up where they left off.  But there was this distance between them filled with unanswered questions.
"Underneath all his armor, I did know him. Beneath the anger, I recognized the boy I'd known so long ago. I was pretty sure it was Jared who didn't know himself."
"If I believed in soul mates or any of that shit, I knew she was mine. I could feel it, this connection with her I couldn't possibly share with anyone else."
Underneath the love story in the present, is this unfolding mystery of what happened to Jared. In the beginning, you know that something really horrendous happened, but it isn't fully revealed until later on in the story.  Throughout the novel, Jackson slowly reveals what events changed his life, why he hates himself, and why he thinks he doesn't deserve happiness. I had this intense feeling of foreboding and anxiety, wondering what was going to happen.  This gradual reveal only added to the story's intensity and emotional impact.  
While Come to Me Quietly may have been the first novel by A.L. Jackson that I have read, it most certainly will not be my last.  Jackson's beautifully crafted storytelling combined with her flawless writing will keep me coming back for more. I cannot wait to read Close to Me Softly, the next installment in this series.  I look forward to finding out what's next for Aly and Jared.
4 stars
*I received an advance copy from the publisher in exchange for an honest review.
EXCERPT

Aly took my hand again. "Come on, let's find a good spot to watch the fireworks."
With her voice, I shoved off the images, turned and gently smiled at her, ignoring the guy whose gaze burned into the back of my head with outright hate.
Instead I focused on her words that sounded so damned cute, like they used to when we'd run ahead of ourselves to find the best spot at the park. We used to get so close that we'd feel the fireworks rumble through our bodies, and we had to dodge the little pieces of paper ashes that flitted down from the sky.
She led me to a lounger that sat out in the open on the grass. She pushed at my side and grinned. "Take a seat."
Quirking a brow, I smirked at her, but did as I was told. I sat sideways on it with my feet on the ground. Aly settled to the grass, and instinctively my knees parted to make room for her. Nestling between my legs, she shifted a bit to rest her head on the inside of my thigh.  Then she released a breathy sigh as if this was the only place she wanted to be, murmuring, "I'm so glad you're here, Jared."
Desire coursed over every inch of my skin and pooled in my stomach. There was nothing I could do to stop it, the way I hardened at her slightest touch, at the soft sound that fell from her mouth, at the smell of her hair that had become permanently ingrained in my mind.
Night fell further, collected across the sky, and the darkness deepened the silence of the cocoon Aly and I found ourselves in. The heat had ebbed the slightest bit, the warmth of the day beginning to dissipate into the inky dome overhead.
Most in the yard had quieted and taken their spots to watch the sky, anticipating the show that was about to begin. Everyone else bled into obscurity, and in that instant, it was just the two of us.
Aly jumped with the first boom. It rumbled along the surface of the ground, vibrating below us, and a long whistle cracked before color exploded in the sky just in the distance.
Quietly she gasped, the way she'd done what seemed like a million times before. A perfect memory of her as a child suddenly overtook my mind.  The tips of her delicate fingers fluttered up to her mouth as she watched in awe.
I was powerless to do anything but thread my fingers through her hair, to anchor myself to her, even if it was only for this moment. Even though I'd been the one to cut myself from her, right then it felt impossible to let go.
Reds and blues and whites streamed from the sky, lit up the darkness above, increased in intensity, then fell before the next wave erupted in an electrifying thrill.
Blood thundered through my veins. It'd been so long since I'd felt this close to someone. Part of me fought it, knew I should push her away. The dominate part of me just wanted to stay, even if it was for a little while. I'd been alone for so long.  Was it wrong to take away these memories, something to hold onto when I seeped back into nothingness?
Shifting her weight, Aly sank deeper into me. Her body burned into mine, her head pressed into my thigh. She tilted her head back and looked up at me with wistful eyes, watched me with kindness, with a yearning for the way things had been in the past, with ideas of what could never be.
I stared down at her.
And I knew it was wrong, that I was only making things worse, prolonging the inevitable, but right then I just didn't care.
A pensive smile kissed her mouth, before she turned back to the show above. She snuggled closer, her shoulder dipping down under my leg so her neck was nestled against my thigh. Her hand skimmed over my knee and down my leg before she firmly wrapped her arm around my calf. Her hand tightened there, and my fingers found their way to the nape of her neck, twisting in the fine hairs and tickling her skin. A small whimper escaped her mouth as I massaged my fingers over the base of her scalp, ran them up to the back of her ears and down again.
As if this wasn't agonizing, having what I wanted most in my hands and knowing she was completely out of reach.
Untouchable.
But right then she was mine. So I gave in, took a little more, leaned forward and buried my nose in the fucking delicious coconut in her hair. Breathed in the life and the goodness and everything that was Aly.
I wanted to remember.
Her fingers curled into my leg, begging just as desperately as my body begged for hers, and I felt strung up, strung out. I ached and needed and felt as if I was going to lose my mind.
Fireworks filled the sky, this constant barrage that illuminated the night. I felt them more than saw them as they knit with the shocking intensity radiating from Aly, a feeling that sped through my veins faster than any high I'd ever experienced. Overhead the finale came to life, pounded through my system, set my skin on fire.
I tightened my hold on her, my nose behind her ear, wanted to take it all.
"Aly," whispered from my mouth.
GIVEAWAY:
Grand Prize:  A.L. Jackson Complete Signed Paperback Collection (all six titles) + Come To Me Quietly Poster and swag
Second Prize:  Come To Me Quietly Collection, which includes a signed copy of Come To Me Quietly, a Come To Me Quietly poster, keychain, and custom bookmark
Third Prize:  A.L. Jackson Fun Pack stuffed full of A.L. Jackson book swag
Fourth Prize:  Audiobook Gift Set from Audible.com of The Regret Series (Lost To You, Take This Regret & If Forever Comes)
YOU MAY ALSO LIKE THESE POSTS: