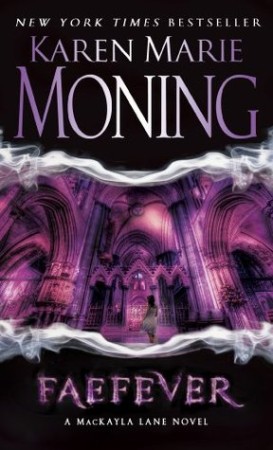 Faefever
by
Karen Marie Moning
Series:
Fever #3
Published by
Delacorte Press
,
Random House
Publication date:
September 16, 2008
Genres:
Romance
,
Urban Fantasy
352 pagesFormat:
eBook
Source:
Purchased
Mac's quest for the Sinsar Dubh takes her into the mean, shape-shifting streets of Dublin, with a suspicious cop on her tail. Forced into a dangerous triangle of alliance with V'lane, an insatiable Fae prince of lethally erotic tastes, and Jericho Barrons, a man of primal desires and untold secrets, Mac is soon locked in a battle for her body, mind, and soul.

As All Hallows Eve approaches and the city descends into chaos, as a shocking truth about the Dark Book is uncovered, not even Mac can prevent a deadly race of immortals from shattering the walls between worlds with devastating consequences.
Affiliate Disclosure: This post contains affiliate links. In plain English, this means that I may receive a small commission (at no cost to you) if you purchase something through the links provided. This small income goes back into my blog, so I can continue to create fun content for you. I appreciate my readers and make it my goal to be upfront and honest. Thank you for supporting my blog!
Review:
I was warned that this book was the point of no return.  That the ending would induce fits of anxiety.  That I would need Dreamfever immediately.  That the ending was disturbing.  I listened to everyone, I did.  Really.  But nothing that they told me could have prepared me for the ending of this book. When I reached the end and witness what happened, I couldn't read fast enough. I just wanted it to be over.  Done. It hurt my heart so bad.
The focus of the entire series is Mac's quest for the Sinsar Dubh, zeroing in all of the obstacles that prevent her from finding it along the way.  But each book has its own smaller arc, too.  In Darkfever, Mac was focused on finding more about her sister's murderer, which led her to uncovering the Fae world.  In Bloodfever, Mac was introduced to several key players in the game and hunted by her enemies.
In Faefever, Mac continues to search for the evil book but she pools all of her sources together and broadens the search. On her way to her date with Christian MacKaltar, Mac sees the Sinsar Dubh. She gets close enough (not without vomiting on her knees, mind you). She finds out how the book is traveling through Dublin virtually undetected and  how it has been nearly untraceable.
"It was the most dangerous Hallow ever created—and it was loose in our world. Creepy thing was until tonight, it hadn't been aware of me. It was now. It had looked at me, seen me."
Stealth Mac is not the same Mac we met in Darkfever.  She is strong, defiant, perceptive, resourceful, and a damn good fighter.  Determined and focused, she no longer wanted to put all of her eggs in one basket. Instead, she not only relied on Barrons but also V'lane, Christian MacKeltar, Inspector Jayne, Dani, and even Rowena.
My love like love (I'm so confused at this point) for V'lane only grew in this book.  He and Mac become closer, not in a romantic way and not even in a "hey-you're-my-best-friend" way.  V'lane, being the power death-by-sex fae displays trust to Mac by turning his seduction powers off and relaying important fae intel to Mac.  Mac, in turn, gives him information about the book and refrains from Nulling (or freezing) him.  I loved their relationship, strange as it is.  It's built on a mutual give-and-take between them. But I like to think that V'lane, the over one-hundred thousand year old fairy, genuinely likes Mac and trusts her.  It's obvious he's attracted to her, but I believe he likes her.  From their conversations, it's clear that V'lane thinks little of the human race, but Mac is different.  Don't ruin my image of V'lane, people. 😉
Mac's resourcefulness was more than a little surprising to Barrons. Eventually, Barrons finds out that she was working closely with V'lane and Inspector Jayne and not telling him.  Barrons was not pleased. That seems to happen often.  Barrons wasn't pleased when he found out she went to the abbey with V'lane, he wasn't pleased when he saw Mac kiss V'lane, and he certainly wasn't pleased when he found out the method Mac used to lure Inspector Jayne to their side.  No, Barrons is rarely pleased.  But when he finds out that Mac went behind his back, he was so angry!
"That's our deal, isn't it? If nothing else, we're honest with each other about the Book."

"I don't trust you!"

"And you think I trust you? You haven't been out of fucking diapers long enough to be trusted, Ms. Lane! I'm not even sure you should be allowed to handle sharp objects!"
I loved seeing glimpses of the softer side of Barrons, even how few and fleeting they may be.  I have a feeling that Barrons probably hasn't smiled or laughed at anyone as much as he has with Mac and that thought makes me smile.  The mystery of what or who Barrons is continues in this book.  Mac finds out some useful information from Christian about Barrons' history.  It only left me more puzzled!!  So far, my friend has ruled out werewolf and werefairy.  That leaves an endless possibility of paranormal creatures.  My guess is something related to the Druids. I have no freaking clue what Barrons is and, frankly my dear, I don't give a damn. I just want him.
My saccharine humor exorcised the ghost of a smile. "Did you have a specific car in mind, Ms. Lane?"

I wanted a blue-collar muscle tonight. "The Viper."

"Why should I let you take it?"

"Because you owe me."

"Why do I owe you?"

"Because I put up with you."

He smiled then, really smiled. I snorted and looked away. "The keys are in it, Ms. Lane. The keys to the garage are in the top drawer of my desk, right-hand side."

I glanced at him sharply. Was this a concession? Telling me where he kept his keys? The offer of a deeper, more trusting association?

"Of course you know that already," he continued dryly. "You saw them there last time you snooped through my study."
Mac and Barrons' most honest moments with each other in Faefever happen during Mac's Voice lessons with Barrons.  She asks him to teach her to resist Voice since the Lord Master favors that method of control. Again, each scene screams for sexual release between the two of them. I don't know how much longer their sexual desires can be contained.  When their around each other the atmosphere is electric on fire, a gentle hum.  I LOVE IT!
When Barrons looks at me like that, it rattles me. Lust, in those ancient, obsidian eyes, offers no trace of humanity. Doesn't even bother trying. 

Savage Mac wants to invite it to come out and play. I think she's nuts. Nuts, I tell you.
Now, I must run to Dreamfever. Again, the ending of this book was emotionally exhausting and heart-wrenching. I felt like I had a ton of bricks sitting on my chest and all I wanted to do was reach through my Kindle and help.  READ THIS SERIES.
Dear Dreamfever, please fix this. Please.
Love, Megan
5 stars