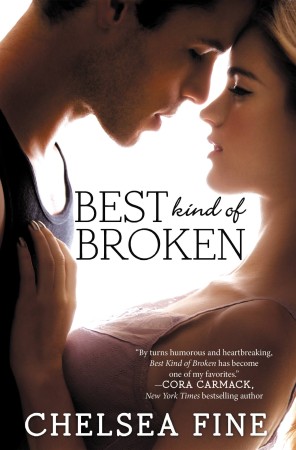 Best Kind of Broken
by
Chelsea Fine
Series:
Finding Fate #1
Publication date:
March 4, 2014
Genres:
New Adult
,
Romance
Length:
8 hrs and 57 mins
265 pagesFormat:
eARC
Source:
ARC via NetGalley
SOMETIMES MOVING ON MEANS MOVING IN

Pixie Marshall wishes every day she could turn back time and fix the past. But she can't. And the damage is done. She's hoping that a summer of free room and board working with her aunt at the Willow Inn will help her forget. Except there's a problem: the resident handyman is none other than Levi Andrews. The handsome quarterback was once her friend-and maybe more--until everything changed in a life-shattering instant. She was hoping to avoid him, possibly forever. Now he's right down the hall and stirring up feelings Pixie thought she'd long buried . . .

Levi can't believe he's living with the one person who holds all his painful memories. More than anything he wants to make things right, but a simple "sorry" won't suffice--not when the tragedy that scarred them was his fault. Levi knows Pixie's better off without him, but every part of him screams to touch her, protect her, wrap her in his arms, and kiss away the pain. Yet even though she's so close, Pixie's heart seems more unreachable than ever. Seeing those stunning green eyes again has made one thing perfectly clear--he can't live without her.
Affiliate Disclosure: This post contains affiliate links. In plain English, this means that I may receive a small commission (at no cost to you) if you purchase something through the links provided. This small income goes back into my blog, so I can continue to create fun content for you. I appreciate my readers and make it my goal to be upfront and honest. Thank you for supporting my blog!
Book Review:
As I read this book, I kept thinking, "Am I too old for new adult?" The  humor wasn't funny. The characters didn't communicate like adults (or at least like adults should communicate). And the heroine's inner dialogue, at times, sounded like something a 10-year old would say.
Levi and Sarah (or as he calls her Pixie) are stuck living together for the summer. After Sarah finishes her Freshman year at Arizona State University, she spends the summer at her aunt's inn as a cook. On her first day, she's shocked to see that her childhood best friend, Levi, is working there as a handyman. It doesn't take long for the reader to figure out that there is something very wrong between the two of them. The two former best friends can't even look each other in the eye without pain, anger, sadness, desperation, and love. Something in their past tore them apart.
I think the biggest issue with this book was the characters' voice. I struggled with the heroine's voice. Most of her inner dialogue—especially in the beginning—was really immature and childish.
A good chunk of this book was building and playing up the mystery as to why Levi and Sarah didn't talk to each other. I've said this before, I'm far too curious a reader to quit reading a book. Even though I figured out what pulled Levi and Sarah apart pretty early on, I kept reading because I wanted the details and I wanted to see where the story would go after that past event was revealed. The answer is, the story didn't really go anywhere.
Having read some of Fine's previous books (and enjoyed them), I can say that I've seen better writing from her. Fellow readers have described as a fun and light read, but I guess I want more from my light reads. Make me fall in love with the characters, give me a gripping plot.  In this book, the characters' voices were generic, the characters themselves weren't memorable, and the plot just dragged. Bummer.
* I received a copy from the publisher in exchange for an honest review.
1 star
YOU MAY ALSO LIKE THESE POSTS: