I really enjoyed reading  All of You, the first book in Christina Lee's Between Breaths series.  Before You Break is set to release on February 18, 2014!  But today, I have the cover for Whisper To Me, the third book in the series.
All of the novels in the Between Breaths series can be read stand-alones.
Read My Review for All of You
Release date:  May 14, 2014.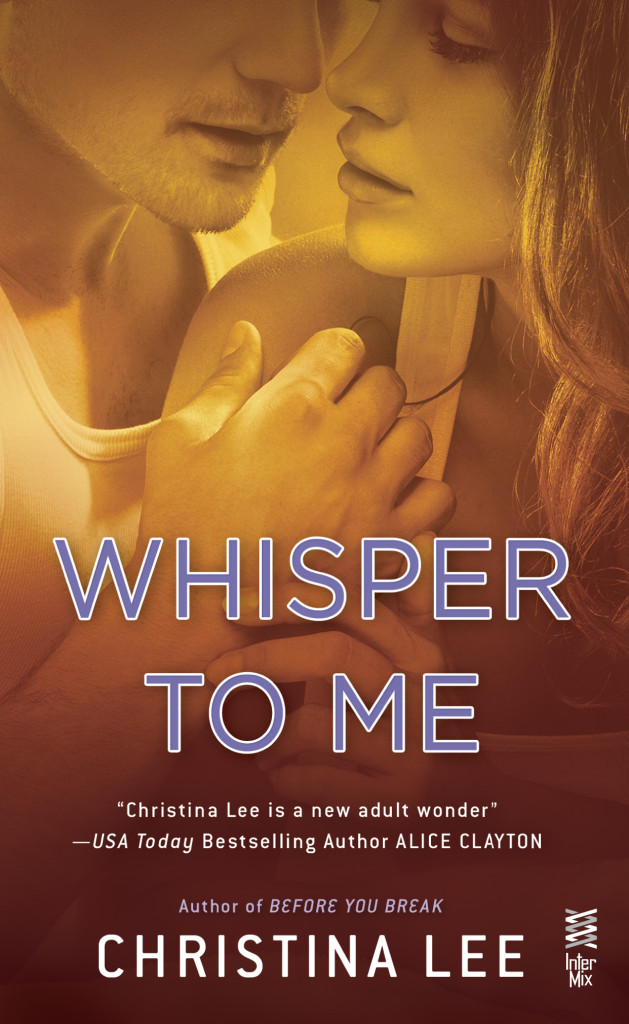 WHISPER TO ME
A hot and consuming New Adult romance about a wayward musician and the one girl who keeps him grounded…
At college, Rachel has a reputation for being a sarcastic flirt with a thing for star athletes. No one at school knows that she'd had her heart ripped to shreds by her high school sweetheart, who'd driven them both off the side of the road on a borrowed motorcycle, and then abandoned her. No one knows the real Rachel Mattson—except one person…
Ever since he helped nurse his sister's feisty best friend back to health, pierced bass player Kai Nakos has been head over heels in love. But the supposed bad boy can't risk letting Rachel know the truth—especially now that the two of them are back in their hometown for the summer, together for the first time since the months following that fateful night. Never mind that Rachel's ex is back, groveling for her forgiveness.
Shaken by her ex's return, Rachel finds herself turning to the one guy she knows she can trust. Kai is willing to hide his feelings for her, just to have Rachel touch him again. After all, this is only a temporary fling.  Until it becomes something more. But maybe it had been more all along.
Expected Release date:  May 14, 2014
Genre:  New Adult
Add series on Goodreads
Add on Goodreads
About the Author
Mother, wife, reader, dreamer. Christina lives in the Midwest with her husband and son–her two favorite guys. She's addicted to lip gloss and salted caramel everything. She believes in true love and kissing, so writing romance novels has become a dream job. She also owns her own jewelry business, called Tags-n-Stones, where she hand-stamps meaningful words or letters onto silver for her customers. She loves to hear from her readers. You can find her on: www.christinalee.net.
Follow Christina: