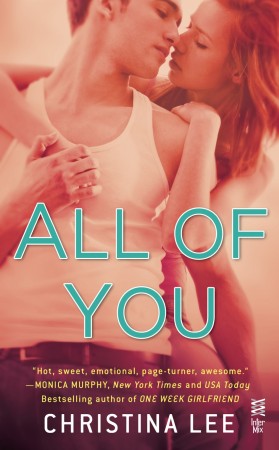 All of You
by
Christina Lee
Series:
Between Breaths #1
Published by
Berkley
,
DAW
,
NAL / Signet Romance
Publication date:
September 17, 2013
Genres:
Contemporary Romance
,
New Adult
304 pagesFormat:
eARC
Source:
ARC via NetGalley
Nursing student Avery Michaels wants nothing to do with dating--she's perfectly happy single.  Privy to too many of her mother's bad decisions and even worse taste in boyfriends, all Avery can handle is a string of uncomplicated hookups whenever the mood strikes.

When she meets smoking hot tattoo artist Bennett, she wants him--for just one night. But he won't accept a no-strings-attached arrangement. He lives by a straight-laced code of values based on his own troubled upbringing.

Bennett sees something special in Avery and he wants more from her. Way more. As Avery wrestles with her emotions for Bennett, danger and tragedy force them to open up to each other. And Avery must face the terrifying realization that she wants more from him, too.

So she needs to make a choice--let Bennett go or finally let him in.
Affiliate Disclosure: This post contains affiliate links. In plain English, this means that I may receive a small commission (at no cost to you) if you purchase something through the links provided. This small income goes back into my blog, so I can continue to create fun content for you. I appreciate my readers and make it my goal to be upfront and honest. Thank you for supporting my blog!
Book Review:
When I saw that this book was about a male virgin, I had to knew I had to read it. I'm always on the hunt for books that are outside of the norm.  All of You was very entertaining and emotional read that I really enjoyed.
"Guys were easy to figure out-at least in the hormonal sense. You needed only appear helpless or horny, and their pants instantly dropped to their ankles."
Twenty-one year old Avery is a player.  She sleeps with a lot of guys and keeps any emotions out of the picture.  The story opens with Avery on the prowl at a college party and she seems a guy, who she calls "Hot Boy".  She has her mind set on taking him home, but *gasp* he doesn't even give her the time of day.  Turns out "Hot Boy" is Avery's new upstairs neighbor.  And hot boy has a name, Bennett.
Avery has a past, a past that has shaped who she is.  What happened to her caused her mind to flip a switch.  She is now in complete control of her body and what she does with it.  The traumatic past storyline bothered me to be quite honest.  Do I think it is overused?  Yes.  But I don't have a problem when it is done really well.  Here, while I didn't hate it, I didn't love it.  Avery's reasons for being the female version of Travis Maddox just didn't do it for me.
Bennett Reynolds is student, but he is also a tattoo artist.  Though, he isn't your typical bad boy tattoo artist looking for the next chick to bed.  No, he's more of the strong silent type.  I get tired of the same overprotective alpha males rescuing the seemingly weak girls.  Bennett is more subdued and he's a virgin (remember?).  Growing up, Bennett's mom was more focused on her next boyfriend rather than caring for him and Bennett's three sister, leaving him to raise his sisters and set a good example.  For this reason, he swore off casual sex until he found someone to make that experience mean something.
I really did like seeing the female be the sexual prowess in the story.  Though, at times, I felt like the author was trying to hard to do a complete gender role reversal.  It seemed a little forced to me.  Nonetheless, I liked that Avery had to hold back her physical attraction from Bennett.  It forced her to learn more about him as a person and really feel what it was like to be with someone who cares about you instead of the wham bam thank you…um…sir.

"When he reached over to turn the volume on the remote, his thigh rubbed again my shorts and I nearly flinched.
I was like some lovesick tween desperate to have my crush finally notice me."
I'm a huge fan of the slow-building romance.  That's why I have such predilection towards the young adult genre.  Don't get me wrong, I love new adult, adult contemporary, and a good smut book.  But there is something special about the tug and pull of a good tension filled romance.  All of You had that feel to it, given the character's sexual situations.  But once the fires were going it was hot! I loved it so much!
"Bennett was kissing the shit out of me and I couldn't breathe but I didn't care because if this is what kissing felt like, I could get my fill of oxygen later.
He pulled my lower lip into his mouth, and then my top lip, taking his time sucking each one of as my fingers dug deeper into his neck.
His hands never traveled south even though I would have welcomed them. All of his focus was on my lips. And then on my neck. And then on my ear. His hot breath making my toes curl.
This man knew how to kiss."
Avery and Bennett were great together.  I loved seeing Avery finally get to experience what being in love was like and experiencing butterflies towards another person.  With the fling lifestyle she had BB (Before Bennett) she cut off any chance of having feelings towards another person.
Overall, I enjoyed this story, especially the ending.  There were a few scenes that I've gone back and reread a few times just because I loved them so much.  However, I felt like the overall plotline was a bit predictable.  I did appreciate the sort of role reversal with the male being the virgin, instead of the girl.  I am getting tired of the female virgin storyline, so this was somewhat refreshing.  Many of the conversations between Avery and her friends focused on their sexual conquests and I felt like it was over-the-top and unnecessary.
I look forward to reading Before You Break, the next book in the Between Breaths series.  It is a companion novel and will feature a different couple.
*I received an ARC from the publisher via NetGalley in exchange for an honest review.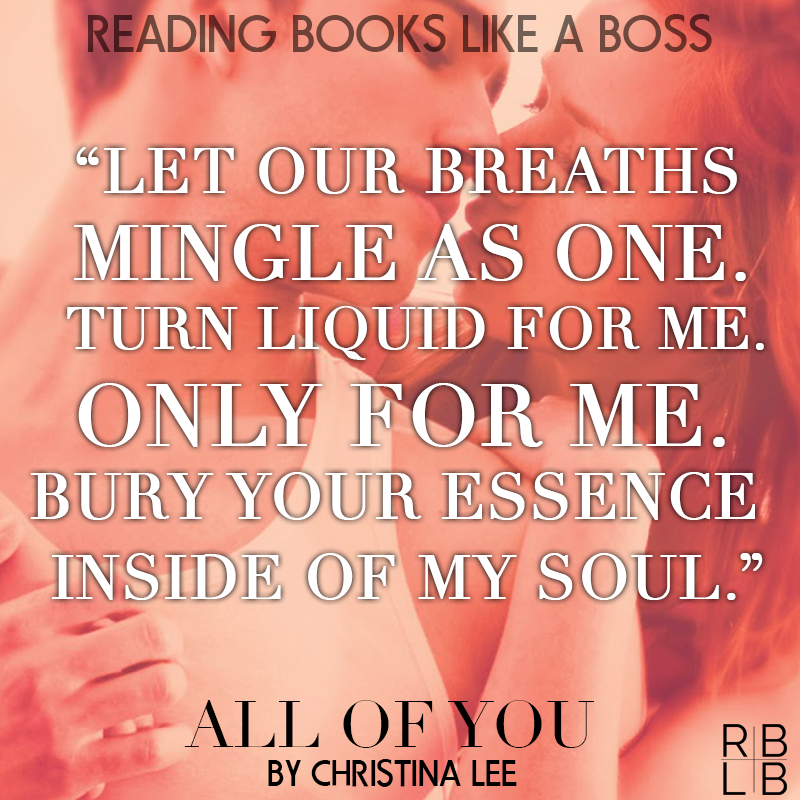 YOU MAY ALSO LIKE THESE POSTS: