Cover Reveal & Synopsis Reveal – Ashes to Ashes by Karina Halle

Affiliate Disclosure: This post contains affiliate links. In plain English, this means that I may receive a small commission (at no cost to you) if you purchase something through the links provided. This small income goes back into my blog, so I can continue to create fun content for you. I appreciate my readers and make it my goal to be upfront and honest. Thank you for supporting my blog!
Check out the cover and read the synopsis.  Dex and Perry are going to be investigating a haunted school that was formerly a sanatorium where several children perished from tuberculosis.  EEK!!
Expected release date: December 11, 2013
Cover Designed by Najla Qamber Designs

ASHES TO ASHES
It's been two months since Perry Palomino and Dex Foray's relationship reached a new turning point, two months since Perry started a new life in Seattle, and two months since their Experiment in Terror show took on a new partner, ex-Wine Babe Rebecca Sims, and a newfound level of success. But whenever there is light in their lives, the madness still has a way of coming back in.
When the team is sent back to the stormy Oregon coast to investigate a haunted school, Perry wants to use the opportunity to reconnect with her family and reintroduce Dex into their lives. Only Perry's not the only one who's reaching out – her grandmother Pippa has started appearing to her with disturbing warnings and Perry's presence at the school has ignited a chilling new wave of supernatural phenomenon. Once used a century ago as a sanatorium to house children dying of tuberculosis, the school's past residents are slowly coming back to life and with one thing on their mind: They want someone to play with, someone to join them.  Forever.
Even when dead, some children get whatever they want.
And they want Perry.
EXPERIMENT IN TERROR READING ORDER
Book 1 – Darkhouse:  Amazon | Goodreads
Book 2 – Red Fox:  Amazon | Goodreads
Book 2.5  – The Benson:  Amazon | Goodreads
Book 3 – Dead Sky Morning:  Amazon | Goodreads
Book 4 – Lying Season:  Amazon | Goodreads
Book 5 – On Demon Wings:  Amazon | Goodreads
Book 5.5 – Old Blood:  Amazon | Goodreads
Book 5.7 – The Dex Files:  Amazon | Goodreads
Book 6 – Into the Hollow:   Amazon | Goodreads
Book 6.5 – And With Madness Comes the Light:   Amazon | Goodreads
Book 7 – Come Alive:   Amazon | Goodreads
Book 8 – Ashes to Ashes: Amazon |  Goodreads
Book 9 – Dust to Dust:  Goodreads
ABOUT THE EIT SERIES
The Experiment and Terror series is a sexy and scary romantic series about the ghosts that haunt us and the ones that hold us back.
After filming a creepy experience in her uncle's dilapidated lighthouse, 22-year old Perry Palomino becomes a YouTube and internet star overnight. She attracts the attention of Dex Foray, a producer and cameraman for a site that specializes in various webisodes, who convinces her to be a host for a low-budget ghost hunting series. The only problem is, neither Perry nor Dex are entirely "with it" — I mean, they see ghosts, after all. And when the duo isn't wrestling with the very notion of reality, they're grappling with a working relationship that's deepcut with sexual tension and the ongoing question of will they or won't they?
About the Author: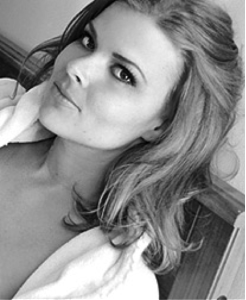 Karina Halle is the USA Today Best Selling Author of The Artists Trilogy (On Every Street, Sins & Needles, Shooting Scars, and Bold Tricks) published by Hachette, the Experiment in Terror series, and The Devil's series published by Diversion.
The daughter of a Norwegian Viking and a Finnish Moomin, Karina Halle grew up in Vancouver, Canada with trolls and eternal darkness on the brain. This soon turned into a love of all things that go bump in the night and a rather sadistic appreciation for freaking people out. Like many of the flawed characters she writes, Karina never knew where to find herself and has dabbled in acting, make-up artistry, film production, screenwriting, photography, travel writing and music journalism. She eventually found herself in the pages of the very novels she wrote (if only she had looked there to begin with).
Karina holds a screenwriting degree from Vancouver Film School and a Bachelor of Journalism from TRU. Her travel writing, music reviews/interviews and photography have appeared in publications such as Consequence of Sound, Mxdwn and GoNomad Travel Guides. She currently lives on an island on the coast of British Columbia where she's preparing for the zombie apocalypse.
Karina is represented by Scott Waxman of the Waxman Leavell Literary Agency
Follow Karina:
EIT Website | Website | EIT Facebook | Facebook Author Page | Twitter | Goodreads
Subscribe to the RBLB Newsletter!