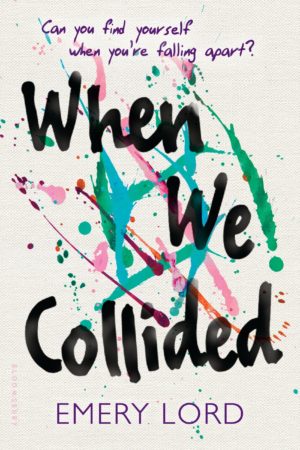 When We Collided
by
Emery Lord
Published by
Bloomsbury USA Children's Books
Publication date:
April 5, 2016
Genres:
Young Adult
352 pagesFormat:
eARC
Source:
Publisher
We are seventeen and shattered and still dancing. We have messy, throbbing hearts, and we are stronger than anyone could ever know…

Jonah never thought a girl like Vivi would come along.

Vivi didn't know Jonah would light up her world.

Neither of them expected a summer like this…a summer that would rewrite their futures.

In an unflinching story about new love, old wounds, and forces beyond our control, two teens find that when you collide with the right person at just the right time, it will change you forever
Affiliate Disclosure: This post contains affiliate links. In plain English, this means that I may receive a small commission (at no cost to you) if you purchase something through the links provided. This small income goes back into my blog, so I can continue to create fun content for you. I appreciate my readers and make it my goal to be upfront and honest. Thank you for supporting my blog!
When We Collided is the first book I've read by Emery Lord. While I appreciate the author peeling back the curtain and shedding light on mental illness, specifically bipolar disorder, I had too many issues with the writing style, characterization, and plot to enjoy this story.
Vivi is a sixteen-year-old girl who refuses to be pinned down by anyone or by the prescribed psychiatric medication that she tosses in the ocean every morning. She moves to Verona Cove with her artist mother and quickly falls in love with the city and its people. She's eccentric, impulsive, and appears to have not a care in the world. She meets Jonah, whose family has been put through the wringer. His father died suddenly. The shock of it all pulled his mother into a clinical depression, rendering her unable to care for herself or her children. Along with his two older siblings, Jonah has been taking care of his three younger siblings for the past six months and helping a family friend run the family restaurant. Jonah is drawn to Vivi's light-hearted spirit and unpredictable nature almost instantly and so are his siblings. But without medications, Vivi could shatter at any moment.
I think it's great when an author whole-heartedly wants to raise awareness for mental illness, especially when it's something that's so personal for them. While many of the components of Vivi's struggle do happen in reality, they way it was pieced together did not work for me at all.
The voice and characterization of Vivi was very problematic for me. All of her "heyo's", "darlings", and "lovey-o" all just felt so forced. Vivi didn't talk like a sixteen-year-old girl.
For much of the book, Vivi is in a manic state, as evidenced by her pressure of speech, flight of ideas, impulsiveness, and decreased need for sleep. But the way that these very real symptoms of bipolar disorder were used to essentially create Vivi's character and voice did not work. There was absolutely no subtlety to the writing or characterization.
Vivi's tangential thoughts were excruciatingly irritating to read. I know that people with bipolar struggle with the sort of racing thoughts and rapid speech that Vivi does, but Vivi's voice was unnatural and bizarre.
She is introducing herself to Jonah for the first time here:
"I'm Vivi. I'm sixteen, almost seventeen, and I just moved here for the summer, and I live on Los Flores Drive. My favorite color is blue, and I love dogs and ice cream and laughing so hard that I almost pee my pants."
Or here when Jonah asks her if he can ask her a question:
"Always, darling, you know that. I'm a fountain of truth, splashing past each concrete tier until I hit the bottom and spout right back to the top."
What?
I had problems with Jonah's characterization as well. At times, his voice didn't come off as that of a sixteen-year-old boy either. His internal musings in the beginning regarding Vivi were strange:
"Yes, beautiful girl, I know. I understand you to your very core. We are soul mates."
What boy his age (or any guy, for that matter) says that?
As for the plot, it's fairly predicable and contained several unrealistic plot points. For example, Vivi's mom is a free-spirited artist who describes herself as an "unconventional mother." This appeared to be the explanation given for Vivi's mom's negligence as a parent of a child with mental illness—a child who has a history of attempting suicide and reckless behavior. One would think that a mother of a child—especially a mother who is not mentally ill herself—with suicide attempts would be watching her daughter take her medications. At least then, there would have been some semblance of parenting going on here, where perhaps the daughter could have cheeked her medication.
In another situation, Vivi takes her mom's car to a town hours away and is somehow able—as a minor—to trade the car in for a Vespa and drive the Vespa back home. Even if Vivi lied about her age, it didn't seem believable that she was able to enter into a contractual agreement with a dealer as a minor.
The romance subplot between Jonah and Vivi didn't work. In fact, I didn't think it was even necessary to the story. I was glad that the author didn't try to use the love story to romanticize mental illness, which I've seen in other recent books centering around mental illness. But the love story in this one was bizarre. I didn't root for Jonah and Vivi as a couple because I didn't like Vivi at all and I thought Jonah's character was too flat. I would have loved to see the author create more of a friendship between Jonah and Vivi, one where they bonded over their shared tragedies without the love and the sex.
I did like Jonah's story arc and his whole family. I liked seeing that subplot come together at the end. Jonah had a lot of people around him that cared about him and I would have loved to have seen more of that.
Unfortunately, I can't recommend this book at all. I am curious to read Emery Lord's other young adult titles.
* I received an advance copy from the publisher in exchange for an honest review. This did not affect my opinion in any way.
YOU MAY ALSO LIKE THESE POSTS: