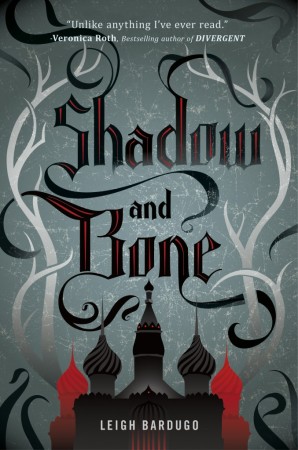 Shadow and Bone
by
Leigh Bardugo
Series:
The Grisha Trilogy #1
Published by
Henry Holt and Company
,
Holt Books for Young Readers
,
Macmillan
Publication date:
June 5, 2012
Genres:
Fantasy
,
Romance
,
Young Adult
358 pagesFormat:
eBook
Source:
Purchased
Surrounded by enemies, the once-great nation of Ravka has been torn in two by the Shadow Fold, a swath of near impenetrable darkness crawling with monsters who feast on human flesh. Now its fate may rest on the shoulders of one lonely refugee.

Alina Starkov has never been good at anything. But when her regiment is attacked on the Fold and her best friend is brutally injured, Alina reveals a dormant power that saves his life—a power that could be the key to setting her war-ravaged country free. Wrenched from everything she knows, Alina is whisked away to the royal court to be trained as a member of the Grisha, the magical elite led by the mysterious Darkling.

Yet nothing in this lavish world is what it seems. With darkness looming and an entire kingdom depending on her untamed power, Alina will have to confront the secrets of the Grisha . . . and the secrets of her heart.

Shadow and Bone is the first installment in Leigh Bardugo's Grisha Trilogy.
Affiliate Disclosure: This post contains affiliate links. In plain English, this means that I may receive a small commission (at no cost to you) if you purchase something through the links provided. This small income goes back into my blog, so I can continue to create fun content for you. I appreciate my readers and make it my goal to be upfront and honest. Thank you for supporting my blog!
Book Review:
The light shattered, leaving me in darkness.
Wow! Shadow and Bone was such a twisty fantastical adventure. I haven't read many fantasy novels, but this book sucked me in.  Set in a Russian-esque fantasy world built on social status and monarchy, I was enthralled and enchanted with every page.
Alina Starkov was born an orphan.  She grew up in an orphanage under the care of an ex-military trained Duke's staff.  In the orphanage, she met her best friend Mal and they have been inseparable ever since. Now, she is a member of the King's Second Army and a mapmaker, and Mal is an expert tracker, also in the army. Even though they have different roles in the army they still find a way to spend time with another.  Alina has been secretly in love with Mal for years, but Mal has been too blind to see it, perhaps it's because he's been busy with other ladies in the military.
"It's always just you and me, Alina.
For a moment, it seemed like it was true. The world was this step, this circle of lamplight, the two of us suspended in the dark.
Alina and Mal are part of a select group of personnel chosen to travel into The Fold, an expansive and dangerous dark zone separating East and West Ravka. The Fold was created hundreds of years ago by a Darkling.  The Darkling is a the leader of the Grisha, a person who has special skills from of the Small Science.  He is also the most powerful Grisha.  Those who travel into the Fold without proper training or protection perish from the attacks of the winged vulcra.
In the midst of tragedy, Alina finds out that she is different from everyone. She has a special gift, one that had not manifested itself until the most dire of circumstances. Suddenly, she is ripped away from the Army, from Mal and from everything she's known.  Under the protection of the Darkling's guards, she escorted to the King's palace to attend Grisha training.
Of the fantasy novels I've read, it's easy to get bogged down in the complexity world building.  But the way Leigh Bardugo crafted the plot around the foundation of the world in Shadow and Bone was effortless and easy to follow, especially for someone not so used to the extensive world building. I fell in love with the Russian-like setting and terms like: kefta, Fabrikator, Corporalnik,
I really liked Alina's character. In the beginning of the book, she is described as this plain and very thin, weak girl. She's very self-conscious about her looks and her standing with Mal. But I have to say she showed a tremendous amount of strength being thrown into the Grisha world and the political nature of the palace. She was forced to question everyone's true motives. Who could she trust? Who was lying to her? Who spoke the truth?
"I hope you don't expect fairness from me, Alina. It isn't one of my specialities."
I stared at him. What was I supposed to make out of that?
This book was full of twists and turns in all of the right places. Just when I thought I had something figured out, Leigh Bardugo pulled the rug out from under me. That was especially the truth with the people Alina met.
One of my favorite things in this book were the relationships Alina forged throughout the course of this novel. She and the Darkling had this interesting and special relationship.  As a man with an extreme power, nearly everyone feared him due to the enormity of his power.But he regarded Alina with care and compassion from the beginning. I have to admit that I was rooting for the Darkling hardcore from early on. I found his mysteriousness to be slightly seductive and I fell for his wit and charm quickly. I could totally see how Alina could fall under his charm.
Alina's friendship with a palace servant and lower level Grisha, Genya, was fantastic. Ignorant to the whole social status structure withint he palace, Alina chose to spend her time with Genya rather than her fellow Grisha classmates, much to Genya's surprise. Genya was a secondary character who I came to love and truly feel for. As a lower-stationed Grisha, she'd been forced into some unpleasant situations and it really made me sick. Their bond with one another was touching. I hope we get to see more of Genya in the rest of the books.
I loved the Darkling's character so much. He is the epitome of a dark and mysterious character, but hints of humanity break through the cracks of his formal façade. The two of them had this special relationship from the very beginning. While reading I felt this inexplicable pull towards him, yet I remained skeptical of his true intentions.  But any doubts I had would fall away with his rhetoric and…his kissing skills.  Seriously! I thought my heart was going to pound out of my chest with all of the sexual tension.
Just when I was all on team Darkling, Mal shows up after being out of the picture for some time (trying to keep this spoiler-free). At this point, I WAS SO CONFUSED! First I liked the Darkling and now I love Mal.  I don't know who to choose. I mean, Mal is sweet, heroic, thoughtful and has a deeply rooted friendship with Alina that has blossomed over many years.  But hot damn, there is just something about the Darkling. I have an idea where the next book is going, but I will be curious how all of these love games turns out.
The events in this book took a dramatic turn in such an awesome way! I was shocked (though I probably shouldn't have been) and it kept me flipping the pages, desperate to find out how everything ends. My heart was pounding, I couldn't read fast enough.  This book was such a fantastic first book in a series. I think it's one of my favorites. A lot of times first books can be dull, but this book started with an adventure and ended in frenetic excitement!
Note: Wow! This was a really long review. If you made it to this point, give yourself a pat on the back. 🙂
4 stars