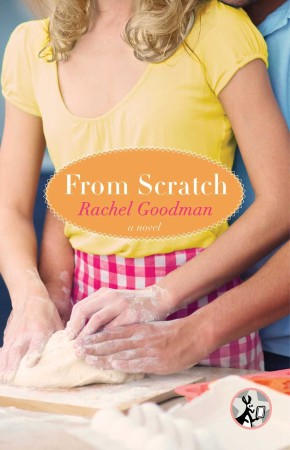 From Scratch
by
Rachel Goodman
Published by
Pocket Star
,
Simon & Schuster
Publication date:
July 20, 2015
Genres:
Adult Contemporary Romance
,
Romance
259 pagesFormat:
eARC
Source:
ARC via NetGalley
A down-home, feel-good debut Southern romance, From Scratch explores one woman's journey back home to Dallas, Texas, where her family is cooking up a plan that doesn't quite suit her tastes…

Thirty-year-old Lillie Turner grew up with maple syrup stuck to her skin and bacon grease splattered on her clothes, courtesy of working in the family diner. Thank goodness she escaped all that when she moved to Chicago five years ago. Now a successful strategy consultant and newly engaged to a man who complements her like biscuits and gravy, she has everything she wants.

When an urgent phone call about her father's health pulls Lillie back to Dallas, she soon learns it was a ruse to bring her home so she can run the diner she'd rather avoid and compete in the Upper Crust, an annual baking competition, with no option to withdraw. Lillie is furious and ready to run back to Chicago, but her father's haggard appearance makes her wonder if he's hiding something. Things go from bad to worse when Nick, her handsome ex and the only man she ever truly loved, reappears, looking as scrumptious as ever.

Lillie's trip home forces her to question the path she's chosen, find her place in the family she abandoned, and wonder if the life she left behind is what she really wants after all.
Affiliate Disclosure: This post contains affiliate links. In plain English, this means that I may receive a small commission (at no cost to you) if you purchase something through the links provided. This small income goes back into my blog, so I can continue to create fun content for you. I appreciate my readers and make it my goal to be upfront and honest. Thank you for supporting my blog!
Book Review:
When I read the premise of this book, I couldn't wait to dive in because it sounded like a cute, fun read with a delicious second chance romance. While this book was light and cute, I struggled with it at times due the caricature-like characters and the dramatics.
Lillie left Dallas five years ago, leaving behind her father and his diner, her best friends, and her fiancé. Now, she's back after her father calls her with a medical emergency. Upon arrival she sees that he's just fine with only a bit of knee pain, but all of her and her father's friends seem to know something more about his health. And they're not telling. After all these years, he is still up at the crack of dawn cooking dinner at Spoon's, her dad's diner.
Cooking and baking used to be in Lillie's DNA before she found out the truth behind why her mother left her as a child. When she moved to Chicago to start a new life, she erased everything in her life that reminded her of her past. But she never really let go. Now she's engaged to be married to Drew, whom she left in Chicago.
At the heart of this novel is Lillie's self-discovery (or maybe I should say rediscovery) of who she really is and what she wants. By being at home with her friends, all of her memories of who she once was come flooding back to her and she has to reconcile who she was and who she's become. I liked that aspect.
One of the biggest choices she has to make is whether to stay with Drew or take a risk and go back to her old flame, Nick. I had an issue with the relationship part of the story. Almost immediately, Lillie is beguiled by Nick and practically wants to go back to him without question. She didn't really act like the engaged woman that she was. I didn't really feel any internal struggle at all because it seems like her choice was already made up.
All of the Southern characters are caricatures, like the stuck-up rich girl who is now dating Lillie's ex-fiancé or the snooty older woman who is in charge of setting up the town's baking competition. Both of these women are nasty and mean to Lillie for no reason.
As I read this book, I didn't get swept away in its pages. This novel had some really cute moments. The shop names really really stinking adorable (Prickly Pear, Turner's Greasy Spoons, Tipsy Teakettle). But I felt as though it was almost too sweet for me.
2 stars
* I received an advanced copy from the publisher in exchange for an honest review.
YOU MAY ALSO LIKE THESE POSTS: