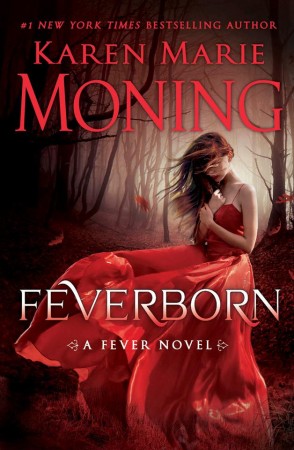 Feverborn
Series:
Fever #8
Publication date:
January 19, 2016
512 pagesFormat:
Hardcover
In Karen Marie Moning's latest installment of the epic #1 New York Times bestselling Fever series, Mac, Barrons, Ryodan, and Jada are back—and the stakes have never been higher and the chemistry has never been hotter. Hurtling us into a realm of labyrinthine intrigue and consummate seduction, Feverborn is a riveting tale of ancient evil, lust, betrayal, forgiveness, and the redemptive power of love.

When the immortal Fae destroyed the ancient wall dividing the worlds of Man and Faery, the very fabric of the universe was damaged, and now Earth is vanishing bit by bit. Only the long-lost Song of Making—a haunting, dangerous melody that is the source of life itself—can save the planet.

But those who seek the mythic song must contend with old wounds and new enemies, passions that burn hot and hunger for vengeance that runs deep. The challenges are many: the Keltar at war with nine immortals who've secretly ruled Dublin for eons, Mac and Jada hunted by the masses, the Seelie queen nowhere to be found, and the most powerful Unseelie prince in all creation determined to rule both Fae and Man. Now the task of solving the ancient riddle of the Song of Making falls to a band of deadly warriors divided among—and within—themselves.

Once a normal city possessing a touch of ancient magic, Dublin is now a treacherously magical city with only a touch of normal. And on those war-torn streets, Mac will come face-to-face with her most savage enemy yet: herself.
Affiliate Disclosure: This post contains affiliate links. In plain English, this means that I may receive a small commission (at no cost to you) if you purchase something through the links provided. This small income goes back into my blog, so I can continue to create fun content for you. I appreciate my readers and make it my goal to be upfront and honest. Thank you for supporting my blog!
Book Review:
The first five books of Karen Marie Moning's Fever series were captivating, riveting, and had a clear direction. Even though Burned, didn't have a traditional cohesive plot like the previous books in the series, the non-stop action gave that installment this momentum that propelled the reader to keep going.
Feverborn was a complete departure from the Fever world that Moning had crafted in the first five books. It lacked any plot structure at all. Most of the book was spent waiting for something to happen, which was something I never thought I'd say about a Fever series book. But as I got further into the book, the literary massacre continued. Characters that I loved in the previous books were cheapened and ruined. After reading this book, I almost wish she would have left Mac and Barrons standing outside Barrons Books and Baubles and let the reader imagine what transpired next for them. What in the world went wrong, my beloved Fever series?
Though I've been a fan for only a short time, I am tremendously disappointed in the direction the series has gone. There were elements in this book—and quite frankly in Burned too—that could not have been in the author's mind from the beginning. These things were added after the fact to create something when there were no building blocks to go on.
So much happened in Burned, which was many people's criticism. I can understand people not loving that book even though I did. It was quite different than the previous books. But what Moning started in Burned, she had to continue in Feverborn, which led to incomplete storylines—and in some instances storylines that were barely mentioned. It was almost like she had too much to wrap up and too little time to do it.
Many scenes in Feverborn—especially regarding the Unseelie King and Seelie Queen—were so convoluted and confusing. Moning spent an inordinate amount of text in some scenes regurgitating what happened in the other books when the recapping needed to happen elsewhere for the sake of clarity.
There was one element in particular on which the series was built that turned everything we knew inside out. Something that was final, definite, and done in the first five books. But for whatever reason, what we believed to be true for seven books was undid with a single scene, and it only served as more proof that the series has lost its direction completely.
I didn't hate this book, but it was a far cry from the exciting and thrilling original first five Fever series books. I am still totally on board with Ryodan and Jada. Several scenes in Feverborn with them made me giddy with excitement—one of the few moments that I felt that way.
* I purchased this book.