I was tagged by Cristina from Cristina's Book Reviews to do this fun post!  Check out the end of the post to see who I'VE TAGGED!
What are your top three book hates?
INSTALOVE/INSTALUST

– I feel like I need to qualify my answer.  There are times when instalove and instalust has worked for me.  What bothers me is the "I haven't met you before, but I'm looking at you from across the room and I WANT TO HAVE SEXUAL INTERCOURSE WITH YOU."  Yeah, that doesn't work for me.  If the author is trying to create an near instantaneous attraction between characters, the author has to artfully craft the scene, choose their words wisely, and really make the reader believe it. I have read several books with the instalust that I HATE where the couples meet and both of their internal dialogues go something like this:

"Hey.  I'm John." (Holy Shit! She's so f&$king sexy. I want to see her beneath me screaming my name.)
"Hey yourself. I'm Jane." (OMG! He's so hot. I'm sweating.  My body is pulsing from head to toe. I wonder how I can get him into bed.)
Using sexual desire as the sole basis for creating an emotional connection between characters doesn't work for me.

LACK OF CHARACTER DEVELOPMENT, CAPTIVATING PLOT, and/or GOOD WRITING – In order for me to love a book I have to have at the very least 2 of those three things.  If one is lacking then, the others should make up for it.  Character development is huge for me. I love reading books with interesting, three-dimensional characters.  I want the author to have spent a good amount of time getting to know each and every facet of their character.  That's why I love character studies so much.
SUPER ALPHA MALES – I'm in the minority on this one, I know.  There is a huge trend in the indie world with dominating alpha males.  I don't hate all alpha males. But I am very picky.  I tend to lean towards the nice guys.  And no, the nice guys are not ALWAYS boring.  I wrote a post about that HERE.
Describe your perfect reading spot:
My perfect reading spot is somewhere cushiony (usually my sofa) with a cozy blanket whilst double fisting a coffee and a root beer.  Though, I wish I had a reading spot more like THIS.
Tell us three book confessions:
I don't cry often when reading books.
I've never read The Hunger Games series or the Divergent Series.
I am still a Twilight fangirl.  #HatersGonnaHate
When was the last time you cried while reading?
The last time I cried when reading a book was when I read Mud Vein by Tarryn Fisher.  Wowza!  I did not cry in the end, but I did cry during one particular scene.
How many books are on your bedside?
One.  How to Love by  Katie Cotugno.  My friend, Nereyda, sent me a copy of this several months ago and I haven't gotten around to it. I mostly read from my Kindle, but I do read paperbacks from time to time.
What is your favorite snack while reading?
Ice cream, cookies, and wine.  Preferably, all of those things at once.  Wine is a snack, right?  Basically, I like anything that isn't good for you.
Name three books you would recommend to anyone?
The Sea of Tranquility by Katja Millay:  This book is ALWAYS my go-to recommendation for people.  There hasn't been one person who has read it after my recommendation that didn't like it.  It's always a hit.  Always.  The writing is phenomenal, the characters are incredibly real, and the story will stay with you long after you finish.
Painted Faces by L.H. Cosway: I read this book early last year and since then have reread it multiple times.  This book is unique and just so much fun to read.  The hero is a straight drag queen and the heroine is a quirky baker.  They're friends first, which I love, but their romantic relationship gives your heart an exercise in feelings.
Delirium by Lauren Oliver: It took me weeks to get over this book.  The love story between Lena and Alex is one for the ages, folks.  The concept behind the book is unique and sparked internal struggles for Lena.
Show us a picture of your favorite bookshelf on your bookcase:
My bookshelves are NOT organized. I am so ashamed.  Maybe I should get to it.  Books are thrown together in a chaotic mess with no order.  This shelf has some recent additions and a few books that I got last year.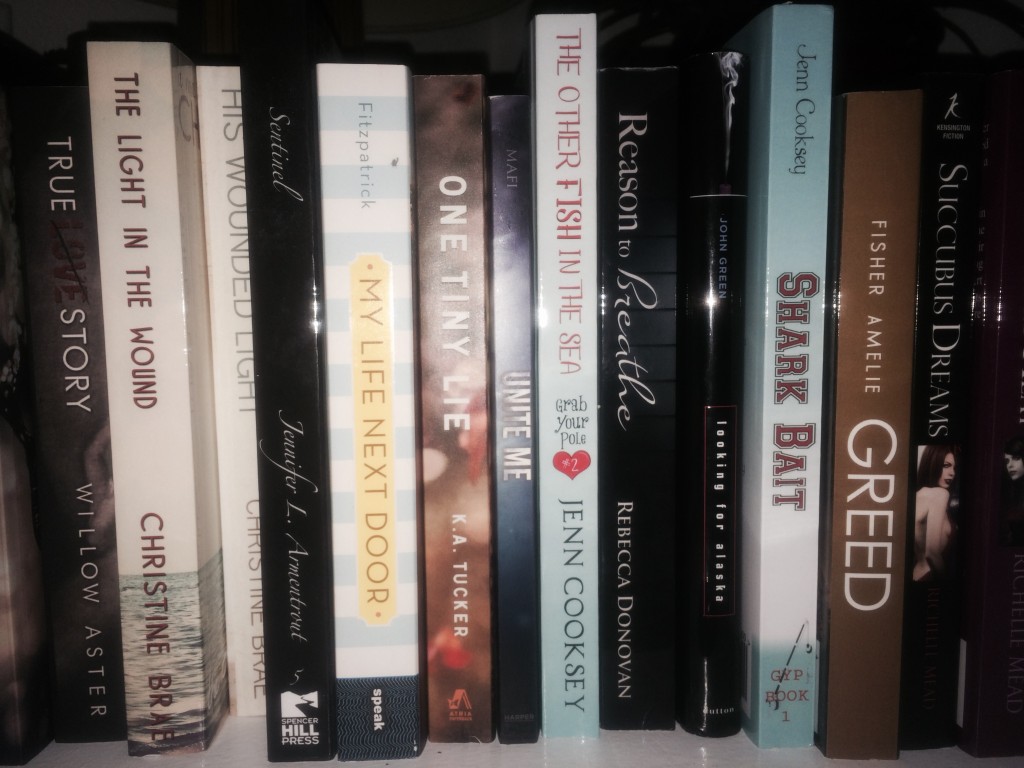 Write how much books mean to you in three words:
More Books. Always.
What is your biggest reading secret?
I'm a really picky reader.  But when I love a book, I love it so hard.
Now I'm tagging:
• Allura at Teacups and Bookends
• Autumn from The Autumn Review
• Eva from All Books Considered
• Betty from Book Rock Betty
YOU MAY ALSO LIKE THESE POSTS: