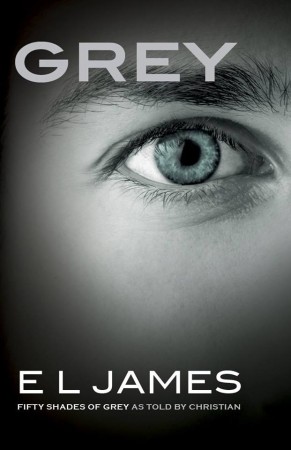 Grey
by
E.L. James
Series:
Fifty Shades #1.5
Published by
Random House
Publication date:
June 18, 2015
Genres:
Adult
,
Erotica
,
Romance
Narrator:
Zachary Webber
Format:
eBook
Source:
Purchased
See the world of Fifty Shades of Grey anew through the eyes of Christian Grey.

In Christian's own words, and through his thoughts, reflections, and dreams, E L James offers a fresh perspective on the love story that has enthralled millions of readers around the world.

Christian Grey exercises control in all things; his world is neat, disciplined, and utterly empty—until the day that Anastasia Steele falls into his office, in a tangle of shapely limbs and tumbling brown hair. He tries to forget her, but instead is swept up in a storm of emotion he cannot comprehend and cannot resist. Unlike any woman he has known before, shy, unworldly Ana seems to see right through him—past the business prodigy and the penthouse lifestyle to Christian's cold, wounded heart.

Will being with Ana dispel the horrors of his childhood that haunt Christian every night? Or will his dark sexual desires, his compulsion to control, and the self-loathing that fills his soul drive this girl away and destroy the fragile hope she offers him?

This book is intended for mature audiences.
Affiliate Disclosure: This post contains affiliate links. In plain English, this means that I may receive a small commission (at no cost to you) if you purchase something through the links provided. This small income goes back into my blog, so I can continue to create fun content for you. I appreciate my readers and make it my goal to be upfront and honest. Thank you for supporting my blog!
Audiobook Review:
I preordered this audiobook like a boss for two reasons: 1.) Christian Grey and 2.) Zachary Webber. I actually listened to a good majority of the book and switched to the ebook (which I received from my library) when I wasn't able to listen.
Christian Grey's character really isn't that much of an enigma. I didn't really find many new things to hold on to in this book but I still had fun listening to it.
I liked was how tender he was towards Ana in his internal monologue. He saw her as beautiful from the very beginning. He called her "sweetheart" all the time, which I'm not entirely convinced that the world "sweetheart" fit his voice. I don't recall him ever call her sweetheart in Fifty Shades Darker or Fifty Shades Freed.
This book didn't hold very many surprises since it is a retelling of Fifty Shades of Grey through Christian's eyes. However, I liked how vulnerable Christian was in Grey throughout the whole book, which was a contrast to his hard demeanor in book one. Ana saw him as this confident and contained man, but he really he was just a fish out of water in the whole relationship sea. He has no idea how to deal with the feelings brewing inside of him and I liked seeing him squirm a bit.
This book brought me back to the early days of my reading journey, back into Christian and Ana's tumultuous relationship. It made me nostalgic. If there is one thing to say about E.L. James it's that she brought reading back into the lives of so many people, myself included. No, her books may not win any of the most prestigious literary awards, but they are entertaining. And that's what Grey was-entertaining.
E.L. James announced that she is writing Fifty Shades Darker in Christian's point-of-view. Though, like my reservations with Grey, I don't believe there will be a ton of revelations in that one either. But I will read it because Darker is my favorite of the trilogy. Woohoo! Submissive Christian!
Audiobook Comments:
I would highly recommend that you listen to this book. Heck, even if you've read the book you should buy the audiobook because his narration is that good. Zachary Webber brings this character to life and he did a wonderful job with Christian's voice.
2 stars