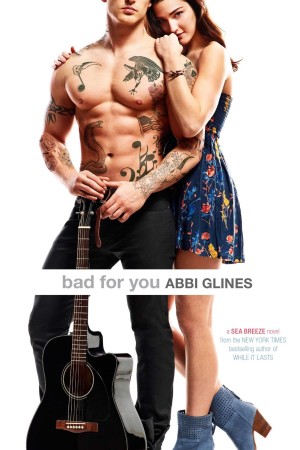 Bad for You
by
Abbi Glines
Series:
Sea Breeze #7
Published by
Simon & Schuster
,
Simon Pulse
Publication date:
April 1, 2014
Genres:
New Adult
,
Romance
Narrator:
Sebastian York
,
Shayna Thibodeaux
Length:
7 hrs and 7 mins
320 pagesFormat:
Audiobook
Source:
Purchased
Innocence isn't meant for the addictive…The next sultry affair in the New York Times bestselling Sea Breeze Collection by Abbi Glines is unstoppably steamy.

Addiction is part of Krit Corbin's nature—and women have always been his favorite obsession. But that's the life of a lead singer in a band. He can have any woman he wants—anywhere, anytime. Well, except for one.

Blythe Denton is used to being alone. The minister's family who raised her never accepted her as their own, and the cruel minister's wife made sure Blythe understood just how unworthy she was of love. So when she finally gets the chance to live by herself, Blythe takes it and moves into an apartment building with a loud upstairs neighbor who keeps throwing parties all night long.

It's during one such party when Krit opens the door to find his new neighbor standing there. Blythe wants him to turn down the music, but he convinces her to stay. She's nothing like the women who parade in and out of his apartment, but Krit can't resist her—her brown hair, cute glasses, and sexy innocence is too much for him to ignore.

Determined to win Blythe over, Krit Corbin may have just found his biggest addiction yet.
Affiliate Disclosure: This post contains affiliate links. In plain English, this means that I may receive a small commission (at no cost to you) if you purchase something through the links provided. This small income goes back into my blog, so I can continue to create fun content for you. I appreciate my readers and make it my goal to be upfront and honest. Thank you for supporting my blog!
Book Review:
I decided to listen to this book while I was doing some work on the computer one day over the weekend. I wanted something that wouldn't require a lot of intense concentration and Bad for You was one of the audiobooks that I had that fit the bill. I hadn't read an Abbi Glines book in a long time and thought I would give it a try. I've liked some of her previous books, but Bad for You just didn't work for me at all and I don't think I'm the audience for her.
Blythe is an orphan and was raised by a pastor and his wife, but their home was a loveless one. She was abused by the pastor's wife and made to feel worthless and unwanted, so she grew to see herself as a burden on everyone. She moves to a new town after the pastor's wife passes away for a fresh start and moves next door to Krit, a local rocker who is immediately taken by Blythe's innocence and vulnerability.
This book is pure formula, which is totally fine. But like so many books I've read lately, this one lacks any depth and is fully of cliches.
The heroine has a past filled with abuse.
The heroine is weak, lacks any backbone, and doesn't think she is worthy of the hero.
The hero is a manwhore who continues to sleep around after he realizes he likes the heroine.
The heroine is a virgin who is shocked at the heroine's penis size and worries whether he will fit.
The hero is a rocker.
The hero thinks doesn't deserve a girl like the heroine because she's so innocent. Likewise, the heroine believe she deserves to be loved by the hero. These two are the perfect pair, right?
To be honest, I found Krit to be completely unattractive and disgusting. While I appreciated the fact that he felt protective over Blythe, he continued to sleep around knowing that he had feelings for Blythe. The way he treated the women he slept with was just so disrespectful and gross. There was one scene where he told his lady friend (and I'm paraphrasing), "There's the door. Get out, I don't want you here. You'll never be anything more than a lay." This combined with many other things made him completely unromantic in my mind. And what's more, Blythe allowed him to perform oral sex on her knowing that he had just slept with another woman hours before. WHAT? ARE YOU SERIOUS?
Blythe was a woman with obvious problems, due to being emotionally abused for most of her life. She had no self-worth but found healing and worth in Krit's arms. I just really don't like the message of sexual healing that was put forth here (both with Blythe and with Krit's sister). People who have issues are not going to be magically healed by the penis. She was probably one of the weakest, most naive, spineless heroines I've ever read. And I just really didn't enjoy her as a heroine at all.
Some of the sexual language in this book was too much for me, it was almost laughable. Krit repeatedly refers to Blythe's breasts as her "titties" (both perfect and pretty), and he is always dying to sink into her "greedy hole." Krit wanted to "roar" when he saw Blythe's virgin blood on his sheets. When she saw that she made a mess and wanted to clean it up, he wanted to go at it again because it made him so hot. All of those things made me want to laugh and cringe at the same time. This book did nothing for me.
1 star