Lost in Flight
by
Neeny Boucher
Series:
Complicated Love #1
Published by
Self-Published
Publication date:
October 25, 2013
Genres:
Contemporary Romance
,
Humor
398 pagesFormat:
eARC
Source:
ARC via author
*Recommended for audiences over the age of 17*

If you like your characters quirky, socially awkward and badly behaved, this is the book for you. What if you got another chance with the love of your life even when you didn't want one? Would you grab the opportunity or run as fast as you could in the opposite direction?

Christina Martin, lawyer, ex high school grunge queen, teenage bride, divorcee and once a suspected killer, is confronted by a past that she has spent the last eight years carefully avoiding. Drawn back to her hated hometown with her family under the worst of circumstances, matters are complicated when she finds the love of her life, ex husband and nemesis, Nicholas Riley, also in residence.

Riley, a man with secrets, who has a penchant for psychological games, made wary by life and with one weakness, his ex wife. Christina is the woman that brings out all his protective instincts and others less noble. All it takes is one fateful night, where these two collide, opening a door both thought slammed shut and locked forever.

From the past to the present, Christina and Riley show that true love doesn't always run smoothly, it might not conquer all and most importantly, love is complicated.

"Lost in Flight" is book one in the "Complicated Love Series."
Affiliate Disclosure: This post contains affiliate links. In plain English, this means that I may receive a small commission (at no cost to you) if you purchase something through the links provided. This small income goes back into my blog, so I can continue to create fun content for you. I appreciate my readers and make it my goal to be upfront and honest. Thank you for supporting my blog!
Review:
If you've been following my blog for any amount of time, you probably know by now that I am a huge fan of heart-wrenching, emotional powerhouse novels that drive me to the point of insanity.  Books that leave me breathless are one of my favorite types of books to read.  In between all of the emotions, I love curling up with a funny, feel-good romance.  Lost in Flight was the perfect fun to lighten things up.  It didn't take me long to read and I got a kick out of the main characters.
Lost in Flight is a funny, light-hearted, second third chance romance.  I went into this book knowing little aside from the fact that it was funny and I am so glad I read it.  Neeny Boucher's debut novel is sure to leave you rooting for Riley and Dine and wanting to slap some sense into them at the same time.
The story revolves around a divorced couple.  (Interesting, right?)  They're not exactly your typical divorced couple, not at all.  When I think of a divorced couple, I think of a couple that cannot stand one another and who have moved on romantically.  Dina and Riley don't exactly fit that mold.
"If it makes you feel any better, you're not the only one that acts this way. Riley does too. When it comes to each other you're both like nasty children. He passes for normal except about you. Then he's a mean, horrible and vindictive little bitch."
The story alternates through the past and the present, piecing together Riley and Dina's background bit by bit.  Madly in love with one another, they married young and had a few years of happily wedded bliss.  Well, if you count constant bickering and fighting mixed with lots of make-up sex.  Dina realized that she and Riley wanted different things in life.  She wanted to go to college and law school, which involved moving away from their hometown of Shanwick, Washington.  Riley didn't want to move.  He wouldn't move.  So, Dina file for divorce.  Riley refuses divorce her.
"Riley and Christina couldn't communicate with one another about how to reach some form of compromise, so they always ended in a furious stale mate."
The story begins a five years after Dina and Riley last saw each other.  After a night out with her girlfriends, Dina gets completely wasted and insists on seeing Riley, who is rumoured to be back in town.  Dina does a lot more than just "see" Riley.  She sleeps with him and the morning after begins with shouting in the bedroom to talk of Riley's penis in the front yard for Dina's elderly next door neighbor to hear (and judge).  Both are in very different places in their lives.  Dina is a lawyer and Riley is a very rich man.  Along the way we meet Dina's family which includes Dina's very famous rockstar brother, her troubled father, and Dina's sister Gabby.
I absolutely loved Dina and Riley's dynamic.  Many years after they first married, it's very clear that they're still hung up on one another.  They're drawn to one another.  Riley had the opportunity to marry a very nice woman and have children with her but she broke it off.  Dina has been unable to settle down.  Even though they fight like crazy, they still deeply care for one another.
"She was unpredictable, talented, funny, and smart. She was also a scatterbrained, stubborn, bat-shit-crazy-ass bitch.  She brought out every protective instinct in him and others less noble.  He didn't know what the magnetic pull was, but he resented it."
I really liked Dina's character as well.  She was very determined to make something of herself that after finishing law school, she scored a job at a successful firm.  Now a high-powered attorney, she has a lot on her plate.  I was impressed with her ability to juggle everything going on in her career along with the drama going on in her family.  On top of all of that was Riley and his persistence.
My one complaint with this book (and one that kept me from rating it higher) was the way in which it was written.  This story was written in third person and the points of view switched often and rather abruptly.  It was a little confusing at times.  Even though that bothered me, I still enjoyed the story and the characters.  I look forward to book two of Boucher's Complicated Love series (perfect series name by the way.  Dina and Riley's relationship is nothing if not complicated).
I would recommend this book to anyone ready to meet another fun and unique book couple.  Dina and Riley are very different than most, but in a completely good way.
3 stars
*I received a copy from the author in exchange for an honest review.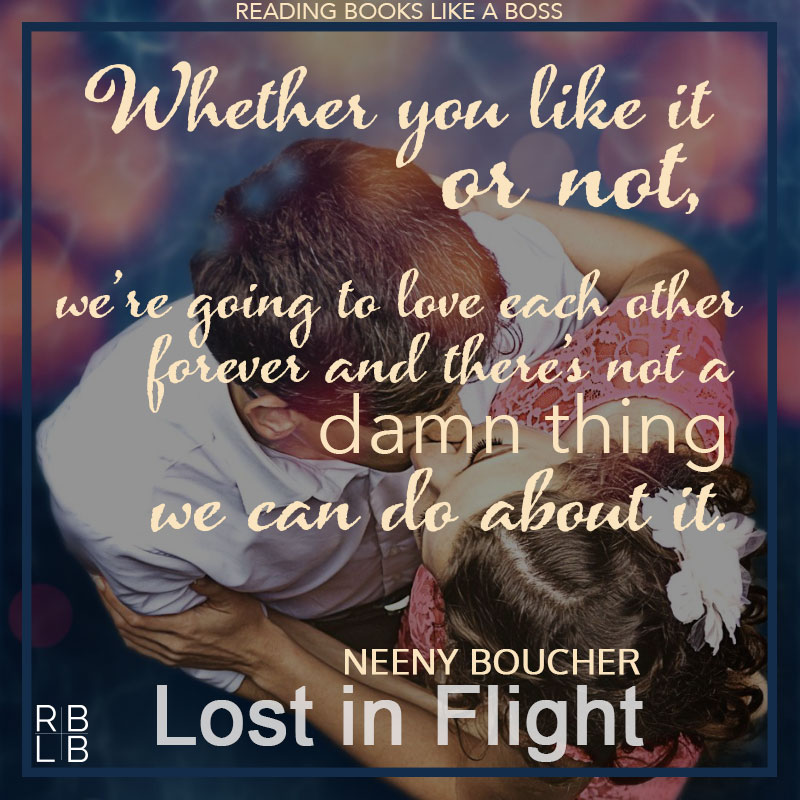 About the Author:
Neeny Boucher is a nom de plume because her real name sounds like a 19th Century suffragette. She is a lover of the weird, the outcast and those on the margins of society. An appreciator of music, art, film, television, popular culture, social encounters and the human condition. Originally from New Zealand, she is a strong supporter of the All Blacks, has lived all over the world and is currently a trailing spouse in a picturesque village in Switzerland with two wonderful children.
Her employment history is varied and has ranged from the sublime to the ridiculous, not to mention, the messy. The sublime: teaching. The ridiculous: tour guide on a gondola when she has an irrational fear of heights. The messy: cleaning out turkey houses in Israel waiting for the European winter to pass.
She has done all sorts of things she wouldn't allow her children to do, including hitchhiking around southern Africa in her wild youth. All the experiences, however, provided the opportunity to partake in her favorite past time of people watching. A collector of amazing stories, Neeny decided it was time to put them in fiction, allowing readers to enjoy them as much as she did.
Follow Neeny:
Facebook | Twitter | Goodreads | Pinterest
YOU MAY ALSO LIKE THESE POSTS: