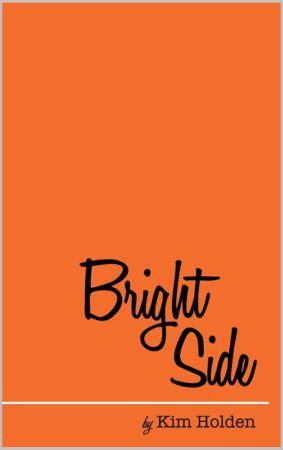 Bright Side
by
Kim Holden
Series:
Bright Side #1
Published by
Self-Published
Publication date:
July 4, 2014
Genres:
Coming of Age
,
Contemporary Romance
Narrator:
Lidia Dornet
,
Roger Wayne
Length:
12 hrs and 59 mins
391 pagesFormat:
eBook
Source:
Purchased
Secrets.
Everyone has one.
Some are bigger than others.
And when secrets are revealed,
Some will heal you ...
And some will end you.

Kate Sedgwick's life has been anything but typical. She's endured hardship and tragedy, but throughout it all she remains happy and optimistic (there's a reason her best friend Gus calls her Bright Side). Kate is strong-willed, funny, smart, and musically gifted. She's also never believed in love. So when Kate leaves San Diego to attend college in the small town of Grant, Minnesota, the last thing she expects is to fall in love with Keller Banks.

They both feel it.
But they each have a reason to fight it.
They each have a secret.

And when secrets are revealed,
Some will heal you …
And some will end you.
Affiliate Disclosure: This post contains affiliate links. In plain English, this means that I may receive a small commission (at no cost to you) if you purchase something through the links provided. This small income goes back into my blog, so I can continue to create fun content for you. I appreciate my readers and make it my goal to be upfront and honest. Thank you for supporting my blog!
Kim Holden's BRIGHT SIDE has been on my radar since it came out. I love a good bookish ugly cry, so I picked it up in hopes of feeling the same emotional kick in the gut as everyone else. However, this one did very little for me emotionally. The writing was blatant and lacking in subtlety, the characterization was poor, and the entire thing was emotionally manipulative.
The Writing. I didn't like the author's writing style at all,. It wasn't nuanced or subtle. Everything was very "in your face," filled with so much showing instead of telling. As a reader, I don't like every little detail to be given to me, spelled out in nauseating detail. I want some room to use my brain and imagination, an opportunity I wasn't given while reading this book.
Each chapter is a new day in the life of Kate Sedgwick, which had I liked her (more on that later), maybe I would have been more marginally more engaged. This sort of narrative style made the story drag on and was rather boring. Nothing happened in the story for nearly 80% of the novel, until the alleged "big secret" is revealed. Though, I'd be shocked if readers were actually surprised by this, as it's all but spelled out in the beginning of the book.
Most chapters are a transcript of Kate's conversations with various people, namely her boyfriend Keller or her best friend Gus, which only acted to slow down the plot. The dialogue was awkward, stilted and unnatural. Kate's humor wasn't for me, and I didn't find her or anyone else's jokes funny in the slightest.
The Characters. The story's central character is named Kate, who's known to her best friend Gus as "Bright Side" for being extremely optimistic. I know a lot of readers felt endeared to her immediately, but I never connected with her. To be quite honest, I found her personality to be grating and irritating.
Kate she never felt real to me. She was a good idea in theory, I suppose, but her whole character felt like a conceptualization instead of a living breathing thing. That's not to say that someone can't remain positive during trying times, but her reaction to everything, except for a small moment towards the end, was "sunshine, rainbows, and unicorns."
Nearly ever person who comes in contact with Kate loves her instantly. Sure, some people have that magnetic charm or an enveloping warmth you can't help but love immediately. But the way the author wrote her character (and the book) was extremely forced.
There was so much repetition in Kate's narrative, some of which were supposed to be bits of her personality. She says the word "dude" in nearly every sentence. She makes it widely known that she doesn't like "fancy coffee" and is a black coffee purist, judging all frou frou coffee drinkers.
Emotionally manipulative setup. This whole book felt setup solely to be an emotional tearjerker, instead of an organic journey. Like every single character (save one), the reader is supposed to love Kate instantly and become immediately protective over her. Kate's backstory is tragedy piled on top of tragedy, a history that practically begs readers to love her even more. You learn that she's been through the wringer, View Spoiler »what with her mother committing suicide, her sister passing away unexpectedly, and her terminal cancer diagnosis « Hide Spoiler all happening in a short amount of time.
The medical choice Kate makes before going to college is just another sign of the manipulation. We're supposed to believe that a  View Spoiler »19 year old with her life ahead of her goes through one round of chemotherapy, finds that it's not working, and decides to let everything run its course. « Hide Spoiler On top of that, she's so "selfless" that she keeps the secret to herself for months and doesn't tell her best friend (who's practically all she has in the world), her boyfriend, or any of her new friends at college, all of whom have come close to me. To me, this is the opposite of selfless.
Of course, her boyfriend also has a "tragic past" too. I get it. Bad things in life happens to all of us, but all of this put together in the manner by which it was amounted to heavy-handed, artificial drivel.
* I purchased this book myself.
YOU MAY ALSO LIKE THESE POSTS: