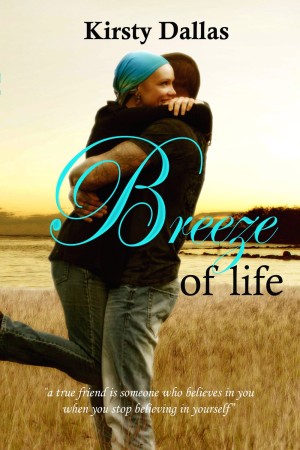 Breeze of Life
by
Kirsty Dallas
Published by
Self-Published
Publication date:
August 17, 2013
Genres:
New Adult
199 pagesFormat:
eARC
Source:
ARC e-book
Recommended for 17 years+. This book contains language which some may find offensive and sexual situations.

Bree 'Breeze' Delany never imagined her life could sink so deep. That such intense pain could take up residence in her heart and shred her soul to pieces. And all it had taken was one little word to drag Bree to the depths of this despair, cancer. It took just one person to pull Bree from the darkness, her best friend Harper Somerville. Determined to show his Breeze the beauty in life no matter how short or long it is, Harper takes Bree on the road trip of a life time. Not only does Harper remind Bree how exciting and beautiful life is, but he also shows her a passion and love that she has only read about in her naughty romance novels. Screw happily ever afters, perhaps life was meant to be lived with happily ever nows…
Affiliate Disclosure: This post contains affiliate links. In plain English, this means that I may receive a small commission (at no cost to you) if you purchase something through the links provided. This small income goes back into my blog, so I can continue to create fun content for you. I appreciate my readers and make it my goal to be upfront and honest. Thank you for supporting my blog!
Book Review:
Everyone wants someone in their life to make them feel alive and wanted.  This is especially true when life takes an unexpected turn for the worse.  That's what Harper Somerville is to Bree "Breeze" Delaney – a burst of life, a spark.  At the ripe old age of twenty-two, Breeze was diagnosed with Hodgkin's Lymphoma.  With that diagnosis she lost herself.  She lost her spark and had given up on life.
Breeze and Harper had been friends since they were children.  Now as adults, they live together – strictly as roommates.  But could they be more than friends?  Breeze had always had a crush on Harper.  She'd assumed he didn't feel the same way, until Harper drunkenly confesses his feelings.  Scared to lose their friendship, Breeze brushes him off.
Harper is a well-known Aussie surfer and leaves frequently to go on tour.  When Breeze found out she was sick, Harper was away on a surfing tour.  Harper was shocked when he came home from being away  and saw how frail she was.  Her physical state wasn't the only thing Harper noticed  – he saw just how depressed she was.  The inner glow that he admired in her was gone.  Determined to show her to live again, he all but forces Bree to embark on a road trip through Australia.
"Prior to this road trip, every decision Harper had ever made revolved around the ocean with surfing at the forefront of his mind. Now his priorities seemed to have altered somewhat, because of me. I didn't want him giving up on something he loved for me, it didn't feel right."
Harper and Bree's friendship was my favorite part about this novel.  They had that special bond that some of us only get if we're lucky.  They know each other inside and out.  Harper knew how to make Breeze smile, how to make her laugh, and most importantly, how to face her inner demons and learn to just be.  Seeing them together as friends just made me smile.  During their road trip, they played games like, "never have I ever" and "unfortunately/fortunately."
But their trip wasn't all fun and games.  Bree still struggled with her uncertain future and mortality.  Although I've never had to  stare death in the face like Bree had, I was able to empathize with her and better understand what she was going though, like her fear, the stress, and tension in her heart to push away Harper.
"I wonder if this is what death is like…Quiet and peaceful."
Right as Harper began to let the fear take hold of her and sink back into the dark abyss she fell into when she was diagnosed, Harper was there to pull her right back out.  Harper's positive energy was infectious.  I loved how Harper was able to take such a weighty subject, such as death, and turn into something way less terrifying.
"I don't know about other people, but I believe death is what we make of it. It can be scary and painful or tranquil and calm. I think whatever you learn to embrace in life passes on with you.  Trick is to live a peaceful accepting life so that's what you take away."
Throughout the book I was just waiting for Bree to wake up and smell the coffee.  I understand her hesitation to jump into something with Harper, but COME ON.  This wonderfully caring, sweet, loving and incredibly patient man dropped EVERYTHING for her.  And she STILL was holding back.  I wanted to shake her.  Her reluctance to move forward only added to the tension and I ate it up.
"You're going to live, baby girl, and you are going to live with no regrets.  And if you go before me, I want you to know when it's my turn I will find you. I'm going to rock  your afterlife just like I rocked your living life."
Did you catch that?  He calls her baby girl.  I've said this before, but as a general principle I do not like pet names.  However, I make exceptions.  This is an exception.  With Harper's spunky, care-free, and happy personality, I could completely picture him calling her that.  And each time it made me grin.  Yes, Harper is sweet but he's also super hot.  He had me fanning myself multiple times and trust me when I tell you he laid it on thick.
"Breeze baby, my nights are filled of dreams where I fuck you in every conceivable position and in every conceivable place."
Admittedly, I was scared to read this book because based on the synopsis I knew it was going to be a cancer book.  But once I started it, it was way less ugly-cry intense.  The highlight of this book was Harper and Breeze's chemistry and connection.  They were perfect for each other in every single way and, like puzzle pieces, they just fit.
This book was a strong 4-star read for me up until the last 20% when the "conflict" occurred.  What happened in terms of the conflict did not work for me.  I felt like it was a bit unnecessary and took away from the rest of the book.  Overall, I enjoyed this book.