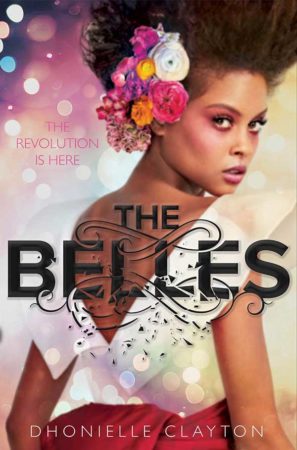 The Belles
by
Dhonielle Clayton
Series:
The Belles #1
Published by
Freeform
Publication date:
February 6, 2018
Genres:
Fantasy
,
Young Adult
464 pagesFormat:
ARC
Source:
Publisher
Camellia Beauregard is a Belle. In the opulent world of Orleans, Belles are revered, for they control Beauty, and Beauty is a commodity coveted above all else. In Orleans, the people are born gray, they are born damned, and only with the help of a Belle and her talents can they transform and be made beautiful.

But it's not enough for Camellia to be just a Belle. She wants to be the favorite-the Belle chosen by the Queen of Orleans to live in the royal palace, to tend to the royal family and their court, to be recognized as the most talented Belle in the land.

But once Camellia and her Belle sisters arrive at court, it becomes clear that being the favorite is not everything she always dreamed it would be. Behind the gilded palace walls live dark secrets, and Camellia soon learns that the very essence of her existence is a lie-that her powers are far greater, and could be more dangerous, than she ever imagined. And when the queen asks Camellia to risk her own life and help the ailing princess by using Belle powers in unintended ways, Camellia now faces an impossible decision.

With the future of Orleans and its people at stake, Camellia must decide: save herself and her sisters and the way of the Belles, or resuscitate the princess, risk her own life, and change the ways of her world forever.
Affiliate Disclosure: This post contains affiliate links. In plain English, this means that I may receive a small commission (at no cost to you) if you purchase something through the links provided. This small income goes back into my blog, so I can continue to create fun content for you. I appreciate my readers and make it my goal to be upfront and honest. Thank you for supporting my blog!
Sometimes books sneak up on you and surprise you by how much you enjoyed them. THE BELLES was one of those books. This book had a little bit of everything: engaging writing, a strong female heroine, a love story that will keep you guessing, a brewing mystery propelled the story forward, and a sinister villain you wanted to see get hers. This is one of most unique young adult fantasy novels I've read in awhile, and I'm already dying for the next book.
The people of Orléans are born gray and dull with blood-red eyes, without natural beauty. Instead, beauty purchased and bartered for. For generations, groups of women known as the Belles have brought beauty to the monarchy and citizens. Gifted with the magic of the arcane, the Belles are makers, creators, and keepers of beauty. Their special abilities enable to the make superficial changes like makeup or more involved changes to the body shape, even tempering one's personality and manner.
Camellia and her five sisters are the new generation of Belles on the island of Orléans, set to replace the current one. Each change, calls for the queen and Minister of Beauty to choose which Belles go to which Teahouse (like a beauty parlor) and which one is the favorite, the top Belle who serves the queen and princess inside the castle. Being named the favorite has been one of Camellia's dreams. But when she gets her chance, what she finds inside the castle walls is anything but magical or beautiful. Princess Sophia, is clearly unhinged with her demands on Camellia becoming increasingly more dangerous.
The world of beauty and vivid imagery contrasts with the darkness lurking behind the palace walls. It's this element that I really loved. The Belles is an exciting, mystery-filled young adult fantasy that makes me long for the next book. There was a thread of a promise of romance that I hope comes to fruition! The Belles has fantastic world-building and a message that asks, "How far would you go for beauty?"
* Thanks to Disney Hyperion for providing me with an early copy for review.