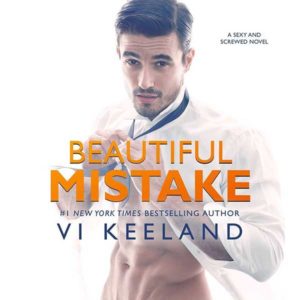 Beautiful Mistake
by
Vi Keeland
Published by
Self-Published
Publication date:
July 17, 2017
Genres:
Contemporary Romance
Narrator:
Andi Arndt
,
Sebastian York
Length:
7 hours and 43 minutes
350 pagesFormat:
eBook
Source:
Borrowed
The first time I met Caine West was in a bar.

He noticed me looking his way and mistakenly read my scowling as checking him out.

When he attempted to talk to me, I set him straight―telling him what I thought of his lying, cheating, egomaniacal ass.

You see, the gorgeous jerk had wined and dined my best friend-smooth talking her into his bed, all along failing to mention that he was married.

He deserved every bit of my tongue-lashing and more for what he'd done.

Especially when that lazy smile graced his perfect face in response to my rant.

Only it turned out, the man I'd just told off wasn't the right guy.

Oops. My mistake.

Embarrassed, I slunk out without an apology.

I was never going to see the handsome stranger again anyway, right?

That's what I thought...until I walked into class the next morning.

Well, hello Professor West, I'm your new teaching assistant.

I'll be working under you...figuratively speaking.

Although the literal interpretation might not be such a bad thing―working under Professor West.

This was going to be interesting...
Affiliate Disclosure: This post contains affiliate links. In plain English, this means that I may receive a small commission (at no cost to you) if you purchase something through the links provided. This small income goes back into my blog, so I can continue to create fun content for you. I appreciate my readers and make it my goal to be upfront and honest. Thank you for supporting my blog!
The audiobook of Beautiful Mistake is yet another random romance audiobook pick I made while working on my house this year. Since I didn't completely hate The Baller (my review) and it was available at my local library, I decided to give this book a try.
This book features a sort of teacher/student forbidden love aspect, so for those readers who enjoy that might want to consider this one. Caine West is exactly what you'd think of when you hear his name is Caine—strong sexual presence, perfect body, sexgod. He's a music professor and Rachel is his graduate teacher assistant (GTA), much to her shock. Why? Well, she may or may not have told him off at a bar the night before her first class, without knowing she was going to be working under him.
This book didn't entirely work for me. The author attempted to create a foundation for their relationship with a very short friendship period. It felt very forced and more like a prelude to sex rather than something I really believed.
The biggest problem for me was the connection between Rachel and Caine that is finally spelled out towards the end, even though it was painfully obvious to the reader given the author's not-so-subtle hints throughout the story. Honestly, this "twist" ruined the book for me entirely. While I wasn't necessarily loving the book, this superfluous addition was unbelievable and immediately took me out of the story.
In addition the problematic plotline, the quality of writing was below par. This is the second book I've read by this author and honestly the writing lacks subtlety or nuance. I did go on to read some of this authors other books, which I enjoyed, but this one and The Baller weren't winners.
* I borrowed this audiobook from my local library.