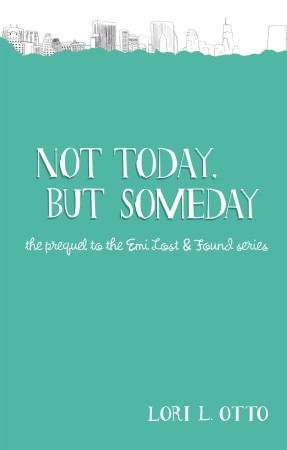 Not Today, But Someday
by
Lori L. Otto
Series:
Emi Lost and Found #0.5
Published by
Self-Published
Publication date:
February 2013
Genres:
Contemporary Romance
101 pagesFormat:
eBook
Source:
ARC via author
After the 3-volume Emi Lost & Found series was published, readers wanted more. This is for the readers – the story of how Nate and Emi met.

In December of 1994, when she was a junior in high school, Emi Hennigan discovered her father's infidelity. Forced to transfer schools mid-year, she wasn't trying to make new friends. In that same month, sophomore Nate Wilson's girlfriend broke up with him. Searching for someone to fill the void left by his first love, he meets Emi in his art class. Nate knows he wants Emi from the moment he sees her. Emi knows she needs Nate after one night together. A life-long friendship is born, and a pact is made to ensure that nothing will come between them. This novella is the prequel to the Emi Lost & Found series.
Affiliate Disclosure: This post contains affiliate links. In plain English, this means that I may receive a small commission (at no cost to you) if you purchase something through the links provided. This small income goes back into my blog, so I can continue to create fun content for you. I appreciate my readers and make it my goal to be upfront and honest. Thank you for supporting my blog!
"When love is strong, loves knows no law. Love itself has greater dominion. Earthly rules are of no account. Lovers break them every day. A man must love, even if he strives against it; he cannot escape love, even at the cost of his own life. It may be love for a maid, for a widow, or for a married woman.  It does not matter. Love is the law of life itself."
~The Canterbury Tales, Geoffrey Chaucer
I had no idea what Lori Otto's Emi Lost and Found series was about before I jumped into it.  I had been told that it would wreck me and then put me back together.  And that's all I needed to know.  Going in blind seems to work well for me, that way I don't have any expectations and can form all of my own opinions.  As I read this series, I am so thankful that I didn't know very much.  It  allowed me to truly experience the characters, their emotions, and process through all the FEELINGS.
The Emi Lost and Found series has captivated  me, held my attention and made my heart burst out of my chest for more reasons than one.  I can't get enough of it.  This series is without a doubt one of my favorites and I will forever sing its praises.  This leads me to my next question:  Why isn't everyone reading this series?  Seriously.
Not Today, But Someday tells the story of how two of the main characters in the series, Emily "Emi" Hennigan and Nate Wilson, met.  When I started reading this book, all of the Emi Lost and Found homies started commenting on my statuses.  One of my friends, Marcie, used the word "magic" to describe this series.  As of right now, I'm in the middle of book three and I can't think of a better word to describe this series and its characters.  It really is magical, raw, and emotional.
Sixteen-year old Emily Hennigan, her older brother, Chris, and mom just moved into an apartment.  Her mother and father recently divorced after Emi caught her father cheating while she was out with her friends.  This event sort of scarred Emi for life and tainted her view on love.  Emi meets Nate Wilson during her first day at her new school in art class and these two have a connection immediately.  It was in no way instalove, but you could tell that there was something very special between them.
Nate Wilson is very different from Emi in some ways but very similar in others.  He is very wealthy and lives in a compound mansion.  But it's he and Emi's love for art that bring them together. Emi is an aspiring graphic artist and Nate is an artistic child prodigy.  He has his own art room where he will lock himself away for hours and deprive himself of sleep in order to put his emotions on canvas.
"She built the art room for me.  It's probably my favorite place in the world. It's not just the room I learned to become an artist in.  It's the room that taught me how to feel. It's the room where I discovered who I was."
Right before meeting Emi, Nate's first girlfriend dumps him, leaving him with a jaded view on love.  It's their mutual hatred of love that bond Emi and Nate together. As they spend more time together and get to know each other on a deeper level, the magic happens.  I know what you're thinking – seriously?  magic.  Yes, people, magic.  

Within this novella, Otto uses The Canterbury Tales to pull the series together.  Emi and Nate are given an assignment for English class in which they portray characters from the novel.  I don't want to say too much for fear of spoilers.  As I've read majority of the series at this point, I can understand the deeper meaning.  According to Lori Otti's website, you can read the novella first or last.  I chose to read it first, but now that I've read more the series, I am going to go back and reread the novella in the end.
Lori Otto creates these beautiful moments between Emi and Nate.  I was hooked on Emi and Nate after this novella.  Both of them had dealt with some heavy issues at a young age, which led to some deep discussions between the two of them.  Even then, they both made each other better people and challenged each other.  Their friendship was very mature for their age, which was something was really appealing to me as a reader.
"What do you want?"
"I want whatever won't hurt me. I want whatever leaves me whole, and keeps my faith in the belief that bad things don't happen to good people."
"But they do," Nate says. "That's inevitable."
"Well, there's fate that intervenes, and then there's humanity.  There are people who fuck up. Who choose to do that. People who make a conscious decision to hurt another person."
"Which one do you think happened to my dad?"
"Fate," I answer quickly.
After finishing the novella, I wanted to know what adulthood held for them.  Were they still friends?  Were they more than friends?  This prequel set the perfect foundation for book one, Lost and Found.  I knew the characters more and could understand their motivations and reasons behind their actions.
*I received a copy from the author in exchange for an honest review 
Emi Lost and Found Series Reading Order
Not Today, But Someday, the novella, can be read first or last.  I recommend reading it last.
Not Today, But Someday is FREE on Amazon, Smashwords and Barnes & Noble.
Goodreads Links
Not Today But Someday
Lost and Found
Time Stands Still
Never Look Back

Like Reading Books Like a Boss on Facebook.