by
Christina Lee
Published by
NAL / Signet Romance
,
Penguin
Genres:
New Adult
Source:
ARC via NetGalley
Before You Break is the second book in Christina Lee's Between Breaths series.  All of the novels in the Between Breaths series can be read as standalones.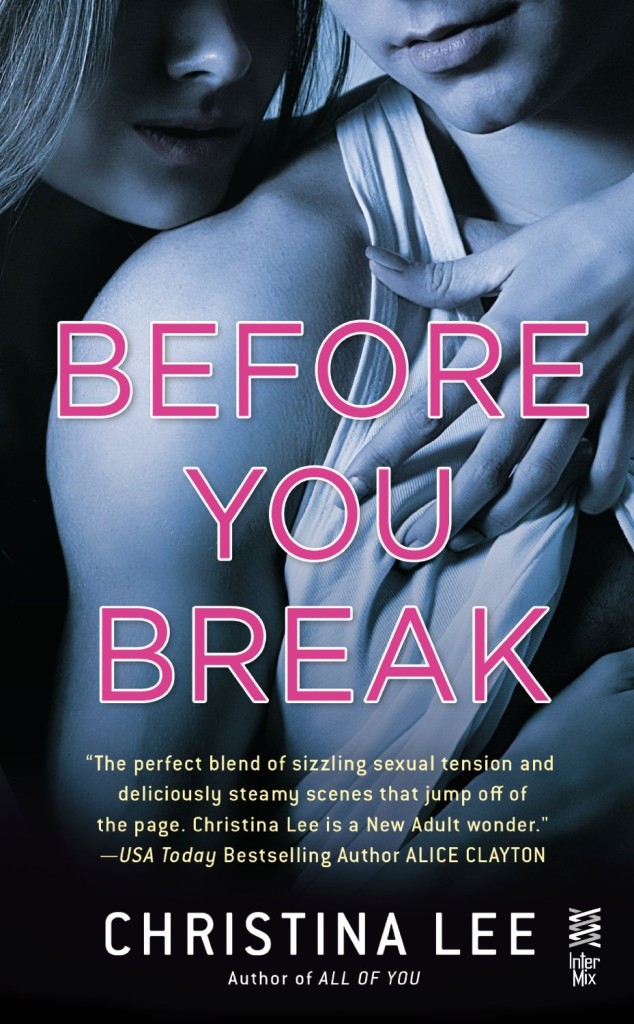 BEFORE YOU BREAK
A sexy, emotional New Adult romance about a bad boy on the edge and a good girl about to lose control…
A college baseball star isn't supposed to have skeletons in his closet. But Daniel Quinn is hiding a guilty past so dark he refuses to let anyone get close. Except there's something about gorgeous, studious Ella Abrams that goes beyond the electric attraction between them–something that makes him want to open up.
Ella has suffered enough heartache and guilt to fill one of her psychology textbooks, but she keeps that part of herself hidden behind a bubbly exterior. Until she receives an anonymous call while working a suicide helpline and the voice on the other end touches something inside of her that she can't ignore.
Soon Ella and Quinn's physical connection heats up, even as their deep and revealing hotline talks intensify. But by the time Ella realizes that her seductive jock and her sensitive caller are the same guy, it might be too late to save him–or to stop herself from falling too far…
Genre:  New Adult
Add series on Goodreads
Add on Goodreads
✥ ✥ ✥ ✥
✥ ✥ ✥ ✥
GIVEAWAY
✥ ✥ ✥ ✥
About the Author
Mother, wife, reader, dreamer. Christina lives in the Midwest with her husband and son–her two favorite guys. She's addicted to lip gloss and salted caramel everything. She believes in true love and kissing, so writing romance novels has become a dream job. She also owns her own jewelry business, called Tags-n-Stones, where she hand-stamps meaningful words or letters onto silver for her customers. She loves to hear from her readers. You can find her on: www.christinalee.net.
Follow Christina:
Website | Facebook Author Page | Twitter | Goodreads
YOU MAY ALSO LIKE THESE POSTS: