Feast your eyes on the cover for Meghan March's cover for her upcoming novel, Beneath This Mask.  I read this book last month and really liked it.  It comes out on September 29th!!  Be sure to enter the giveaway below for a chance to win a $25 Amazon Gift Card.
✥ ✥ ✥ ✥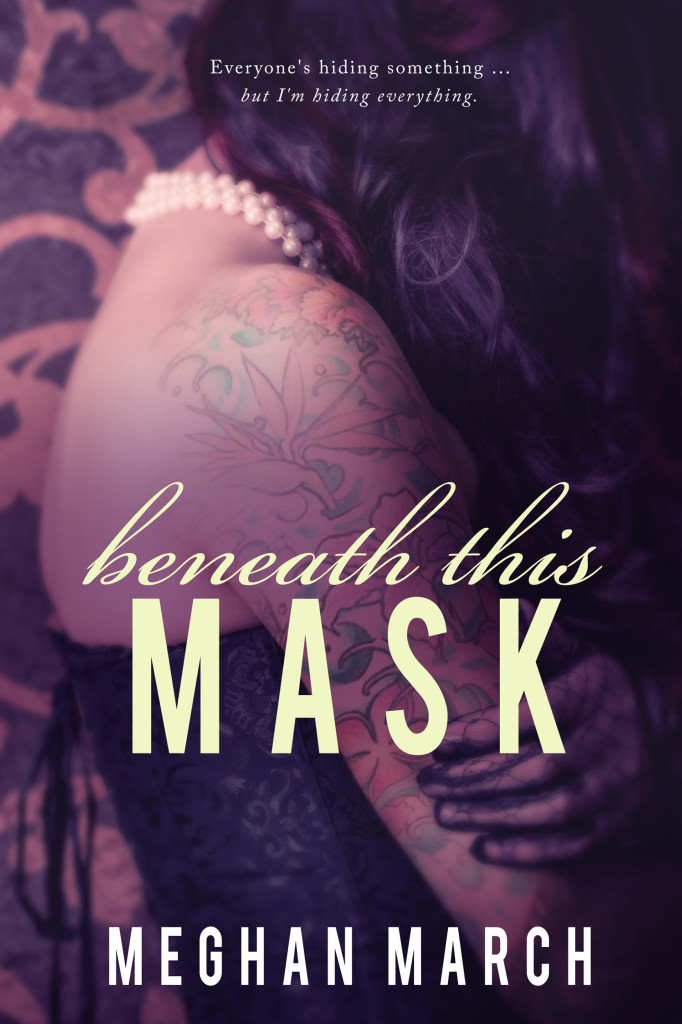 ✥ ✥ ✥ ✥
BENEATH THIS MASK
My name is Charlotte Agoston, and I'm a runner. Not the 'let's go for a jog and slap a 26.2 sticker on your bumper' kind of runner; I'm the kind of runner who takes off when her father is staring down the barrel of a guilty verdict that carries a 175-year sentence for perpetrating the largest fraud in the history of the world. That's right. Bernie Madoff was an amateur compared to Alistair Agoston.
Faced with living under a cloud of suspicion and constant questioning by the FBI, I ran. I'm making a new life in New Orleans as Charlie Stone. I traded my future in New York high finance for tattoos, booze, a few friends who don't ask questions, and one giant mutt named Huckleberry Finn. Everything is simple and uncomplicated until Simon Duchesne—former hotshot Navy fighter pilot, NOLA's favorite son, city councilman, and rumored congressional hopeful—walks into my life.
The flashing cameras he attracts threaten to expose everything I'm hiding, but I can't seem to stay away. Why are the most dangerous ideas always the most seductive?
In trying to get lost, I found myself. And then I found Simon. He loves me, and he doesn't even know my real name. I'm going to break his heart, but mine will shatter right along with it. This is our story.
Will we be strong enough to face the consequences of revealing what's beneath this mask?
Add on Goodreads
Release date: September 29, 2014
✥ ✥ ✥ ✥
EXCERPT
"What are you doing here?" I asked. My tone was less than welcoming. If he let me run him off, then I'd be saved from the temptation that was Simon Duchesne.
"You called me."
"I shouldn't have."
"I'm glad you did." He shifted, as though annoyed by the bars between us. Sorry, Simon, I thought, even without the bars, there will always be impenetrable walls.
A thought struck me. "Are you drunk?"
"No," Simon replied with a laugh. "Are you?"
"A little." At least I could be honest about that.
A provocative smile spread over his face, and I caught a flash of dimples. Damn. Come on world, throw me a bone.
"Are you going to ask me in?" He punctuated the question with a raised eyebrow.
"I shouldn't." To myself I added, I really, really shouldn't.
"You don't look like the kind of girl who doesn't do things just because she thinks she shouldn't."
I looked down at the uneven cobblestones beneath my feet. "Don't pretend like you know me."
"I want to."
"Why?" It was a question I desperately wanted answered. I was still trying to sort out all of the reasons for my attraction to him. Maybe he could articulate whatever this crazy thing was between us, and solve the mystery for me.
He reached through the bars and tucked a flyaway strand of hair behind my ear.
"Honestly, I have no idea. You're just … there's something about you."
Dammit. I took a deep breath and exhaled slowly, giving myself a moment to think. Ultimately, it was his honesty that decided it. We were equally off balance here. I was probably going to regret this, but … what the hell. I twisted the lock and opened the gate. For some reason, it didn't feel wrong. I thought of Yve's advice. One night. Get him out of my system. I never had to see him again. I could steal this night and emerge unscathed.
Add on Goodreads
Release date: September 29, 2014
✥ ✥ ✥ ✥
✥ ✥ ✥ ✥
About the Author:

Meghan March is a Michigan native who has spent a good portion of her life buried in a book. Case in point: she read the entire romance section of her small town public library by age fourteen. Even after growing up (sort of) and getting a law degree, she never lost her passion for a great story, twisty plot, epic romance, and amazing characters. When she's not writing, she's probably reading, target shooting, drooling over fast cars, playing with her crazy mutt, or hanging with her very own sexy bad boy.
GIVEAWAY
YOU MAY ALSO LIKE THESE POSTS: