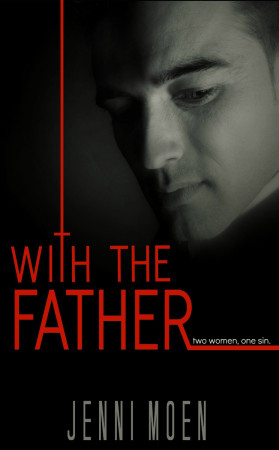 With the Father
Publication date:
September 20, 2014
247 pagesFormat:
eARC
I had a choice, and I chose wrong.

I thought I lost everything. But when the smoke finally cleared, I discovered that I wasn't alone.

Father Sullivan was a force – a living and breathing force, a forbidden desire I couldn't resist. I didn't want to resist. But I wasn't the only one who wanted him, and by all accounts neither of us should have him.

I had decisions to make, secrets to uncover. Both would tear my heart, my life, and what was left of my family apart.

I wasn't going to take any chances this time around. If I'd learned one thing during my life, it's that death is the only certainty. It's a matter of when, not if.

For every action, there is a reaction. For every choice, a consequence. If I hadn't chosen to live again, I would have never known what life could be like …

With the Father
Affiliate Disclosure: This post contains affiliate links. In plain English, this means that I may receive a small commission (at no cost to you) if you purchase something through the links provided. This small income goes back into my blog, so I can continue to create fun content for you. I appreciate my readers and make it my goal to be upfront and honest. Thank you for supporting my blog!
Book Review:
With the Father was not what I was expecting.  What I was expecting was an angst-filled forbidden romance showcasing a priest's inner turmoil between serving the Father and following his heart.  In a way, the synopsis hinted at that, but after reading the synopsis again, I see that it has a double meaning.  In the end, I can't say I liked this book overall.  I liked the final message that end of the book, but the execution was lacking. I can't fully express my thoughts in a non-spoiler way, so I will break my review up into a non-spoiler section and a spoiler section.
Non-Spoiler Section
Grace, our heroine, suffers a devastatingly tragic loss early on in the novel. She loses the three most important people in her life suddenly and unexpectedly.  What follows is her coming to terms with these losses.  Her sister, Kate, comes back to their hometown of Melville, Texas to for familial support and to clear out Grace's late husband's, Jonathan, office.  The other person in Grace's life Father Paul Sullivan. The two of them work closely together at a soup kitchen, which was founded by Grace's mother, and have become friends.
Kate and Paul kind of team up to get Grace out of the house.  They want to make her happy. For the first time, Grace and Paul begin to hang out in a less formal setting.  The more time Kate spends with Paul, she notices the way he looks at Grace and basically gets Paul to admit that he is in love with Grace.  Grace begins to develop feelings with Paul and eventually kisses him.  WHOA!!  The two kind of start seeing one another, but Grace is left wondering how anything between them will ever be considering he is a priest.
I really liked Paul a lot.  He had a great sense of humor, was so kind, and adored Grace. He would have done anything to take away her pain.  He was also really attractive.  I liked the author's description of him:
As I read, I found it really strange that Kate was having these internal thoughts about Father Paul. It was like they came out of nowhere.  One moment she was having sex with Jonathan's business partner, Maddox, and the next she was thinking about what it would be like if Paul kissed her.
Most of the novel was just okay for me. It kept me interested all the way through.  But at about the 90% mark, the book took a complete turn.  What I thought a story of loss and deception turned into something else. For the sake of spoilers, I won't expand on that here.  Like I said, I liked the novel's message in the end, but the way it switched so suddenly threw me.
Non-Spoiler Section
This is another book that I was really bummed I didn't like.  I was interested and invested in the characters, but the ending was not my cup of tea. This is another book that has a MASSIVE plot twist at the end of the novel.  View Spoiler »At the 85% mark, Grace and Paul declare their love for one another. Paul tells her he is going to leave the Church. Grace is in a good place mentally. Everything is going along swimmingly.  And then….there is a flashback.  The reader finds out that all of Grace's chapters were a "What If" situation.  She actually died in the fire along with her husband and son, but not before rescuing her daughter and making sure she was safe.  Kate is left watching over Isobelle. « Hide Spoiler
The Kate chapters actually happened. After I finished the book, I went back and read some of the "Kate" chapters and completely appreciate how difficult this story must have been to piece together.  There were several scenes between Kate and other characters where the reader thinks they were talking about one thing, but really they're something entirely different.
"By the way, how is our girl today?"

"I think everyday gets a little easier, but she's still lost. I'm trying whatever I can do to reach her, but being the caretaker is a new role for me."
However, while I was reading the Kate chapters for the first time I didn't enjoy them as much as Grace's chapters. Throughout most of the book, the reader is led to believe that Grace is heroine, but all along Kate is sort of the other main character. I was rooting for Grace and Paul's relationship the entire time, not whatever was going on between Kate and Paul. I saw Kate more as a secondary character, even though she had entire chapters dedicated to her.  So, I wasn't really even focused on Kate's chapters as much.
* I received a copy from the author in exchange for an honest review.