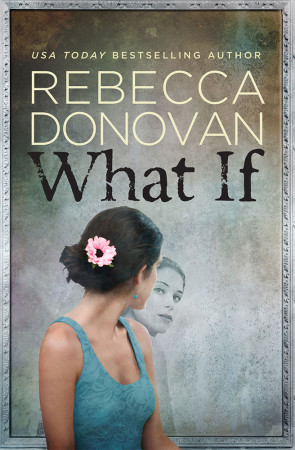 What If
Published by
Forever
,
Grand Central Publishing
,
Hachette
Publication date:
September 16, 2014
Genres:
New Adult
,
Romance
,
Romantic Suspense
Format:
eARC
Source:
ARC via NetGalley
What if you had a second chance to meet someone for the first time?
Cal Logan is shocked to see Nicole Bentley sitting across from him at a coffee shop thousands of miles from their hometown. After all, no one has seen or heard from her since they graduated over a year ago.

Except this girl isn't Nicole.

She looks exactly like Cal's shy childhood crush, but her name is Nyelle Preston and she has no idea who he is. This girl is impulsive and daring, her passion for life infectious. The complete opposite of Nicole. Cal finds himself utterly fascinated-and falling hard. But Nyelle is also extremely secretive. And the closer he comes to finding out what she's hiding, the less he wants to know.

When the secrets from the past and present collide, one thing becomes clear: Nothing is what it seems.
Affiliate Disclosure: This post contains affiliate links. In plain English, this means that I may receive a small commission (at no cost to you) if you purchase something through the links provided. This small income goes back into my blog, so I can continue to create fun content for you. I appreciate my readers and make it my goal to be upfront and honest. Thank you for supporting my blog!
Review:
To watch you live is breathtaking. You live a life filled with possibilities. A life most people miss out on.
What If is a story about second chances.  What if you were given a second chance to relive the happiest day of your life? What if you were able to get another chance with someone you hurt? What if you were able to meet someone again for a second time?  This novel takes the reader on an emotional journey through all of those questions.  The novel is a mysterious and slightly suspenseful story of friendship, growth, and a love that spans several years. I have heard amazing things about Rebecca Donovan's Breathing series and was excited to jump into my first novel of hers.
Cal Logan is in his sophomore year at Crenshaw University. He's usually the type to date girls long enough to develop feelings but not long enough to let those feelings take root. But what I liked about him is that he's not really your typical player character type. He's sweet and nice, he just has a problem with long-term relationships.
"I'm looking for the girl I'll regret if I let her go."
Nyelle ponders thoughtfully for a moment. "Your what if girl. I like it."
Everything changes when he sees a pair of striking blue eyes, eyes that are identical to a girl from his past named Nicole Bentley. No one in his hometown has heard from her or seen her since their high school graduation and she's presumed to be studying at Harvard.
I'm convinced I'm either sleeping, drunk, or in some fucked-up episode of The Twilight Zone.
Strangely enough, the present blue-eyed beauty at Crenshaw is named Nyelle and has no idea who Cal is.  She's the complete opposite of Nicole in every way. Nyelle is an impulsive, free-spirited, carefree woman who volunteers at a local homeless shelter, climbs trees, and makes sick kids smile.   Cal can barely keep track of her, since she disappears in the blink of eye.
Nicole is a perfectly wrapped present tied in a nice neat bow. Nyelle is wrapping paper strewn across the floor on Christmas morning.
Nyelle Preston is a far cry from the little girl he knew growing up whose life was ruled by her father's militant structure and order. But there is a delicateness to Nyelle's character, a stark contrast to her seemingly strong exterior that has Cal worried. Cal is drawn to Nyelle and wants to figure her out.  The more times he spends with her the more he starts to develop feelings for her. I really liked the build up of the romance storyline.
"Have you ever been in love?"
There's a silence for a moment. I'm not exactly prepared for the question.
"No. Have you?"
"No. I wonder what it's like." Her voice sounds like an echo in the stillness.  "I think it will be like falling backward in the dark. Terrifying. Exhilarating. Having to trust that there'll be someone there to catch you.
The past and present chapters are woven together to form a coherent story, Nicole's story.  I really liked how Donovan crafted the story and how everything came together.  The present chapters with Cal in college are told in Cal's point-of-view with some of Cal's flashbacks to his childhood and high school years.  The past chapters are told in multiple points-of-view.  The past chapters reveal how the secondary characters met and became friends, spanning from their fourth grade year through senior year. Rae is one of Cal's next-door neighbors. She's spunky, outgoing, and not afraid to speak her mind.  The other neighbor girl, Richelle, was Nicole's best friend and confidant.  Nicole made one promise to Richelle, a promise that Nicole never broke.
I believe that the author's intention was to make Nyelle's character an extreme opposite of Nicole in every way, the reasoning for which I understand. However, I felt that her eccentricities and bizarre behavior were, at times, overdone and overemphasized.  It took away from the heart and soul of the story for me.
Overall, I liked What If. The mystery, the intrigue and the culmination of it all propelled me to keep reading. The progression of the story and the way the enigma of Nyelle and Nicole all came together was really well done.  Donovan built the bones of the story really well and the writing was good. However, in the end, I was left wanting more from the story.  I won't say much for the sake of spoiling the story, but the big reveal in the end was a bit anticlimactic and I wanted it to set up more.
I would recommend this book to fans of coming of age type romances with a hint of mystery. I really think most would enjoy this story about second chances, first loves, and new beginnings.
* I received an advance copy from the publisher in exchange for an honest review. This did not affect my opinion of the book in any way.
3 stars