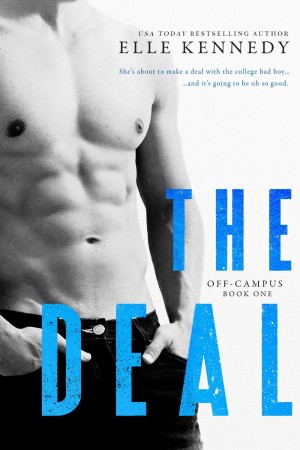 The Deal
by
Elle Kennedy
Series:
Off Campus #1
Published by
Self-Published
Publication date:
February 24, 2015
Genres:
New Adult
,
Romance
358 pagesFormat:
eARC
Source:
ARC via author
She's about to make a deal with the college bad boy...

Hannah Wells has finally found someone who turns her on. But while she might be confident in every other area of her life, she's carting around a full set of baggage when it comes to sex and seduction. If she wants to get her crush's attention, she'll have to step out of her comfort zone and make him take notice…even if it means tutoring the annoying, childish, cocky captain of the hockey team in exchange for a pretend date.

...and it's going to be oh so good.

All Garrett Graham has ever wanted is to play professional hockey after graduation, but his plummeting GPA is threatening everything he's worked so hard for. If helping a sarcastic brunette make another guy jealous will help him secure his position on the team, he's all for it. But when one unexpected kiss leads to the wildest sex of both their lives, it doesn't take long for Garrett to realize that pretend isn't going to cut it. Now he just has to convince Hannah that the man she wants looks a lot like him.
Affiliate Disclosure: This post contains affiliate links. In plain English, this means that I may receive a small commission (at no cost to you) if you purchase something through the links provided. This small income goes back into my blog, so I can continue to create fun content for you. I appreciate my readers and make it my goal to be upfront and honest. Thank you for supporting my blog!
Book Review:
After seeing some early reviews of The Deal I was so excited to dive in. I've really enjoyed other new adult novels that had the same friends-with-benefits/friends-to-lovers storyline. This book had a lot of elements that I was looking forward to—college romance, friends-to-something-more, supposed banter between the hero and heroine—but it fell drastically short for several reasons.
The novel is narrated by Hannah, a junior music major, and Garrett, the star hockey player. We learn early on that Hannah is a rape survivor and that she has "dealt with" her issues. After failing a test, Garrett practically begs Hannah to tutor him because he has to keep his grade point average up in order to play hockey. Hannah refuses, thinking he's just some dumb jock. She only has eyes for Justin, another student in ethics class and star of the college football team. The problem is he doesn't even know she exists.
Garrett notices Hannah ogling over Justin and decides to work this to his advantage. He and Hannah come up with a deal, a plan, to get Justin to notice in Hannah—pose as a couple in his presence. Garrett will help Hannah get the guy and in exchange Hannah will help Garrett do well on the retest in Ethics, after which time they will part ways. Neither of them planned to develop feelings.
I am a fan of formula, tropes, and the like. Some of my favorite novels are very formulaic.  But where this novel faltered was in its complete reliance on these things. Rather than using the formula and stock characters as a spring board to jump off, I felt as though the author used them as a landing pad. She didn't build, develop or take anything in a new direction.  As I read, the number of overly used cliches kept piling up. Here are just a few of the new adult cliches in this novel:
Manwhore jock
"broken girl" rape survivor who wants the hero to "fix her"
outspoken, funny best friend
girl isn't able to have an orgasm…until him
the hero has a controlling/abusive father
heroine is initially ignores hero
the hero has a huge penis and heroine takes note
One of my biggest issues in this book was the fact that the author used Hannah's rape as a way to create the "broken girl" type of character (This fact is revealed in the first couple of pages, so it's not really a spoiler). I'm not immediately opposed to heroines being sexual assault survivors but what I have a problem with is when it is a.) not dealt with respectfully and/or b.) when it is used as a "shortcut" to create character depth/character type/personality and then has no importance to the character and/or the story. Here, this book falls under the second category. After I finished, I struggled to see how the rape had any impact on Hannah's character, apart from making her "broken", damaged, unable to have an orgasm (until she was with Garrett), and unable to go to a party and drink.  Which leaves me to wonder: why was it even in there?
The heroine seemed rather wishy-washy when it came to talking about her emotional state.  At first, she says she has dealt with the rape and it's all behind her, but later says she "broken" (repeatedly) and that she isn't over it.  The trauma re-emerges whenever it is convenient for the plot or needed to manufacture conflict.
"I've worked through what happened to me. Believe me, I have."
"I'm not normal. I'm broken. I keep telling myself the rape didn't destroy me, but it did. A piece of shit didn't just steal my virginity—he stole my ability to have sex and feel pleasure like a healthy, red-blooded woman."
"See? I might be broken but I can still have fun."
"I was forced to accept that the rape screwed me up a lot more than I let myself admit.
And I decided that Garrett is the answer to all my problems."
As things start to heat up between her and Garret, she decides that Garret can help heal her emotional wounds.
"I'm broken, and I wanted you to fix me."
"I'm broken."
My voice is muffled against his neck, but I hear his voice loud and clear as he says, "You're not broken, baby. I promise."
"Then help me prove it," I whisper. "Please."
This book reeked of sexual healing, which really bothered me, and I couldn't get past it. The author gave Hannah this type of traumatic past and then did nothing with it to develop her character or create an organic emotional response.
Oh and then Garrett decides that he is broken too!
"I didn't realize it until tonight, but..I think I was broken, too."
Really the only source of tension in the book involved Garrett's father. The events that transpired in the latter part of the book between him and Hannah felt contrived and manufactured.  His abuse of Garrett and the effects of it, rather than being respectfully explored, are used as yet another plot device.
I didn't find Garrett or Hannah's characters to be particularly memorable. They were underdeveloped and flat, which I couldn't ignore due to the story's utter dependence on cliches.
I really liked the first kiss scene and the romantic tension in that moment, but due to the use of sexual healing and lack of character development I couldn't fully enjoy this book. I would have liked this book a little more without the "broken girl who wants a guy to fix her" storyline. Die hard new adult fans who aren't bothered by the things I took issue with may love it, but ultimately, I found this book far too problematic to warrant a higher rating.
* I received a copy of this book in exchange for an honest review.
1 star
Amazon: US • UK • CAN | iBooks | GR
YOU MAY ALSO LIKE THESE POSTS: