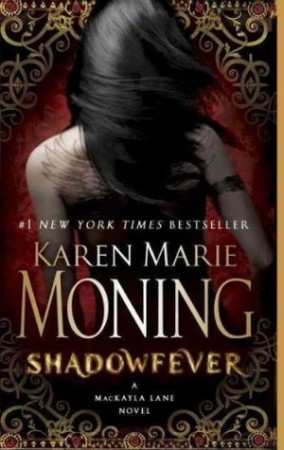 Shadowfever
by
Karen Marie Moning
Series:
Fever #5
Published by
Delacorte Press
,
Random House
Publication date:
January 18, 2011
Genres:
Romance
,
Urban Fantasy
689 pagesFormat:
eBook
Source:
Purchased
"Evil is a completely different creature, Mac. Evil is bad that believes it's good."

MacKayla Lane was just a child when she and her sister, Alina, were given up for adoption and banished from Ireland forever.

Twenty years later, Alina is dead and Mac has returned to the country that expelled them to hunt her sister's murderer. But after discovering that she descends from a bloodline both gifted and cursed, Mac is plunged into a secret history: an ancient conflict between humans and immortals who have lived concealed among us for thousands of years.

What follows is a shocking chain of events with devastating consequences, and now Mac struggles to cope with grief while continuing her mission to acquire and control the Sinsar Dubh—a book of dark, forbidden magic scribed by the mythical Unseelie King, containing the power to create and destroy worlds.

In an epic battle between humans and Fae, the hunter becomes the hunted when the Sinsar Dubh turns on Mac and begins mowing a deadly path through those she loves.
Who can she turn to? Who can she trust? Who is the woman haunting her dreams? More important, who is Mac herself and what is the destiny she glimpses in the black and crimson designs of an ancient tarot card?

From the luxury of the Lord Master's penthouse to the sordid depths of an Unseelie nightclub, from the erotic bed of her lover to the terrifying bed of the Unseelie King, Mac's journey will force her to face the truth of her exile, and to make a choice that will either save the world . . . or destroy it.
Affiliate Disclosure: This post contains affiliate links. In plain English, this means that I may receive a small commission (at no cost to you) if you purchase something through the links provided. This small income goes back into my blog, so I can continue to create fun content for you. I appreciate my readers and make it my goal to be upfront and honest. Thank you for supporting my blog!
Review:
"What are you, Barrons? His answer, on those rare occasions he gave one, was always the same. The one that will never let you die."
Tons of books have moments that make you sad; you even cry a little.  You may cry a lot.  You cry because the author created characters and made you care about them.  Then there are those special books crafted by authors that make you care so much about a character or characters that you can't even cry when something terrible happens.  When your characters are thrown into the most awful and dire of circumstances and you can't even fathom what they're going through at that moment.
That was the beginning of Shadowfever for me.  I couldn't cry. I could only feel the pain.
This book was a MONSTER. It's one of the longest books I have ever read, but I didn't want it to end.  It didn't feel like I read a nearly 700-page book. I didn't want to say goodbye to MacKayla Lane and Jericho Barrons.  Mac is thrown into a terrible situation towards the end of Dreamfever.  She gets trapped in the Hall of All Days, a nearly infinite hall of mirrors that lead into all worlds and dimensions.  Then she travels through several treacherous places, landing her smack dab in the face of danger. Ultimately, she finds herself in a lush, green world, more habitable than the four-sunned desert she had been in, face-to-face with a boar-like creature capable of ripping her apart.  Barrons' heartbreaking whisper in her ear in Dreamfever to use "IYD" was a reminder to have faith in him, a small comforting caress that she has a way to reach him at all times.
The beginning of this book ripped my heart out.  Like Mac said, I wanted to die because it was the only way to stop the pain.  I kept asking, "When will this agony end?  When can this be over?" But then it got better and I wanted to live. I wanted to live so I could read the rest of this book.  Dramatic?  Probably, but it's sort of true.  The emotions Moning evoked in me was PAINFUL to the millionth degree.
"Or maybe just apologize Barrons, for being too young to have my priorities refined like you, because I haven't suffered whatever the hell it is you suffered, and then shove you up against a wall and kiss you until you can't breathe, do what I wanted to do the first day I saw you there in your bloody damned bookstore. Disturb you like you disturbed me, make you see me, make you want me—pink me!—shatter your self-control, bring you crashing to your knees in front of me, even though I told myself I'd never want a man like you"
Out of all the books so far, this book had the most twists and turns plot-wise (that a pretty both statement considering the rest of the books are insanely amazing).  So much happened in this book that I'm not going to even attempt a complete summary.  The overarching goal of this whole series is finding the Sinsar-Dubh and contain it back under the sidhe-seers' abbey.  We know why V'lane wanted the Book; he wanted the Book so that the Seelie Queen can find the Song of Making and put the wall back up between the Fae world and the human world.  Barrons' motives for wanting the Book are not revealed until the end of the book and I won't tell you what that is.  It wasn't what I was expecting.  At all.
Most of my burning questions were answered in this book:  What is Barrons?  Can Mac trust V'lane? Can Mac trust Barrons? Who is the woman in Mac's dreams?  Even though Moning plans on writing more Mac and Barrons into Dani's upcoming books, their story ends in a good place.  I was 100% satisfied with the ending and where the characters ended up.  I was sad to find out the some characters' true motives and intentions.  Some of those we met were bad seeds all along, while others we thought were bad really weren't.
Barrons has a poker face.  He rarely loses the careful mask that he puts on display for the world to see.  He is calm, cool, calculating, exceedingly brilliant, and self-possessed.  He is cultured and controlled.  Most of all, he makes no apology for his actions or who/what he is.  He is Jericho Barrons and he gets what he wants.  But Mac waltzed into his bookstore and shattered his existence and his careful plans.  She teaches him to trust, tests his patience, and reminds him how to love and be loved.
"Love's a bloody river with level-five rapids. Only a catastrophic act of nature or a dam has any chance of stopping it—and then usually only succeeds in diverting it. Both measures are extreme and change the terrain so much you end up wondering why you bothered. No landmarks to gauge your position when it's done. Only way to survive is to devise new ways to map out your life."
This series has an unconventional romance in it.  What I mean when I say that is that it is hard to even call it a romance. Sure, there is a love story between Mac and Barrons, but the real star of the series isn't their romance — it's Mac's story.  Her evolution from a perky Rainbow into the fierce fiery powerhouse who earned Barrons' implicit trust is remarkable and a wonder to read.  The romantic relationship between Mac and Barrons develops over the course of all five of their books.  It's the epitome of a slow burn that will leave you absolutely breathless and salivating for more of them.
"You're Mac," he says. "And I'm Jericho. And nothing else matters. Never will. You exist in a place that is beyond all rules for me. Do you understand that?
Many series books I've read bring the characters together and then some unforeseen circumstances rips them apart. Then they end up together in the end.  The Fever series is not like that.  Instead, Moning torments readers with this chemistry between Barrons and Mac, fueling your insatiable need for the next scene with them in it.  She gives it to you in small potent doses, leaving you wanting more of the drug she just injected into your eyeballs.
"Nobody's going to punish you. Which raises the question: Why are you still afraid of me? What haven't you wrapped your head around yet?  I want woman I think you are. But the longer you dissemble, the more I think I made a mistake. Saw things in you that weren't there. There was purity in that basement. That's the way I live. There was a time I thought you did, too. Some things are sacred. Until you act like they're not. Then you lose them."
It's hard to completely (and succinctly) sum up my thoughts on this series other than to say, "Thank you for the journey, Ms. Moning. This was a beautiful story of perseverance, love, hope, strength and unrelenting fight."  I loved this series and will reread it again someday when the dust settles.  I am fully aware that I was one of the few left on this earth who hadn't experienced the Jericho Barrons.  But if you are like me and haven't read this series yet, do yourself a favor and catch the fever.  Darkfever is only a click away.  And tell Barrons I said, "Hello!"
5 stars