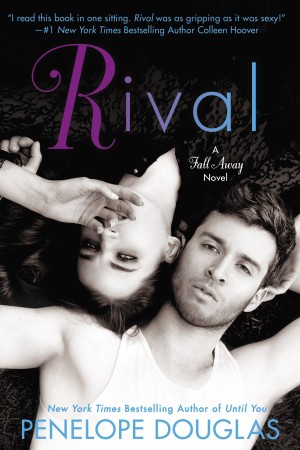 Rival
by
Penelope Douglas
Series:
Falling Away #2
Published by
NAL
,
Penguin
Publication date:
August 26, 2014
Genres:
New Adult
,
Romance
366 pagesFormat:
eARC
Source:
ARC via NetGalley
Madoc and Fallon. Two estranged teenagers playing games that push the boundaries between love and war…

She's back.

For the two years she's been away at boarding school, there was no word from her. Back when we lived in the same house, she used to cut me down during the day and then leave her door open for me at night.

I was stupid then, but now I'm ready to beat her at her own game…

I'm back.

Two years and I can tell he still wants me, even if he acts like he's better than me.

But I won't be scared away. Or pushed down. I'll call his bluff and fight back. That's what he wants, right? As long as I keep my guard up, he'll never know how much he affects me….
Affiliate Disclosure: This post contains affiliate links. In plain English, this means that I may receive a small commission (at no cost to you) if you purchase something through the links provided. This small income goes back into my blog, so I can continue to create fun content for you. I appreciate my readers and make it my goal to be upfront and honest. Thank you for supporting my blog!
Book Review:
I wanted a good hate-to-love story, but I didn't get it.  This is the first book by Penelope Douglas that I've read. If the rest of her books are anything like this, then she's not the author for me. This book was fraught with too much of everything. View Spoiler »Secret baby, caricature-like villainesque mother, mom comes on to hero, hero's father cheating on his estranged wife with son's best friend's mother, and everyone has tattoos (but it's cool because they hold deep meaning). « Hide Spoiler Between the stepbrother/stepsister romance, overly vindictive mother, the bouncing boobs, and the mobster father, I just didn't like this book.
The way the story was structured made it really difficult for me to get into the romance aspect of the book. The reader is thrown into Fallon and Madoc's present circumstances, knowing very little of their past, which is obviously intentional. The author wanted to slowly reveal to the reader what happened between them two years prior in small little chunks. But it didn't really work for me. This type of story structure takes skill and finesse that this author does not possess.
The pacing of the relationship between Madoc and Fallon prevented me from believing their love story and falling for them as a couple. I never really got to a point where I even liked them together or really cared for them at all. If I were to draw their relationship in visual form it would be all over the place: up and down and up and down. Sometimes, a little back and forth is necessary for the characters and the story, but in this book it felt forced and out of place. In addition, we were told so much of how they felt for each other instead of being shown (I think this was due to way the story was structured with so much of the past being hidden). I want to feel their chemistry and the connection between them and felt nothing for the couple here.
The insanity only intensified leading into story's conclusion. That ending? Really? What in the world? View Spoiler »Madoc's best friend films an incriminating sex tape with Fallon's mom to force her to sign the divorce papers so that she doesn't get the house in the divorce. Madoc and Fallon get married after sexing it out most of the book. « Hide Spoiler What? The absurdity was off-the-charts.
The nail in the coffin with this one was the author's writing style. Sometimes when the story is all over the place, I'm able to find solace in the writing, but that was not the case in this book.
1 star
* I received a copy from the publisher via NetGalley in exchange for an honest review.