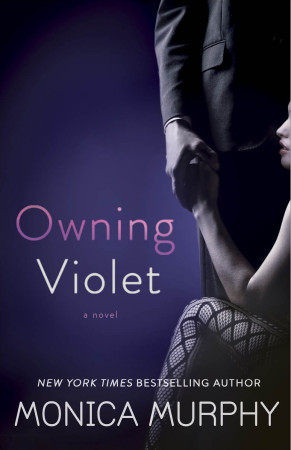 Owning Violet
by
Monica Murphy
Series:
The Fowler Sisters #1
Published by
Bantam
,
Random House
Publication date:
December 2, 2014
Genres:
Adult
,
Erotica
,
Romance
384 pagesFormat:
eARC
Source:
ARC e-book
New York Times bestselling author Monica Murphy begins a sexy new contemporary romance series—perfect for fans of Christina Lauren and Emma Chase—that introduces three sisters born to wealth, raised to succeed, ready to love, destined to make waves.

I've moved through life doing what's expected of me. I'm the middle daughter, the dutiful daughter. The one who braved a vicious attack and survived. The one who devoted herself to her family's business empire. The one who met an ambitious man and fell in love. We were going to run Fleur Cosmetics together, Zachary and I.

Until he got a promotion and left me in the dust. Maybe it's for the best, between his disloyalty and his wandering eye. But another man was waiting for me. Wanting me. He too has an overwhelming thirst for success, just like Zachary—perhaps even more so. He's also ruthless. And mysterious. I know nothing about Ryder McKay beyond that he makes me feel things I've never felt before.

One stolen moment, a kiss, a touch . . . and I'm hooked. Ryder's like a powerful drug, and I'm an addict who doesn't want to be cured. He tells me his intentions aren't pure, and I believe him. For once, I don't care. I'm willing to risk everything just to be with him. Including my heart. My soul.

My everything.
Affiliate Disclosure: This post contains affiliate links. In plain English, this means that I may receive a small commission (at no cost to you) if you purchase something through the links provided. This small income goes back into my blog, so I can continue to create fun content for you. I appreciate my readers and make it my goal to be upfront and honest. Thank you for supporting my blog!
Book Review:
I liked One Week Girlfriend by Monica Murphy and am always on the hunt for a fun and sexy read.  Owning Violet appealed to me because of the workplace romance and promise of angsty romance.  I was really excited to read it because I was in the mood for a easy read due to the stress in my life. I didn't really like this book overall. There were some moments that I liked, but the things I didn't like outweighed what I did.
Violet Fowler works in her family's hugely successful cosmetics company, Fleur Cosmetics. On the outside, she has everything going for her, but on the inside she isn't happy. Her boyfriend (who also works at Fleur) drops a bomb on her the night she thought he was going to propose. Instead of popping the question, he tells her he got a promotion and is moving to London without her.
That same night, Violet's other co-workers plot to ruin Violet. Ryder and Pilar are like the Boris and Natasha of the story. As former lovers, they both work at Fleur Cosmetics and want everything Violet has. Most of all, they want to take her down so that they can advance in the company and be in her father's, the CEO, good graces. The plan? Pilar will seduce Violet's boyfriend and Ryder will seduce Violet and then dump her. Violet is putty in Ryder's hands. An expert at seduction and romance, the transition from colleague to lovers was seamless and hot. Ryder's feelings start to evolve from purely physical to emotional. When Pilar's plan shifts and Ryder is put in a precarious position—does he follow his heart and confess to Violet or does he go forward with his plan and break her heart?
I didn't really like Violet or Ryder. From the very beginning, Violet was weak and irritating to me. I'm pretty patient when it comes to annoying book characters, but from the outset I didn't care for her. Ryder was domineering and a jerk. There was a little growth in Ryder's character, which I liked. But I didn't see any growth in Violet's character. I don't really think it was the author's intention for the reader dislike the Violet and Ryder in this book, so when I didn't end up liking them in the end that was an issue for me.
I didn't understand the importance of the trauma of Violet's pass. It just seemed like a superfluous element thrown in for drama with no real purpose to the story or the character. I feel like I say this a lot but I didn't really feel that emotional connection between Ryder and Violet. I wanted to understand more of why Ryder wanted Violet so badly. I found her character to be rather flat and dull, yet Ryder says how fascinating and brilliant she was. I didn't understand his attraction to her at all. I wanted more relationship development. Since this is erotica, I expected to get a lot of sex (that really wasn't an issue for me), but I wanted more relationship development.
There were elements of this story that I liked. I always like the reluctant hero battling his feelings. But I got tired of the back and forth between him and Violet. It was too much. I felt like I was on a rollercoaster and not in a good way.  I haven't had a ton of luck in the erotica genre in the past. Perhaps it's me and my reading tastes have changed, but Owning Violet seemed really long to me. The whole plot depended on this plan to take Violet down. In the end, that plot didn't seem that important, aside from being the wedge between Ryder and Violet. There was no resolution whatsoever to the Pilar storyline. I'm guessing that will play out in future books. If that's the case, I would have liked more set up for Rose's book.
2 stars
* I received an advance copy in exchange for an honest review.
Amazon: US • UK • CAN | iBooks | GR