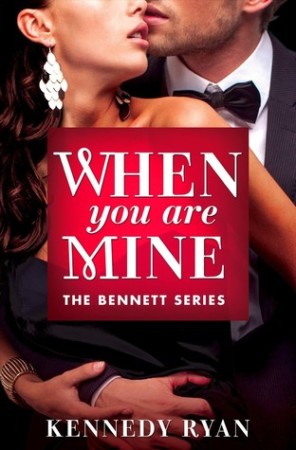 When You Are Mine
by
Kennedy Ryan
Series:
The Bennetts #1
Published by
Forever Yours
,
Grand Central Publishing
,
Hachette
Publication date:
June 17, 2014
Genres:
Contemporary Romance
320 pagesFormat:
eARC
Source:
ARC via NetGalley
Forever is a heartbeat away . . .

Kerris Moreton knows how to make things work. Bounced from foster home to foster home as a kid, she adapted; when opportunity arose, she thrived. Now, about to open her own business and accept a marriage proposal, Kerris is ready to build the life she's always wanted. The only thing missing? A passionate connection with her would-be fiancé, Cam. Kerris wants to believe that sparks are overrated-until Walsh Bennett lights her up like the Fourth of July.

. . . but what about love?

As one of the East Coast's most eligible bachelors, Walsh enjoys financial independence, fulfilling work with his family's nonprofit, and plenty of female attention. But lately he's been distracted by the one woman he can't have. Lovely to look at and even sweeter to know, Kerris is the soul mate Walsh never thought he would find. The problem is, his best friend found her first . . .
Affiliate Disclosure: This post contains affiliate links. In plain English, this means that I may receive a small commission (at no cost to you) if you purchase something through the links provided. This small income goes back into my blog, so I can continue to create fun content for you. I appreciate my readers and make it my goal to be upfront and honest. Thank you for supporting my blog!
Review:
When You Are Mine is an entertaining read about two people who fall in love in unfortunate circumstances.  It's the kind of love that is all-consuming, you feel sick when you're not with the other person, and you can't imagine your life without that other person.  I enjoyed this quick read that packed a heaping dose of drama, love, and heartache.
Walsh Bennett has lived a charmed life. Everything has been served to him on a silver platter.  He has spent his adult life giving back through his mother's non-profit, the Bennett Foundation. Its aim is to help kids in foster care become leaders in the community, and the organization also has orphanages in Africa.  Walsh travels back and forth between Africa, his hometown of Riverfront, North Carolina, and New York, where his father has built a business empire.  His father, Martin Bennett, is a king of mergers and acquisitions and has always hoped Walsh would join him in the family business.  But Walsh's heart has always been with the the Bennett Foundation.
Walsh is a romantic at heart who has always believed in soul mates and fate. His family has always assumed he'd marry Sofie, a world-famous supermodel, but he has never really felt anything for her.  Then he meets Kerris Moreton.  In just a few short minutes, both of them knew there was something there.  The connection between the two of them was unexpected, forbidden, and made things very complicated.  Case in point:  Kerris's boyfriend, Cameron Mitchell, is Walsh's best friend.
Kerris never knew her mother.  After she abandoned Kerris in a pile of clothes at the orphanage, Kerris was tossed from family to family in the foster care system. Her turbulent past still haunts her, but her life is much more stable now that she found someone who can give her the kind of love she never had.  She and Cam share many commonalities that bind them together. They both understand what each other has gone through, having come from broken homes.
Cam and Walsh have been friends since they were teenages and consider themselves brothers. As Cam's feelings towards Kerris intensify, she is forced to make some difficult choices.
"Walsh could have anyone. She and Cam were made for each other; they could heal each other and build together. The future and family they'd never thought they'd have, they could have each other."
She must choose between taking a risk or staying on safe territory.  But she risks breaking the heart of an already tortured man or losing her own heart.
"…when he looked at her, he made her feel that everything he'd ever wanted in the whole world was standing in front of him. If she had still been a praying woman, she would have asked God if He could please, please, please make her feel the same."
In the innocent moments she spends with Walsh she realizes that Cam has never made her feel like that.  Walsh and Kerris get to know each other, sharing bits of their pasts with one another.  The moments from them are emotionally charged and full of the bottled-up longing that I LOVED!
"So you can be honest with me about the most traumatic thing that ever happened to you, but you can't tell me how you feel when Cam kisses you?"

"It's fine."

"That's not how it's supposed to be with the person you marry."

"Maybe not for you, or for other people that's how it is for me. I just don't I have the capacity to be affected that way."
I really loved Walsh's character so much.  The fact that he came from a long line of family wealth, yet stayed incredibly humble was attractive and made me fall in love with him.  What he saw in Kerris was more than a beautiful woman.  After the first time they met, her quiet resilience, perseverance and intelligence was what pull him towards her.  It's also what I admired about her the most.  I love a strong heroine and she was the definition of one.  She came from nothing and grew up to be a compassionate and caring business woman.
"Your past haunts you, but it hasn't twisted you, it hasn't ruined you. If anything, it's made you a stronger person. That's a miracle. You're the miracle, baby."
As a forewarning, there is a love triangle and a bit of cheating in this book.  If those things are deal breakers for you, then this one may not be for you.  Personally, I will read a book with those plot devices present but there are times when those things do not work for me.  I didn't have a problem bookwise with the cheating or the love triangle; it didn't cross the line for me.  The heroine was not running back and forth between the guys giving me whiplash nor was she annoying.  Kennedy Ryan did a good job at setting the scene and making you feel the pull and tug between Walsh and Kerris, but at the same time feeling for Cam.
There were some things in this book that did not work for me completely.  I won't go into some of them for the sake of spoiling it.  Suffice it to say that there were some dramatic moments that seemed a little over the top and I felt as though the story could have survived without those dramatics being used as a catalyst for Kerris to come to her conclusions.  There were also some moments from the characters' pasts that didn't sit well with me.
Nonetheless, I enjoyed watching Kerris and Walsh fall in love. I really enjoyed their unique connection and look forward to finding what happens next in Loving You Always, the second book in the series.
3 stars
*I received an advance copy from the publisher in exchange for an honest review.
AUTHOR INTERVIEW with Kennedy Ryan
Megan:  Tell me about your debut novel and first book in The Bennetts series, "When You Are Mine" out TODAY!
Kennedy:  It's the story of Kerris Moreton, a former foster kid who survived an abusive childhood, but never fully healed. She ends up engaged to someone as damaged as she is, but drawn to his best friend in ways she didn't think possible. Her broken self-esteem and hurt from her past convince her to makes choices that don't make her happy, and that ultimately, hurt those she loves. It's a story that tests her convictions and loyalty.
Megan:  What inspired you to write this forbidden love story between Kerris and Walsh?
Kennedy:  I didn't set out to write a forbidden love story. Sometimes before I even get a character's name or even a fully-formed plot, a scene comes to mind. One of the most difficult scenes in the book popped in my head early on. So much tension builds up between these two characters throughout the story, and it all detonates in this one scene, which is a confrontation between Kerris, Walsh and the other angle of our triangle, Cam Mitchell, Walsh's best friend and the man to whom Kerris has made a commitment. That scene was the seed for the entire story, and I just traced it back from there. How had this woman gotten herself into this mess? What were the circumstances which had caused her to make the choices which had led to the dissolution of this friendship between two great guys?
Megan:  *That* scene was something else! I wanted to look away but couldn't stop reading!  What was your favorite scene to write (without giving away any spoilers, of course)?
Kennedy:  I do not have just one favorite scene, but one of my favorites is Walsh and Kerris's first kiss. It is not something either of them plan, but they have been fighting their attraction all summer. A tragedy lowers their defenses and they give in to what they have been denying. It is the first time they are forced to acknowledge the dangerous connection between them.
Megan:  I loved that first kissing scene.  It was such a passion-filled yet sad moment for the both of them.  What is your writing process?  Do you outline or are you a pantser? 
Kennedy:  I am a hybrid. Definitely not a full-on pantser or outliner. I "spend time with my characters" for a long time before I write even one word. I don't outline, but I take notes on my phone along the way. I do voice memos to capture scenes and collect photos and songs that inspire me. I first want to understand what their issues are. That helps me know what type of counter character will push them, and what situations will stretch them the most. When I try to write before giving myself this space, it invariably sucks and frustrates me.
I ultimately want to see my characters grow. I don't rescue them from their mistakes, but instead leverage their mistakes to help them evolve. Once I feel confident about who these characters are, their motivations, pasts and have a sense of where I'm headed, I loosely sketch out the story's trajectory. Dialogue is huge for me, and I actually act out intense scenes before I write them. I basically say, it's a fight about this. What would they say to one another? Go! And then I role play the characters a few times to find dialogue that sounds and feels natural. I can't tell you how many times I've ended up in my kitchen crying while I wash dishes and act out an intense scene!
Megan:  I always love it when a writer knows their characters so well.  Can you tell me about your characters, Kerris, Walsh and Cam?
Kennedy:  Kerris Moreton, a recent college graduate, is ambitious and driven, and subtly strong. She has the kind of strength you could overlook because she's introverted and a little shy. She suffered abuse in her childhood, and though she survived, she never healed. Out of her brokenness, she chooses someone she thinks will accept and understand her as she is. Someone as broken as she is, Cam Mitchell. They both want to create what they never had – a healthy family. And though she never expects to experience the kind of love that takes your breath away, she believes what she and Cam have is all she needs. That it is enough.
Walsh Bennett comes from two powerful families. His father is an industrial buccaneer, and Walsh trains to take over his acquisitions empire one day. He is also passionate about his mother's family's foundation serving foster children. Walsh is caught between these two worlds in many ways. Through the foundation he meets Cam Mitchell when they are still boys, and they become best friends. They are truly like brothers, and he believes nothing could ever come between him, until Kerris does.
The horrors of Cam Mitchell's childhood broke him in ways he hides from most. He believes if he can create what he never had – a family of his own – it will make everything right. There are secrets he will take to his grave, and only few he shares with two people he knows he can trust: Walsh and Kerris.
Megan:  When You Re Mine is not the end of these characters' story.  Things are left more than a little unresolved. 😉 Can you give us a taste of what to expect with Loving You Always?
Kennedy:  When You Are Mine is pretty angsty. So is Loving You Always. It continues Walsh and Kerris's story. There are MAJOR complications, which seem insurmountable at times. When my agent first read the book she said she didn't see how I was going to ever get them together because I threw so many roadblocks in their way.  You'll have to read to see if I ever do…get them together, I mean! Just trust me. I want everyone happy just as much as you do, but they have to really fight for it.
Megan:  Do you have any other books in the works outside of The Bennetts series?
Kennedy:  Yes! I am finishing the first draft of a new adult contemporary, book one of a two-part series. I am just starting (still researching and ideating) a stand alone adult contemporary about a woman living with the debilitating emotional effects of a violent attack. FASCINATING AND CHALLENGING! And I'm working on a non-fiction book about my family's journey with autism over the last 11 years.
Megan:  What is your favorite genre to read? 
Kennedy:  Romance is my favorite. Straight up, no chaser romance. I do love classics, too, and some romantic suspense.
Megan:  Tell us something about yourself that no one would guess.
Kennedy:  I have been on the Montel Williams show. It wasn't for a paternity test, though! LOL! He has a special on autism and asked me to be on the show.
Megan:  Give me and my readers some book recommendations, please and thank you! (Any genre is great)
Kennedy:  Oh, gosh. I have so many, not sure where to start or stop. I adore Zora Neale Hurston's Their Eyes Were Watching God. Please, please, please read that. I love Jane Eyre, Toni Morrison's Beloved. The Age of Innocence, Gone With the Wind.
Contemporary toppers:  Wake by Abria Mattina, Tiffanie DeBartolo's How to Kill A Rock Star, Pulled & Take This Regret by A.L. Jackson (whom I adore from top to bottom!), The Artists Trilogy by Karina Halle. L.H. Cosway's Painted Faces.
Historical romance:  The Ground She Walks Upon by Megan McKinney, Connie Brockway's All Through the Night and As You Desire, Loretta Chase's Lord Of Scoundrels, Candice Proctor's Night In Eden, Adele Ashworth's Winter's Garden. Ellen O'Connell's Eyes of Silver, Eyes of Gold. Penelope Williamson, Lisa Kleypas, Madeline Hunter, Sherry Thomas…and on and on and on. LOL
Megan:  What is your guilty pleasure?
Kennedy:  CUPCAKES! Love them. Not the kind I make at home, but the kind that have their own box and thick icing and elaborate decorations. *shudders with remembered carnal food pleasure* 
And Vampire Diaries! LOL
Megan:  Girrrrl, I am a sweetaholic.  The more icing the better.  🙂  I am behind on the Vampire Diaries, but Damon and Stefan are both pretty hot.  Speaking of hot guys, I have one more question. If you could go on one date with any celebrity who would it be?
Kennedy:  Ryan Gosling. Surely no one has to ask why!
Lightning Round:
Chocolate or Candy?  Chocolate
Beer or wine? Neither! I'm a teetotaler!
Dirty or Flirty?  Flirty in the streets. Dirty behind the doors w/ hubby! LOL
Unicorns or Dragons?  Unicorns (unless we're talking Thea Harrison's dragons!)
Shoes or Purses?  Shoes, though I'm not much of a shopper. (Megan:  Me neither!  I'm not much of a shopper either!)
Beach or Mountains?  Beach
GIVEAWAY
$25 Visa Gift Card (US)
Print copy (INT)