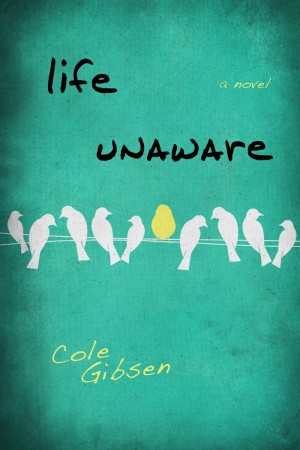 Life Unaware
by
Cole Gibsen
Published by
Entangled
,
Entangled Teen
Publication date:
April 28, 2015
Genres:
Fiction
,
Romance
,
Young Adult
320 pagesFormat:
ARC
Source:
ARC via publisher
Regan Flay has been talking about you.

Regan Flay is on the cusp of achieving her control-freak mother's "plan" for high school success―cheerleading, student council, the Honor Society—until her life gets turned horribly, horribly upside down. Every bitchy text. Every bitchy email. Every lie, manipulation, and insult she's ever said have been printed out and taped to all the lockers in school.

Now Regan has gone from popular princess to total pariah.

The only person who even speaks to her is her former best friend's hot but socially miscreant brother, Nolan Letner. Nolan thinks he knows what Regan's going through, but what nobody knows is that Regan isn't really Little Miss Perfect. In fact, she's barely holding it together under her mom's pressure. But the consequences of Regan's fall from grace are only just beginning. Once the chain reaction starts, no one will remain untouched...

Especially Regan Flay.
Affiliate Disclosure: This post contains affiliate links. In plain English, this means that I may receive a small commission (at no cost to you) if you purchase something through the links provided. This small income goes back into my blog, so I can continue to create fun content for you. I appreciate my readers and make it my goal to be upfront and honest. Thank you for supporting my blog!
Book Review:
Life Unaware is young adult novel about teenager who went from being the top of the social ladder to the very bottom, becoming a victim of bullying after being a bully herself. I liked this young adult novel, but I believe it may be more appealing to younger readers.
Regan Flay is the queen of the popular group in school, whose daily calendar includes destroying the lives of the bottom dwellers of the social ladder. But her popular status is yanked away from her when one of her friends reveals all of the bad things that Regan has done to the whole school. Beneath her seemingly powerful exterior, however, is a girl struggling with self-doubt, an absent parent, and anxiety disorder.
One the very people she picked on comes to her aid. At first she didn't know whether she could trust him but after he takes up for her she learns that she can confide him. And even starts to like him more as a friend.
Life Unaware seems to take place in a really short amount of time. From the time Regan was ousted from her throne to the end of the novel is not that long of time. I didn't find that part of the story to very believable. I had a hard time believing that someone her age and maturity level would make that radical of a change in a short amount of time. But I appreciated that the book tackles issues that many teens experience on a daily basis.
2 stars
* I received a copy from the publisher in exchange for an honest review.