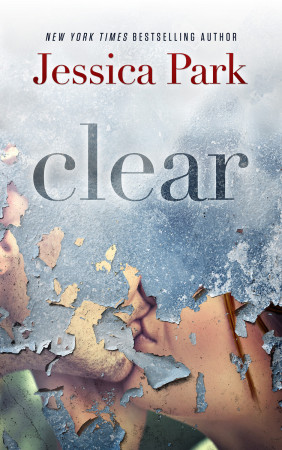 Clear: A Death Trippers Novel
by
Jessica Park
Published by
Self-Published
Publication date:
February 17, 2015
Genres:
New Adult
,
Paranormal Romance
338 pagesFormat:
eARC
Source:
ARC via author
Stella Ford's grasp on reality is already loose, and it's about to come undone.

When the college junior flees Chicago and leaves her toxic family behind, she heads for coastal Maine to find the one person who brought her peace years ago: Sam Bishop. But the Sam she once knew now has painful secrets.

Stella is determined to heal them both. Healing, however, is a challenge when the walls of her everyday existence collapse. And when Sam's best friend is his worst enemy.

When the line between life and death blurs.

When an end is just a beginning.

When lust and rage rule.

Yet during extraordinary chaos, there can be extraordinary love, even if that love comes with a twist.

Welcome to death tripping.

A thriller, a paranormal, and a passionate romance, CLEAR crosses genres and breaks boundaries.
Affiliate Disclosure: This post contains affiliate links. In plain English, this means that I may receive a small commission (at no cost to you) if you purchase something through the links provided. This small income goes back into my blog, so I can continue to create fun content for you. I appreciate my readers and make it my goal to be upfront and honest. Thank you for supporting my blog!
Book Review:
Clear is definitely a departure from Jessica Park's other contemporary romances. This paranormal romance is unique and fast-paced, but it didn't hook me like I'd hoped.
After a car accident involving her father and sister, Stella Ford's life takes a turn for the worse.  Her father and sister should have been seriously injured but mysteriously they were barely harmed. That night, Stella has a brief encounter with a boy her age who showed her an ounce of compassion. Following the accident, her father abandons Stella, Amy, and her mother without explanation, leaving Stella alone with her mother and sister and no emotional support.
Years later, Stella is twenty-one and a junior in college, and a little lost after enduring years of her mother's emotional abuse and brainwashing. Despite her sister Amy's drug addiction and unstable mental state, Amy is the apple of her mother's eye and Stella is just a pebble in her shoe.
Stella runs away from her hometown of Chicago straight to Maine, the home of the boy with whom she shared a connection, Sam Bishop. At first, Sam is less than thrilled to have Stella with him but he soon warms up to her, quite a bit. The chemistry between them sizzles and before either of them realize it they're in love. But just when Stella thought she had escaped the craziness in her former life, Sam Bishop tells her his secret, uncovering a new world Stella didn't know existed.
I really liked Flat-Out Love by Jessica Park. It is one of my favorite books, but this book just wasn't a favorite of mine. I had problems getting invested into the story and falling for the characters like I do when I love a book. Some of my issues with the book involved the pacing of Stella and Sam's relationship. I understand why the author had to establish the relationship a little earlier, but I wanted more build up and development. It felt far too rushed.
Readers who don't read a ton of paranormal romance may really like this book, given the fact that it is very much a new adult novel with a paranormal twist. But for me, the paranormal element needed to be fleshed out more. The mythology behind death tripping was explained, at first, through a question and answer between the characters, rather than woven into the story. Further, it seemed to me that later on in the story the explanation for certain things were just thrown in there and the reader was just asked to accept them. Overall, I wanted a stronger paranormal storyline and this book didn't have it.
I can see why many have really latched on to Clear due to its unique storyline. There were some moments I liked like, "I love you so mush" part. 🙂 But overall, I couldn't get into the story.
2 stars
*I received an advanced copy of this book from Wordsmith Publicity in exchange for an honest review. This did not affect my opinion of the book in any way.