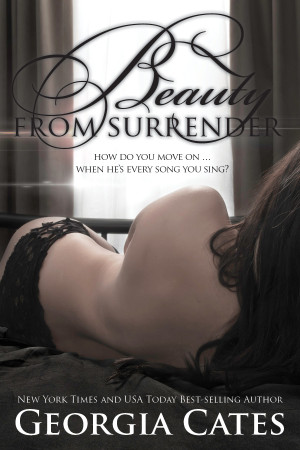 Beauty From Surrender
by
Georgia Cates
Series:
Beauty #2
Published by
Self-Published
Publication date:
May 30, 2013
Genres:
Contemporary Romance
390 pagesFormat:
eBook
Source:
Borrowed
The epic romance that started with the New York Times and USA Today Bestseller Beauty from Pain continues...

How do you move on when he's every song you sing?

After Laurelyn Prescott walks away from the love of her life, she returns to Nashville to pursue the only dream she has left. Determined to find a distraction from the pain of losing Jack Henry, she immerses herself in her music. But with her old life comes old acquaintances and new expectations. When Laurelyn refuses her record producer's outrageous demands, she finds herself without a career—until an unforeseen opportunity presents itself. From there it's a rocket ride straight to the top where Laurelyn finds the success she's always dreamed of. Will it be enough to bring her the happiness she so deserves, or will the absence of Jack Henry leave her wanting more?

Jack Henry McLachlan never expected to fall in love with Laurelyn Prescott—but he did. After he foolishly let her slip through his fingers, he spends three months searching for her, but their reunion doesn't come easy. The woman he finds isn't the same one who drifted away without a goodbye. No longer an insecure girl on an Australian adventure, this Laurelyn is a successful musician with a promising career. Her dreams are becoming a reality, and Jack is terrified his American girl won't have a place for him in her new life. With only a month to convince her otherwise, will it be enough time to make her visualize a life beyond the glitz and glamour, a life that includes him?

Beauty From Surrender is an adult contemporary novel and is not intended for younger readers due to mature content.
Affiliate Disclosure: This post contains affiliate links. In plain English, this means that I may receive a small commission (at no cost to you) if you purchase something through the links provided. This small income goes back into my blog, so I can continue to create fun content for you. I appreciate my readers and make it my goal to be upfront and honest. Thank you for supporting my blog!
Book Review:
I read Beauty from Pain on a whim awhile back. I had wanted to read it for a really long time and found the perfect time to squeeze. I liked the first book and I wanted to know how this couple moved on from what happened at the end of book one. I didn't enjoy Beauty from Surrender nearly as much as Beauty from Pain.
I'll keep this review relatively short since I don't really have a lot to say. This is another case of "I wish the author would have condensed these books into one book or one book and a novella." I have a hard time with contemporary series that feature the same couple because it often leads to weak or manufactured conflict. In this book, I didn't feel like the conflict was strong enough to warrant a full-length novel. It felt really drawn out. Granted, in this book there was a bit of conflict being as the couple was apart for some of it, but that quickly is resolved when Jack tracks Laurelyn down early on in the novel.
Most of this book was Jack and Laurelyn having sex (in general, sexytimes are awesome), but it overshadowed the actual storyline for me. I was expecting more meat from the story, and really all that was left was Laurelyn's choice between her career or Jack (we all know what she was going to choose). There were some moments that I liked, but it wasn't a winner.
1 star
YOU MAY ALSO LIKE THESE POSTS: