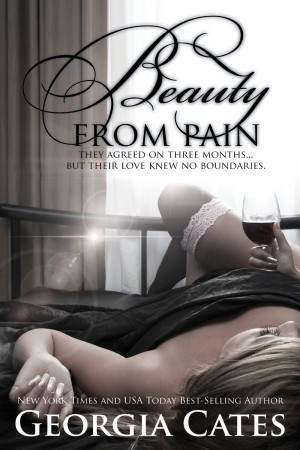 Beauty From Pain
by
Georgia Cates
Series:
Beauty #1
Published by
Self-Published
Publication date:
January 29, 2013
Genres:
Adult
,
New Adult
,
Romance
Narrator:
Bunny Warren
,
Robert Black
Length:
9 hrs and 9 mins
338 pagesFormat:
Audiobook
Source:
Purchased
They agreed on three months... but their love knew no boundaries.

Jack McLachlan is a winemaking magnate and easily one of Australia's most eligible bachelors. His success and wealth makes him no stranger to the complications of romantic relationships and that's why he goes to extreme measures to avoid the hassle. He prefers simplicity in the form of a beautiful female companion with no strings attached. He arranges relationships like business deals and they're always the same. No long term relationships. No real names.

It's his game and his rules. He's content to play as usual, but when Laurelyn Prescott enters his life, his strategy must change because this player is like none he's ever encountered. His world is turned on its head after he begins a three month affair with the beautiful American musician. Nothing goes according to plan and as he breaks more and more of his own rules for her, she's exceptionally close to becoming something he never thought possible. His ultimate game changer.
Affiliate Disclosure: This post contains affiliate links. In plain English, this means that I may receive a small commission (at no cost to you) if you purchase something through the links provided. This small income goes back into my blog, so I can continue to create fun content for you. I appreciate my readers and make it my goal to be upfront and honest. Thank you for supporting my blog!
Audiobook Review:
Beauty from Pain has been on my to-read list for a LONG time. I recently went to a book signing in Tulsa, Oklahoma and was peeking around my audible account for books I haven't listened to and thought, "Hey, you should listen to this." The rest is history. I liked this book a lot! I thought it was the perfect, sweet and sexy romance for a freaking long drive. Georgia Cates, you made my boring road trip through Kansas so much more exciting.
I think the synopsis does a pretty good job of summarizing what this book is about. Laurelyn Prescott is one lucky lady. When she lands in Australia she has one hot guy already pining for her (Addison's brother) and then soon after she's caught the eye of Australia's most eligible bachelor.
I'm such a sucker for romances that involve a hero who is stubbornly and reluctantly in love with the heroine. In this book this is that situation TO THE MAX. In the beginning, Jack and Laurelyn agree to a purely sexual relationship. She'll be gone in three months and their fling will be over and they'll never see each other again. But ever-so-slowly, these two fall in love with each other. Jack falls in love with Laurelyn's southern charm. It seems like EVERYONE can see how much they love each other except for the hero and heroine. Jack refuses to admit to himself that Laurelyn was a game changer.
Was this book predictable? Yes. Was it anything new? No. But I really enjoyed it. It kept me entertained and by the end I had to jump right into the next book. This book was pure escapism for me. I did find it to be a stretch that Laurelyn truly believed Jack didn't love her. I mean, seriously, she can't be that obtuse. But hey, I'm still going to read the next book.
Audiobook Comments:
I am not Australian accent connoisseur so I don't know if Robert Black's accent is very authentic. But what I do know is that it's dead sexy, so I don't really care if it's not Australian enough or sounds British or whatever. I really liked him. And I really like Bunny Warren too (is that her pen (voice?) name).
I found that I could listen to Bunny's voice on 2x speed but it was difficult to understand Robert Black on 2x speed, so I had to adjust my speed to 1.5x. I don't know if it was the accent or what.
If you like accents, listen to this book. If you like sexy narrators, listen to this book. If you want a fun read, read this book. 🙂
3 stars — Read it when you want a sexy and fun read with a rich, hot dude. Jack Henry, man.
YOU MAY ALSO LIKE THESE POSTS: