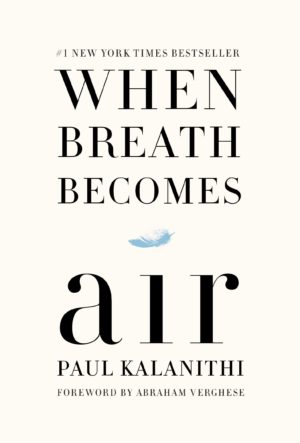 When Breath Becomes Air
by
Paul Kalanithi
Published by
Random House
Publication date:
January 12, 2016
Genres:
Memoir
,
Non-Fiction
Narrator:
Cassandra Campbell
,
Sunil Malhotra
256 pagesFormat:
Audiobook
Source:
Publisher
#1 NEW YORK TIMES BESTSELLER • For readers of Atul Gawande, Andrew Solomon, and Anne Lamott, a profoundly moving, exquisitely observed memoir by a young neurosurgeon faced with a terminal cancer diagnosis who attempts to answer the question What makes a life worth living?


At the age of thirty-six, on the verge of completing a decade's worth of training as a neurosurgeon, Paul Kalanithi was diagnosed with stage IV lung cancer. One day he was a doctor treating the dying, and the next he was a patient struggling to live. And just like that, the future he and his wife had imagined evaporated. When Breath Becomes Air chronicles Kalanithi's transformation from a naïve medical student "possessed," as he wrote, "by the question of what, given that all organisms die, makes a virtuous and meaningful life" into a neurosurgeon at Stanford working in the brain, the most critical place for human identity, and finally into a patient and new father confronting his own mortality.

What makes life worth living in the face of death? What do you do when the future, no longer a ladder toward your goals in life, flattens out into a perpetual present? What does it mean to have a child, to nurture a new life as another fades away? These are some of the questions Kalanithi wrestles with in this profoundly moving, exquisitely observed memoir.

Paul Kalanithi died in March 2015, while working on this book, yet his words live on as a guide and a gift to us all. "I began to realize that coming face to face with my own mortality, in a sense, had changed nothing and everything," he wrote. "Seven words from Samuel Beckett began to repeat in my head: 'I can't go on. I'll go on.'" When Breath Becomes Air is an unforgettable, life-affirming reflection on the challenge of facing death and on the relationship between doctor and patient, from a brilliant writer who became both.
Affiliate Disclosure: This post contains affiliate links. In plain English, this means that I may receive a small commission (at no cost to you) if you purchase something through the links provided. This small income goes back into my blog, so I can continue to create fun content for you. I appreciate my readers and make it my goal to be upfront and honest. Thank you for supporting my blog!
Memoirs aren't something that I usually gravitate to, but the synopsis of When Breath Becomes Air really struck a chord with me. I'm so glad I read it because it was such a wonderful book. Paul Kalanithi was a remarkable doctor and human being.
Paul was diagnosed with stage-four lung cancer at the young age of 36. At the time he was diagnosed, he was in the last year of his residency and on the cusp of starting the life he and his wife Lucy had always dreamed. Unfortunately, his dream of becoming a neurosurgeon scientist went unfulfilled and his life was cut short.
Dying in one's fourth decade is unusual now, but dying is not. "The thing about lung cancer is that it's not exotic," Paul wrote in an email to his best friend, Robin. "The reader can get into these shoes, walk a bit, and say, 'So that's what it looks like from here. Sooner or later, I'll be back here in my own shoes.'  That's what I'm aiming for, I think. Not the sensationalism of dying and not the exhortations to gather rosebuds but: Here's what lies up ahead on the road." Of course, he did more than just describe the terrain. He traversed it bravely.

— From the epilogue written by Paul's widow, Lucy.
This book chronicles his life and his unyielding search for the answer to the question: What makes life worth living? It's a question that I think everyone has pondered in some capacity in their lives. Paul's thoughts on the subject are introspective, deeply personal, and poetic. His writing has a sort of grace and depth that leaves an impression on you.
What I really liked about this book was Paul. I felt like I got to know him through this story. The way he approached his practice of medicine to way he maintained close contact to his friends demonstrated what a kind-hearted and remarkable person he was.
When Breath Becomes Air isn't what you think of when you think of a cancer memoir. He doesn't go into excruciating detail about the numerous treatments he had to endure or the pain—not that those things are bad. But for me, it was unexpected that he spoke more on life than death. His faced mortality with a sense of courageousness and vulnerability that was so profoundly honest.
I finished this memoir with tears in my eyes, reading his wife's figurative period at the end of Paul's unfinished sentence. She talked about Paul's final months. Months spent playing with their daughter and typing away on this book—the book that he didn't get to finish.
When Breath Becomes Air is, in a sense, unfinished, derailed by Paul's rapid decline. But that is an essential component of its truth. Of the reality Paul faced.
This book is short, but I wouldn't rush to call it a "quick read." While it is not long, its pages are concentrated with a deeply philosophical and personal message. I can't wait to read it again.
* I received this audiobook from the publisher in exchange for an honest review.
YOU MAY ALSO LIKE THESE POSTS: