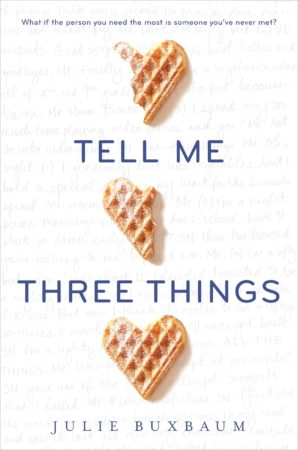 Tell Me Three Things
by
Julie Buxbaum
Published by
Delacorte Press
Publication date:
April 5, 2016
Genres:
Romance
,
Young Adult
Narrator:
Jorjeana Marie
Length:
8 hours and 54 minutes
336 pagesFormat:
Audiobook
Source:
Publisher
Everything about Jessie is wrong. At least, that's what it feels like during her first week at her new ultra-intimidating prep school in Los Angeles. Just when she's thinking about hightailing it back to Chicago—the closest place she has to something like home—she gets an email from a person calling themselves Somebody/Nobody (SN for short), offering to help her navigate the wilds of Wood Valley High School. Is it an elaborate hoax? Or can she rely on SN for some much-needed help?

The thing is, Jessie does need help. It's been barely two years since her mother's death, and because her father eloped with a woman he met online, Jessie has been forced to move across the country to live in LA with her stepmonster and her pretentious teenage son.

In a leap of faith—or an act of complete desperation—Jessie begins to rely on SN, and SN quickly becomes her lifeline and closest ally. Jessie can't help wanting to meet SN in person. But are some mysteries better left unsolved?
Affiliate Disclosure: This post contains affiliate links. In plain English, this means that I may receive a small commission (at no cost to you) if you purchase something through the links provided. This small income goes back into my blog, so I can continue to create fun content for you. I appreciate my readers and make it my goal to be upfront and honest. Thank you for supporting my blog!
Tell Me Three Things by Julie Buxbaum is like a young adult version of You've Got Mail. It's addictive, entertaining, and sweet but also deals with heaver issues. I couldn't stop reading (or rather, listening) to it. Though the premise was a bit contrived, I still found the book to be a good read.
Not only is Jess dealing with being the new girl in school, she's still trying to cope with the loss of her mom and best friend. Her dad remarries, moving Jessie across the country to Los Angeles. She hates L.A. Right after she starts her new school, a mysterious guy who goes by "Somebody Nobody" (SN) starts emailing her online and offers to help her adjust to her new school.  SN doesn't reveal his identity but he makes it clear that he sees her everyday. Meanwhile, Jess meets several new guys at school. Could SN be one of them—Liam, the bookstore owner's son and charismatic guitar player; Ethan, Jessie's English Lit partner who's a little closed off; or Caleb, who always seems to be on his phone when SN is messaging Jessie? Jessie finds herself falling for SN and one of the aforementioned guys and hopes it's him.
Buxbaum delivers a romance with characters you care about that was really fun to read. If you're into super bubblegum cute young adult books with some depth, I would recommend this one. What kept me glued to the audiobook all day was my desperation to know for sure who "SN" was. I had my suspicions but couldn't wait to have them confirmed.
The premise of the book was a bit contrived and heavy-handed. It wasn't really explained how SN got her email address in the beginning. In the end, SN reveals that he saw her on the first day and thought she looked sad and he wanted to know her. For reasons you will find out in the book, he didn't want to meet her in the normal way.  Jessie had several opportunities to test out her theory of the identity of SN, but she didn't take it. I didn't find that to be completely believable. But maybe she liked being on the mystery train.
Bottomline: Read this book if you're looking for a YA version of You've Got Mail with a ton of sweetness and cute boys.
Audiobook comments: The narrator for this audiobook was Jorjeana Marie and I really liked her. I don't think I've ever listened to an audiobook that she's narrated before. Her delivery was really well done and I liked the different voices she used for the different characters.
* I received this audiobook from the publisher in exchange for an honest review.