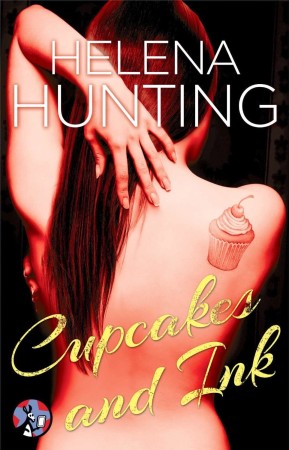 Cupcakes and Ink
by
Helena Hunting
Series:
Clipped Wings #0.5
Published by
Gallery Books
,
Pocket Star
,
Simon & Schuster
Publication date:
February 3, 2014
Genres:
Contemporary Romance
,
New Adult
Narrator:
Elizabeth Louise
,
Jason Carpenter
Length:
1 hr and 7 mins
60 pages pagesFormat:
Audiobook
Source:
Publisher
The prequel to Clipped Wings—"twisted, dark, incredibly erotic…a love story like no other" (USA TODAY bestselling author Alice Clayton)—this emotional tale follows Hayden and Tenley as they struggle to let go of their pasts and maintain an emotionally safe distance from each other.

Tenley Page is looking for a new start: a new city, a new apartment, a new life. Her plan is to keep to herself and stay focused. But leaving her past behind and starting over isn't as easy as she thought. And neither is maintaining her solitude. As Tenley settles into her new surroundings, she finds herself drawn to Inked Armor, the tattoo studio across the street. But it's the gorgeous, dark-haired tattoo artist who captures her interest. There's something about his severe beauty that captivates her—and not just in her waking hours.

Covered in the ink he inscribes on other people's skin, Hayden Stryker has made a career out of being a tattooist. He's got his own business and a tight circle of friends. As far as he's concerned, that's all he needs. At least until his aunt, who owns the antiques and used book store across from his tattoo studio, hires a new employee. At first his intrigue is based on physical appeal; hot chick equals something nice to look at. But as he begins to catch glimpses of the fiery personality under the fragile, feminine exterior, his fascination with Tenley grows. Annoyed by his inability to control his fixation, Hayden decides the best way to cure him of the new obsession is to get to know the girl under her skittish façade.

But like the ink he wears as armor, Tenley has the ability to get under his skin and stay there.
Affiliate Disclosure: This post contains affiliate links. In plain English, this means that I may receive a small commission (at no cost to you) if you purchase something through the links provided. This small income goes back into my blog, so I can continue to create fun content for you. I appreciate my readers and make it my goal to be upfront and honest. Thank you for supporting my blog!
Audio Book Review:
Cupcakes and Ink is the prequel novella to Clipped Wings, the first in Helena Hunting's new adult series about a hot tattoo artist and the girl who lives across the street.  I thought this was an okay beginning to the series. It's always hard to review prequel novellas because they're so short.
Tenley has just moved to Chicago to get a Master's degree at Nortwestern. Her narrative hints at a troubled past, something I bet we'll get more insight about in Clipped Wings.  She lives above an antique store and coffee ship called Serendipity where she spends her time researching for her thesis on body modification…and dreaming of the hot guy next door.  What better location to study that than across the street from a tattoo parlor named Inked Armor?
An attractive tattoo artist at Inked Armor catches her eye. Hayden Stryker is a young, sexy guy with peircings and tattooes. His aunt owns Serendipity and he makes frequent stops to the shop. Hayden's hotness factor forces its way into Tenley's subconscious as she finds her self dreaming of the man she doesn't yet know.
I thought this novellas was just okay. I felt like Tenley's fantasies were a little unfounded and too quick. Maybe I would have gotten more enjoyment out of this prequel had I read Clipped Wings first, maybe not. I am always on the lookout for a good new adult series, so I'm excited to read Clipped Wings. Though, this novella didn't really create much anticipation for me.
Audiobook Comments:
I love Elizabeth Louise. She is the perfect narrator for new adult books, very age appropriate. Her narration of Tenley was very good. I really enjoyed it.  Jason Carpenter isn't my favorite narrator. I like the tone of his voice, but his narration is too pronounced, it's almost too practiced and exact. I liked how he narrated the different customer and people. I was able to tell the difference between the characters.
* I received this audiobook from the publisher in exchange for an honest review.
2 stars
Amazon: US • UK • CAN | iBooks | GR
YOU MAY ALSO LIKE THESE POSTS: