"Waiting On" Wednesday is a weekly event, hosted by Breaking the Spine.
SWEET
by Emmy Laybourne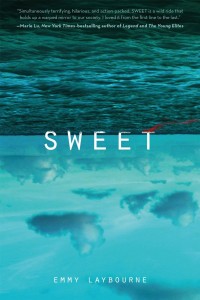 Emmy Laybourne, author of the Monument 14 trilogy, takes readers on a dream vacation that goes first comically, then tragically, then horrifyingly wrong!
The luxurious celebrity cruise launching the trendy new diet sweetener Solu should be the vacation of a lifetime. But Laurel is starting to regret accepting her friend Viv's invitation. She's already completely embarrassed herself in front of celebrity host Tom Forelli-the hottest guy ever!-and she's too sick to even try the sweetener. And that's before Viv and all the other passengers start acting really strange.
Tom knows that he should be grateful for this job and the chance to shed his former-child-star image. His publicists have even set up a 'romance' with a sexy reality star. But as things on the ship start to get wild, he finds himself drawn to a different girl. And when the hosting gig turns into an expose on the shocking side effects of Solu, it's Laurel that he's determined to save.
Release Date: June 2, 2015
Amazon: US • UK • CAN | iBooks | GR
Why I'm excited:  When I read the synopsis,  I thought Oh this is going to be a book with a fun and light reality TV show element mixed in. And then I got to the part where people start acting strange. And then I looked at the cover…BLOOD! And then I was intrigued.
QUESTION:  
What books are you waiting for this week?
YOU MAY ALSO LIKE THESE POSTS: