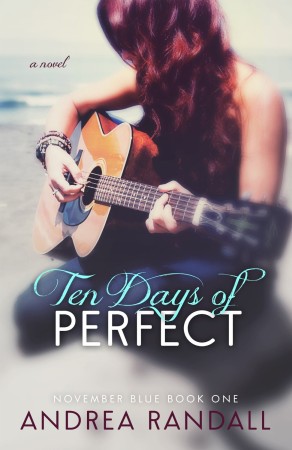 Ten Days of Perfect
by
Andrea Randall
Series:
November Blue #1
Published by
Self-Published
Publication date:
October 3, 2012
Genres:
Contemporary Romance
,
New Adult
290 pagesFormat:
eBook
Source:
Purchased
This is the first book in the two-book November Blue series. Scars from her first love and the reckless lifestyle of her parents force Ember Harris to chart a new course. She favors practicality over spontaneity and rules over a broken heart. An encounter with a musician at a local pub forces Ember into making a decision to let go or hold on for dear life as passions are unlocked and deceptions revealed
Affiliate Disclosure: This post contains affiliate links. In plain English, this means that I may receive a small commission (at no cost to you) if you purchase something through the links provided. This small income goes back into my blog, so I can continue to create fun content for you. I appreciate my readers and make it my goal to be upfront and honest. Thank you for supporting my blog!
Book Review:
Ten Days of Perfect is the first book in Andrea Randall's November Blue series.  We meet November "Ember" Blue, a twenty-six year old grant writer. Ember was raised by two hippy parents who traveled all over the country, never staying in one place for too long.  Though, Ember couldn't be any more different from her parents.  She doesn't want that sort of transient life for her and has done everything in her power to grow roots.  After graduating from Princeton, she and her friend, Monica, founded a non-profit agency whose aim is to help at-risk teens.
"Despite my mother's encouragement to always love with reckless abandon, I grew up slightly guarded and suspicious. To her, spontaneity was as easy as breathing. To me, it seemed like skydiving without checking to see if you had a backpack of a parachute."
In addition to her day job, Ember is a talented musician and often sings at her friend Josh's bar on open mic night.  Ember has sworn off the opposite sex after a really bad break-up.  Then, she meets Bo Cavanaugh and she quickly reassess her single status.  This guy might be worth it.  Bo and Ember meet at an open mic night.  Sparkly fly when Ember and Monica go up on stage and sing "Heaven When We're Home" by The Wailin' Jennys (listen to it, it's good!).  Taken by Bo's musical talent and stunning looks, Ember's world shook a little bit.
"The second our hands touched I felt it run up my arm, through my veins, and land square in my gut. A ribbon of instant desire tightened around my insides at the sight of his half smile just a few short inches from my face."
Ember is thrown for a loop when Bo makes an appearance in her professional life and both are left trying to juggle their personal and professional relationship.  And just when they think they have it figured out someone in Ember's past comes back to shake things up.
I really loved Bo.  He's sweet, thoughtful, and a talented musician.  It's too bad Bo is a fictional character because I want him for myself.  And then he says things like this and I melt into a puddle.
"November, if your heart was mine it would never break."
Bo and Ember's instant connection and instant attraction for each other didn't bother me.  I loved the way Randall built the romantic connection and chemistry between Bo and Ember.  Actually, I was shocked that it didn't bother me.  What I didn't like was just how quickly they fell in love. Ember was declaring her love for Bo after just two days right after sex.   Instant attraction (with a good foundation) I can handle, but instant love (even with fantastic chemistry) is not for me.  I wanted more tension between the two characters.
Even though there was instalove and it didn't work for me, I still will give this book 3 stars for the writing.  Andrea Randall is a great writer.  I really like Bo and Ember as a couple.  They compliment each other and I look forward to reading the next book in the series.
3 stars