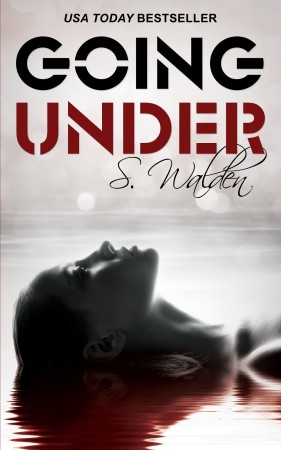 Going Under
by
S. Walden
Published by
Self-Published
Publication date:
March 14, 2013
Genres:
New Adult
,
Romantic Suspense
346 pagesFormat:
eBook
Source:
Purchased
Brooke Wright has only two goals her senior year at Charity Run High School: stay out of trouble and learn to forgive herself for the past. Forgiveness proves elusive, and trouble finds her anyway when she discovers a secret club at school connected to the death of her best friend. She learns that swim team members participate in a "Fantasy Slut League," scoring points for their sexual acts with unsuspecting girls.

Brooke, wracked with guilt over her friend's death, decides to infiltrate the league by becoming one of the "unsuspecting girls," and exact revenge on the boys who stole away her best friend. An unexpected romance complicates her plans, and her dogged pursuit of justice turns her reckless as she underestimates just how far the boys will go to keep their sex club a secret.

(This is a New Adult fiction book with mature themes. It contains graphic sex and language and a description of sexual violence.)
Affiliate Disclosure: This post contains affiliate links. In plain English, this means that I may receive a small commission (at no cost to you) if you purchase something through the links provided. This small income goes back into my blog, so I can continue to create fun content for you. I appreciate my readers and make it my goal to be upfront and honest. Thank you for supporting my blog!
Book Review:
This book is not a light and fluffy romance.  If that's what you're looking for you're not going to find it here.  This book deals with some heavy subject matter and goes into graphic detail concerning rape.  Please note that the author DOES NOT, in any way, glamorize or romanticize rape.
Brooke made a promise to her best friend, Beth, to never tell her secret – Beth was raped.  The book begins with Brooke attending Beth's funeral.  After betraying Beth's trust by cheating with Beth's boyfriend, Brooke is consumed with guilt.  Following Beth's suicide, Brooke's guilt only multiplies. She blames herself.  Brooke moves in with her father and starts a new school, which also happens to be Beth's old school.  Brooke soon uncovers a twisted game being played by the school's swim team, led by Beth's rapist, Cal.  As a way to atone for wronging her friend, Brooke decides to seduce Cal, after which she will turn him and the others in. As twisted and convoluted as that idea was, I was interested in how Brooke was going to pull it off.
"The idea of letting him have me. Seduce him without him knowing, give him the perfect opportunity to take advantage of me, then make him pay for it afterwards. Could I actually go through with it, though? Could I give up my body as a sacrifice to seek vengeance? Was I strong enough? Crazy enough?"
Brooke's plans are complicated when she begins to date and fall for Ryan Foster, a classmate and a guy she met at Beth's funeral a/k/a "Funeral Guy".  Ryan is somewhat of a loner at school, and seems troubled.  It's clear that Ryan and Brooke have skeletons in the closet, and they're sort of each other's therapy.  Personally, Ryan and Brooke's relationship seemed to come out of nowhere.  Their mutual attraction for each other was the only thing that drew them to each other. Because of this, I didn't feel an emotional connection to them as a couple.  Their "love" for each other came out of left field.
I am a sucker for flawed characters, and the cast of characters in Going Under were most definitely flawed.  Cal, Parker, and Tim were horrific human beings.  Cal, in particular, gave me the chills and the creeps.  He made the hairs on my arms stand up.  I applaud S. Walden on making him (dare I say) charming, yet sinister at the same time.
"It was becoming extremely difficult just to be anywhere near Cal. He made me nervous, and he knew he did. We both knew we were playing at some fake friendly game, but neither one of us would voice it aloud."
The final twenty percent or so just didn't work for me AT ALL.  I found the twist in this story to be very predictable. The whole book had been building to this moment, and everything after that point seemed flat.  I get that Walden wanted a HEA, but I felt like the final chapters took away from the story as a whole.  It felt rushed.  I absolutely did NOT like the epilogue at all. The ending was, for lack of a better word, cheesy.