Today, I have the pleasure of revealing the cover of Lisa De Jong's upcoming novel, Changing Forever.  This is the next book in the Rain series but it can be read as a standalone.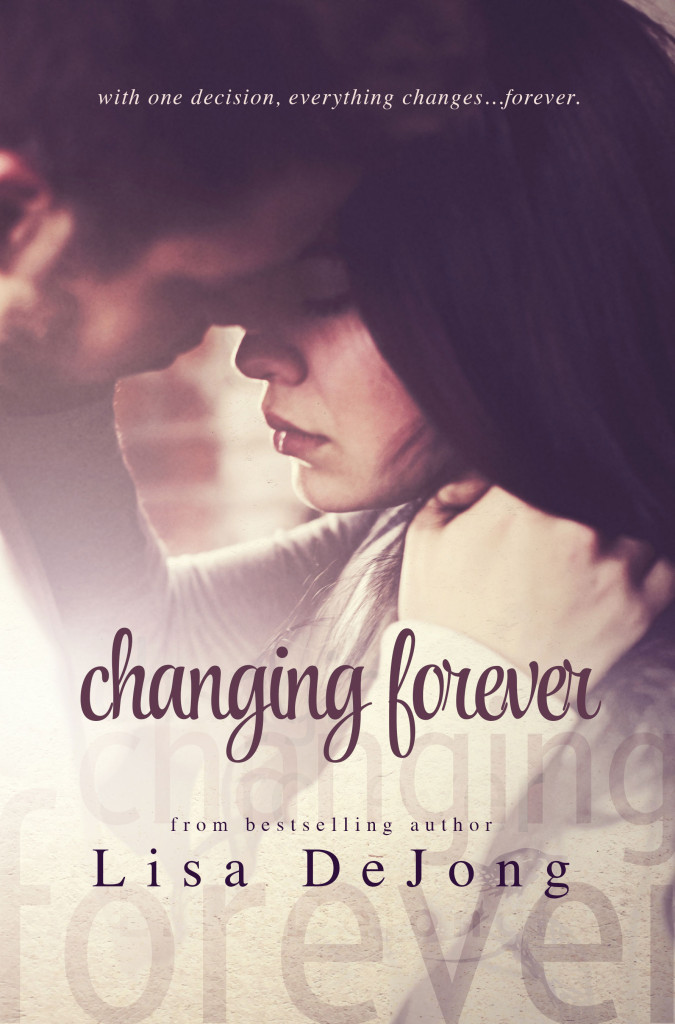 CHANGING FOREVER
I've always let my past dictate my future, letting it paint a picture of exactly what I don't want to be. Where I don't want to end up.
Drake Chambers is as arrogant as I am stubborn. A college quarterback, a national star. I thought he was just another one of those guys … the type every girl should stay away from, but he's carrying more than the weight of the football team on his shoulders.
He unravels the feelings and beliefs I've held onto for so long.
I thought we had it all figured out. Two people who'd finally found their happily ever after, but the past always has a way of sneaking into the present.
With one decision, everything changes … forever.
Title: Changing Forever (Rain 2, can be read as a stand alone)
Author: Lisa De Jong
Age Group: New Adult
Genre: Contemporary Romance
Cover Designer: Mae I Design
Release date: June 24, 2014
✥ ✥ ✥ ✥ ✥
EXCERPT
Scanning the room again, I see her standing with Cole Dillon, laughing at whatever he's saying. Cole's one of the few guys on the team that I don't consider to be a complete dickhead, at least when it comes to the way he treats girls. He's one of the only guys who doesn't disappear into a bedroom every Saturday night at these parties. He's also the type of guy Emery deserves which makes watching this that much more difficult.
I stay in put, trying to convince myself she needs her space. I'm not good at this, and it all goes out the fucking window when he puts his hand on her arm. My jaw clenches as I walk to where they stand, ignoring the crowds of people I pass. Just as I reach them, Emery throws her head back in laughter again, and Cole looks at her with a loving glint in his eye. At this point, he'll be lucky if I throw the ball to him at all next Saturday.
When Emery finally sees me, she stops, putting her hand on Cole's forearm. "Why didn't you tell me Cole was so funny?"
My cheeks are probably bright red, because my face is fucking burning. "I guess I didn't realize Cole was a comedian off the field." There's a venomous bite to my voice. The way his expression changes tells me he heard it.
"He was telling me stories about the team's road trips. I'm surprised any of these guys have girlfriends." She smiles, bumping her shoulder against his. If she's trying to irritate me, she's doing a great job.
I clench my fists at my sides, trying hard to hold myself back. "I think it's time for us to go," I say, staring straight at Emery.
"But I'm just starting to have fun. Besides, you didn't really want to come here together anyway. I'm sure Cole will give me a ride home." She looks up to Cole again, and I swear to God I saw her wink.
I can't do this anymore. I know she's mad about what happened earlier, and if she's trying to get back at me, she's succeeding. I can't remember the last time I wanted to punch somebody, especially someone I like.
Grabbing her free hand in mine, I walk to the door, giving her no choice but to follow. At first she drags her feet but I'm almost double her weight. She's not going to win this battle.
"Drake!" She tries to pull her fingers from mine, but I win again.
"We're leaving," I say, not bothering to look back.
Before I can take another step, Cole's in front of me, eyes blazing. "I don't think she wants to leave with you."
"She came with me. Now, get out of my way, Dillon. She's fine," I seethe. I just want to get the fuck out of here.
He glances back at Emery, and even though I can't see it, something must pass between them because he steps out of my path allowing me to walk past.
"Are you sure you don't want to leave with Olivia?" I hear her faint voice behind me.
I stop, looking back. "What?"
I expected pissed on Emery, but she looks hurt. Genuinely hurt. "I saw you with her earlier. She must be good enough to be seen with here."
Something snaps inside me. We continue the to fight our way through the crowd, but before we reach the door I change the plans. She tries to pull away from me but I don't let her. Maybe it's the two drinks I've had or the emotion I'm drowning in, but I find myself pulling her into the half bath off the living room. The look on her face when my eyes catch hers again is one of shocked surprise.
When we're both inside, I push the door shut, reaching behind her to lock it. She doesn't take her eyes off me, and I can't take mine off her. This girl … I don't know what she's doing to me.
"You're good enough, Emery. In fact, you're too fucking good for me. Don't you get it? I want you so bad right now, but I'm fighting it because you should be with someone like Cole. He can be what you need … I can't."
Her eyes widen as she stares at me. "He's not the one I want."
Grabbing her hips with my hands, I pull her body so it's flush against mine. She trembles in my hold but the hungry look in her eyes begs me to continue.
I run my fingertips up her sides, feeling the smooth texture of her t-shirt against my skin. Her chest heaves as my lips move toward hers. She's hesitant; I feel it. I see it. This isn't the first time I've done this to her, or the second.
I stop when my lips are so close to hers that one could debate whether or not we're actually touching. Her warm breath tickles my skin, making it impossible to think. "I'm going to kiss you."
✥ ✥ ✥ ✥ ✥
About the Author: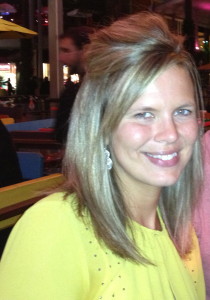 Lisa De Jong is a wife, mother and full-time number cruncher who lives in the Midwest. Her writing journey involved insane amounts of coffee and many nights of very little sleep but she wouldn't change a thing. She also enjoys reading, football and music. She is the author of When It Rains, After the Rain, Plastic Hearts and Glass Hearts.
Contact: lisadejongwrites@gmail.com, @LisaDeJongBooks, Facebook, Website
Cover Reveal Organized by: