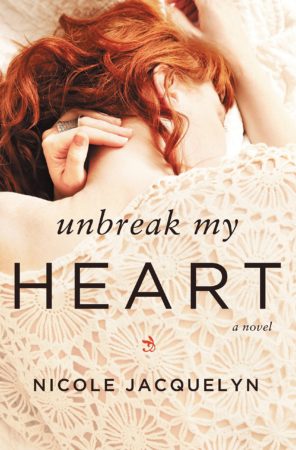 Unbreak My Heart
by
Nicole Jacquelyn
Published by
Forever
,
Grand Central Publishing
,
Hachette
Publication date:
June 7, 2016
Genres:
Adult
,
Contemporary Romance
353 pagesFormat:
ARC
Source:
Publisher
What do you do when your soul mate marries your best friend?

If you're Kate Evans, you keep your friend Rachel, bond with her kids, and bury your feelings for her husband. The fact that Shane's in the military and away for long periods helps-but when tragedy strikes, everything changes.

After Rachel, pregnant with her fourth child, dies in a car accident and the baby miraculously survives, Kate upends her entire life to share parenting duties. Then on the first anniversary of Rachel's death, Kate and Shane take comfort in each other in a night that they both soon regret.

Shane's been angry for a year, and now he feels guilty too - for sleeping with his wife's best friend and liking it . . . liking her. Kate's ability to read him like a book may have once sent Shane running, but their lives are forever entwined and they are growing closer.

Now with Shane deployed for seven months, Kate is on her own and struggling with being a single parent. Shane is loving and supportive from thousands of miles away, but his homecoming brings a betrayal Kate never saw coming. So Kate's only choice is to fight for the future she deserves - with or without Shane. . .
Affiliate Disclosure: This post contains affiliate links. In plain English, this means that I may receive a small commission (at no cost to you) if you purchase something through the links provided. This small income goes back into my blog, so I can continue to create fun content for you. I appreciate my readers and make it my goal to be upfront and honest. Thank you for supporting my blog!
Unbreak my Heart sounded like it was going to be really good. I was really intrigued by the book's hook—girl falls in love with her best friend's husband after she dies tragically. This book didn't deliver the good solid romance that I look for and I didn't care about the characters. Instead, I found myself skimming often, and it was honestly really difficult for me to finish.
Katie gave her heart away to Shane when they were growing up. But Shane fell for her best friend, Rachel. Fast-forward ten years later, Shane and Rachel are happily married with a house full of children and happiness. Katie and Shane have barely spoken in years but she's still around to help Rachel out with the children when Shane is deployed overseas. Tragically, Rachel dies in a car accident, leaving Shane and Katie with four children and broken hearts. Their crazy life gets more hectic when a drunken and passionate leaves them with even more to handle.
A large chunk of this book was a revolving door of the exact same drama. Shane and Katie will have a romantic moment or Shane will jump to a ridiculous conclusion. Then he flips out or is a major jerk in order to push Katie away. Then, he will realize how big of a jerk he is and apologize and grovel for her to forgive him. And then Katie will forgive him. This happens more than 4 times.
This monotonous back-and-forth is the only source of conflict for the book. I don't mind a certain level of angst and drama, but the drama needs to actually be necessary for the story. In this book, the conflict was entirely manufactured and there was no real reason why Shane and Katie couldn't be together. She was a mother to his children. Both of their families got along. The only thing keeping them apart for the entire book was Shane's spontaneous and innumerable moments of jerkiness directed at Katie.
I think the author wanted to try to create an internal struggle for Shane, like a sense of guilt for moving on when he was so in love with his wife. But the author's attempt to relay this to readers failed. If the author wanted me to buy that Shane was a jerk to Katie because he was grieving, that message was lost on me. When I read the premise of this book, that's what I was expecting. I was expecting a grieving husband and a woman who put herself in his life and just takes over. But that's not really what we were given.
The hero and heroine here are former best friends' and have been through the wringer with Rachel's death. But the author doesn't ease the reader into their intimate relationship, we get no build up. Instead, we're thrown into this drunken sexcapade. Like I said earlier, the rest of the book is Shane trying to convince himself that he loves her. But it's not done in a way to make the reader fall in love with the couple.
There were moments in this book where I felt like there was an attempt to infuse this romance book with bits of women's fiction. This book is not women's fiction by any stretch of the imagination—there was no female character journey. View Spoiler »After Katie has the baby, there is a lot of discussion and time spent on talking about how a woman's body changes after having a baby. These things just didn't feel like they fit in this romance.  One part in particular just felt completely strange. Katie's breasts are hard and engorged and Shane sucks on her nipples to express the milk. I know this can happen to women when they're breastfeeding, but I don't need to read about this in a romance novel, and certainly don't need to read an attempt to make a man sucking on breast milk seem romantic. « Hide Spoiler
The writing in this book just seemed very amateur. There was no nuance or prose. The characters were very generic and there wasn't anything that made them unique, memorable, or distinct. I didn't feel anything but frustration. The book was very heavy on the dialogue, which made it an incredibly quick read, but I would have liked actual introspection and depth.
* I received an advance copy in exchange for an honest review.