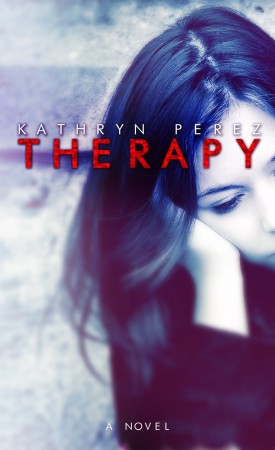 Therapy
by
Kathryn Perez
Series:
Therapy #1
Published by
Self-Published
Publication date:
February 11, 2014
Genres:
New Adult
,
Romance
386 pagesFormat:
eBook
Source:
ARC via author
Sometimes you have to get lost in order to be found...

I'm needy.

I'm broken.

Cutting breaks through my numbness, but only opens more wounds.

Depression, self-harm, bullying....that's my reality.

Sex and guys....that's my escape.

The space between the truth and lies is blurred leaving me torn, lost and confused. And while the monsters that live in my head try to beat me-- the two men that I love try to save me.

This is my story of friendship, heartache, and the grueling journey that is mental-illness.

Warning: Due to possible triggering subject matter and some sexual situations this book is not recommended for anyone under the age of 17 years old.
Affiliate Disclosure: This post contains affiliate links. In plain English, this means that I may receive a small commission (at no cost to you) if you purchase something through the links provided. This small income goes back into my blog, so I can continue to create fun content for you. I appreciate my readers and make it my goal to be upfront and honest. Thank you for supporting my blog!
Book Review:
In Therapy, Kathryn Perez brings several issues to the forefront through the characters and story she created. The story is about a girl named Jessica who has from borderline personality disorder and she self-harms. While I applaud the author for weaving such important issues into this book to draw awareness (and even donating some of the book's proceeds to mental health organizations), this book was not for me at all.
The story spans several years. It is a love story but it's also a story of perseverance and fight. In high school, Jessica Alexander was bullied by a group of mean girls and the only person who came to her rescue is a popular guy, Jace Collins. The two become fast friends (in secret) and over time they fall in love. On the eve of Jace going off to college, choices they make shape their lives and due to those choices they fall apart. Years later, Jess is in mandated Therapy sessions after being in trouble with the law. As fate would have it, her therapist is tethered to someone from her past — Jace Collins. And he hasn't really even gotten over Jess.
Overall, I wanted more character depth out of Jace, Jess, and Kingsley. Because so much went on plot-wise, I didn't really get a full grasp on any of the characters' motivations and ultimate growth. Jess's character was deeply afflicted with pain and illness throughout most of the book. In the final chapters, the time jumps ahead and you see a new Jess, but I wanted to see her growth over the course of the book and not after a time jump. I get that this is very much an issue book, with the heroine struggling with mental illness, but I wanted to see her character develop from the beginning and that just didn't happen.
I found Jace to be very wishy washy and weak as a hero. His reasons for being with Elizabeth and later Victoria were weak and I didn't buy it. His feelings towards Jess in the beginning developed really quick, so quickly, that readers may find it hard to really latch on to their love story. With everything that went on later in the story between them, I understand why the author had to condense the development of their relationship in the beginning, but I think readers would find their love story more believable had there been more development.
Plot-wise there was so much that happened in this book. Right when things started to calm down and the reader would get a reprieve and then  something else would happen. It was too much for me. I wanted all of the characters to take a moment and work through their issues instead of something dramatic happening to interrupt them.
I found the characters' dialogue to be a bit stilted and unnatural on several occasions. It wasn't conversational, and at times, I found it to be cheesy. I didn't like the addition of Kingsley's character in this book. I think the author was using him as a catalyst for Jess's recovery, but I don't really think he added much. He was introduced so late in the game that I didn't have the time to really root for him and Jess as a couple.
If you are looking for a romance with a lot of ups and downs, leaving you in shock from the plot-twists and revelations, then you may enjoy this book. Therapy has a lot of high ratings on Amazon and Goodreads, so don't let my review sway you. My feelings toward this book are a matter of my personal taste in books and this book just wasn't for me.
1 star
* I received a copy from the author in exchange for an honest review.