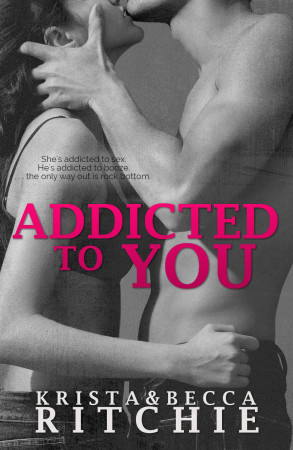 Addicted to You
Series:
Addicted #1
Publication date:
June 13, 2013
324 pagesFormat:
eBook
She's addicted to sex. He's addicted to booze…the only way out is rock bottom.

No one would suspect shy Lily Calloway's biggest secret. While everyone is dancing at college bars, Lily stays in the bathroom. To get laid. Her compulsion leads her to one-night stands, steamy hookups and events she shamefully regrets. The only person who knows her secret happens to have one of his own.

Loren Hale's best friend is his bottle of bourbon. Lily comes at a close second. For three years, they've pretended to be in a real relationship, hiding their addictions from their families. They've mastered the art of concealing flasks and random guys that filter in and out of their apartment.

But as they sink beneath the weight of their addictions, they cling harder to their destructive relationship and wonder if a life together, for real, is better than a lie. Strangers and family begin to infiltrate their guarded lives, and with new challenges, they realize they may not just be addicted to alcohol and sex.

Their real vice may be each other.

New Adult Romance recommended for readers 18+ for mature content
Affiliate Disclosure: This post contains affiliate links. In plain English, this means that I may receive a small commission (at no cost to you) if you purchase something through the links provided. This small income goes back into my blog, so I can continue to create fun content for you. I appreciate my readers and make it my goal to be upfront and honest. Thank you for supporting my blog!
Review:
A couple of months ago, this series was all over my Facebook and Goodreads feed.  I read the synopsis and was intrigued by the book's interesting premise:  What if a sex addict and an alcoholic were in a relationship?  How would that work. So many people love this series and love Lily and Loren, so I was excited and a little bit nervous to read this one.  I want to be clear that I am not a hype hater.  I do not simply dislike something just because everyone loves it.  That being said, this book didn't work for me.  I'll explain later.
Lily Calloway and Loren Hale are both addicts.  Lily is a sex addict and Loren is a alcoholic.  Both of them have been hiding their addictions from their families for a long time and like many addicts have hiding their problems down to a science.  Lily and Loren have a life unlike most of us. They are both incredibly wealth; the Calloway family created Fizzle, a soda empire akin to Pepsi or Coke.  Loren's money comes from Hale Company, which creates medical supplies similar to Johnson & Johnson.  LiLo have been best friends and their addictions have held them hostage since high school.   In an effort to keep their secret, they tell their families that they are in a relationship, but really they're not together. Their families have believed that lie for the past three years.
Now in their third year of college at Penn State, they spend their days sporadically attending class and their nights feeding their addictions.  Lily alternates between one-night stands and porn videos, while Loren finds his solace in any kind of alcohol lying around their lavish apartment.
My favorite thing about this book were the secondary characters, Rose, Connor and Ryke.  Those characters were more interesting to me and I care more about them than I did about Lily and Loren. I'm not trying to sound cold, but that's how I felt.  The one moment where I was glued to my Kindle and fully pulled into the story was a particular scene between Connor and Rose.  That moment between the two of them held more weight and magnetic pull than those scenes between Lily and Loren.
I just could not get invested in Lily and Loren's story. Perhaps it's because the romance between Lily and Loren was cheapened by their addictions. Even though I know that Lily used Loren for a particular piece of his male anatomy, it was clear that both of them truly and deeply cared for one another.  They had a love for each other that lived outside of their respective addictions.  However, the scenes between them lacked that special spark that typically draws me into the hero and heroine.
My biggest issue with the book lies with how the addiction storyline was portrayed and presented. The authors repeatedly pounded into the reader's head that Lily and Loren were addicts.  Lily's sexual addiction was almost caricature-like and way over-the-top.  The author's writing lacked subtlety.  Most of all, the addiction portion of the story was poorly researched and overly-exaggerated.  The way the characters started to intervene with Loren's addiction was a huge issue for me and just seemed completely unrealistic.
I haven't decided whether or not I will continue with the series.  More likely than not, I will just because once I start a series I like to finish it for my own peace of mind.  Plus, I really liked Ryke and Connor and I hope to get more from both of them.  Nearly everyone I've talked to who has read this series have said that the later books in the series are really good.  If you don't have issues with the things that bothered me, I think you would really love this book and the main characters.  Unfortunately for me, this book didn't work for me as a whole.