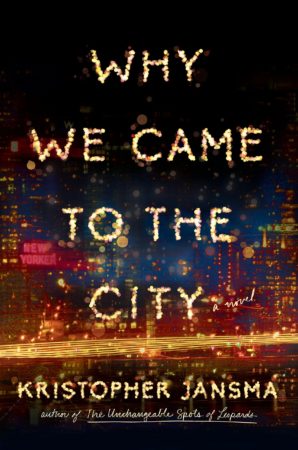 Why We Came to the City
by
Kristopher Jansma
Publication date:
January 19, 2016
December, 2008. A heavy snowstorm is blowing through Manhattan and the economy is on the brink of collapse, but none of that matters to a handful of guests at a posh holiday party. Five years after their college graduation, the fiercely devoted friends at the heart of this richly absorbing novel remain as inseparable as ever: editor and social butterfly Sara Sherman, her troubled astronomer boyfriend George Murphy, loudmouth poet Jacob Blaumann, classics major turned investment banker William Cho, and Irene Richmond, an enchanting artist with an inscrutable past.

Amid cheerful revelry and free-flowing champagne, the friends toast themselves and the new year ahead—a year that holds many surprises in store. They must navigate ever-shifting relationships with the city and with one another, determined to push onward in pursuit of their precarious dreams. And when a devastating blow brings their momentum to a halt, the group is forced to reexamine their aspirations and chart new paths through unexpected losses.

Kristopher Jansma's award-winning debut novel, The Unchangeable Spots of Leopards, was praised for its "wry humor" and "charmingly unreliable narrator" in The New Yorker and hailed as "F. Scott Fitzgerald meets Wes Anderson" by The Village Voice. In Why We Came to the City, Jansma offers an unforgettable exploration of friendships forged in the fires of ambition, passion, hope, and love. This glittering story of a generation coming of age is a sweeping, poignant triumph.

From the Hardcover edition.
Affiliate Disclosure: This post contains affiliate links. In plain English, this means that I may receive a small commission (at no cost to you) if you purchase something through the links provided. This small income goes back into my blog, so I can continue to create fun content for you. I appreciate my readers and make it my goal to be upfront and honest. Thank you for supporting my blog!
Audiobook Review:
Why We Came to the City is an emotional portrait of grief, loss, and hope. This is my first book by this author, and now I would like to go back and read his debut. At times, the pacing was bogged with with overly descriptive, tangential passages, but what the author did exceptionally well was framing how differently people deal with grief and the hidden ways death takes a toll on the body and mind.
The book is written into two parts. The first part perfectly depicts a twenty-something's life moving into the city with new opportunities, full of hope and ambition. We get the story of four close-knit friends from college and how their lives take unexpected turns when tragedy strikes. The second part is a reflection on the effects of grief and they cope with loss.
This novel's strengths are the characterization and prose. The author made me connect with each of the characters. I found myself laughing at Jacob while being so incredibly sad for George. Jansma's writing is quiet beautiful at times and impactful.
"Like old wood, we splintered apart at the slightest touch until we were nothing but tiny slivers stuck inside each other's fingertips."
After I finished this book, I read the author's article on the inspiration behind writing this novel. Grief manifests itself differently in people. We don't all deal with stress and trauma in the same way. In fact, many of us can walk around daily subconsciously grieving or reacting to a past event. I thought this very fact was beautifully explored in this novel.
My criticism of this book was the slow nature of the book. Like I said before, this wasn't a plot-driven book, but more of a character study. I love character-driven stories because I believe it is the characters that shape a story, not the plot. But the lengthy descriptions—almost like a play-by-play—in this novel didn't seem all that relevant to the story as a whole and it really caused the book to drag in many places.
* I received this audiobook from the publisher in exchange for an honest review.
YOU MAY ALSO LIKE THESE POSTS: